Car Hire in North America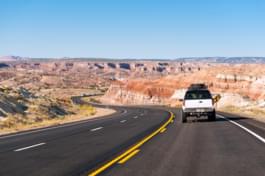 Book your rental car with Driveboo and save up to 60%
Traveling by car, you will witness the vastness and diversity of the North American continent. Whether you are exploring Canada's pristine nature or want to explore the metropolises of the United States, Driveboo offers high-quality vehicles of all types and models at all major airports for your trip through North America. Choose your preferred location from the wide range of available locations and design your itinerary individually and independently.
Discover the sights of North America by rental car
Drive along the Route 66 with your rental car
Who doesn't dream of the feeling of freedom that a road trip on Route 66 brings? On the almost 4,000 km long stretch from Chicago to Los Angeles, the world-famous road leads through eight states past skyscrapers, forests and desert sand. North America impresses with breathtaking natural sites such as Niagara Falls in the Canadian province of Ontario or the panorama of the Rocky Mountains in the west of the continent. In contrast to this, the stay in the American city of superlatives, New York City also offers an unforgettable experience. As a melting pot of different cultures and mentalities, it creates a unique atmosphere. With the rental car, you can cover long distances without complications and you can plan your trip flexibly at any time - whether it's a city trip or a round trip. The sunny state of Florida is also particularly popular with tourists. Here you can rent a car in Miami.
What to consider when renting a vehicle in North America
For renting a rental car in North America, it is recommended that you have an international driver's license. The traffic regulations in the USA and Canada are similar to those in Europe and are strictly controlled, especially on the highways. A strict speed limit applies here. More than 120 (USA) or 100 (Canada) kilometers per hour may not be driven even on multi-lane highways. In North America there is also no right-to-left rule. At so-called 4-way signs the car may drive first, which was first at the crossroads. It should also be noted that the majority of vehicles in the USA and Canada are equipped with automatic transmissions.