Enjoy Fort Lauderdale with a rental car
Fort Lauderdale is located in the US state of Florida and offers the opportunity to explore the surrounding area with a rental car. Beaches, sights and many leisure activities are waiting for you. If you have booked your rental car from the comfort of your own home by comparing prices and easily found the right car rental company, nothing stands in the way of your perfect holiday. If you are travelling with a rental car in Fort Lauderdale, you can travel comfortably from place to place. You can book the car you want to rent before your trip, so that it will be ready when you arrive at Fort Lauderdale. With your rental car in Fort Lauderdale, you can explore the area and travel to any destination you want. Renting a car in Fort Lauderdale makes you flexible and mobile on your journey. Sufficient car hire companies are on site, so you are sure to find the right car for you.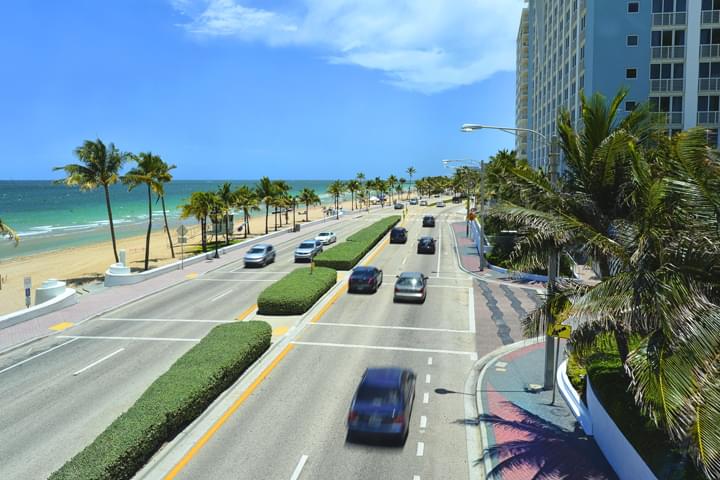 Drive with your rental car to the sunrise beach in Fort Lauderdale
Car rental Fort Lauderdale
As soon as you arrive at Fort Lauderdale airport, the rented car is ready to be picked up at your car rental company. Since the city's transport network is very well developed, you can quickly reach any desired location with your rental car. It takes about 20 minutes from the airport to the city centre. Fort Lauderdale has numerous canals, which is why the city is also known as "Venice of America". Crossing Fort Lauderdale with your rental car, you can go on a yacht trip or relax while fishing. Would you prefer to visit the sights of Fort Lauderdale by car? That is no problem either. Drive to Stranahan House, the oldest building in town. It was built in 1901. Used as a trading post at that time, it is now a museum. An excursion to the Arts Park is also possible with your rental car in Fort Lauderdale. The park in Hollywood Beach with its various gardens, amphitheatre, children's playgrounds and fountains is a tourist attraction. Rent a car in Fort Lauderdale and travel comfortably.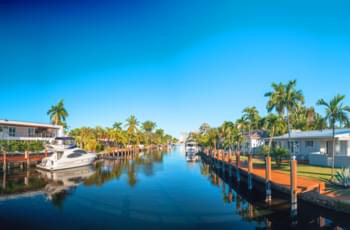 Canals and homes along the river in Fort Lauderdale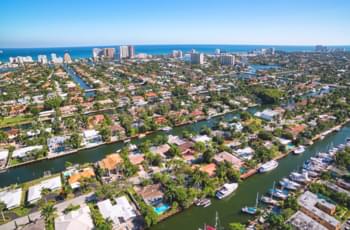 Aerial view of Fort Lauderdale Las Olas Isles
Rent a car in Fort Lauderdale and explore places of interest
Start at one of the many car hire companies in Fort Lauderdale, drive your rental car to Las Olas Boulevard and stroll through the various restaurants and bars. The Museum of Science and Discovery is also worth a visit. With your rental car you can also travel to one of the many parks in Fort Lauderdale to see mangrove forests, flamingos or butterflies without having to rely on public transport. Afterwards we return to the picturesque promenade on Hollywood Beach, where you can review the day's experience. Renting a car in Fort Lauderdale makes your trip comfortable and enjoyable.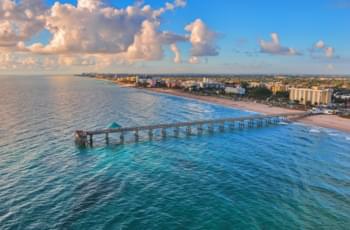 Aerial view of dania beach pier in Fort Lauderdale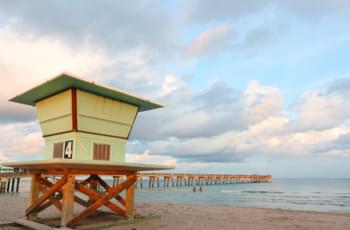 Fishing Peer at Dania Beach at Sun Set in Fort Lauderdale
Travel comfortably with your hired car in Fort Lauderdale
Fort Lauderdale Airport is located just eight kilometres from the city centre. If you come from Miami, the city is about 50 km away. Route 75 also takes you to the city of Tampa, which is also worth exploring. With a rental car you can explore the surrounding area flexibly, for example the Sawgrass Mills Mall, which is a large shopping mall. It is located outside the city, but can be reached quickly by rental car. After the shopping tour you can comfortably stow your purchases in the boot of the rental car and travel relaxed to the hotel.
Car hire Fort Lauderdale - Places of interest nearby
Rent a convertible or SUV in Fort Lauderdale
If you want to book a car hire in Fort Lauderdale, you are spoilt for choice as there is a wide range of vehicles on offer at different car rental companies. With a stylish convertible, you can enjoy the sun in Florida while an SUV is well suited for travel to the national parks. Pick up your rental car directly at the airport, in the city or at the hotel, whatever you want. As a rule, a 24-hour service is also offered in Fort Lauderdale. Therefore you can pick up your rental car at any time. Additional services such as navigation systems, theft protection and fully comprehensive insurance are also available and can also be rented at the local car rental company. Enjoy your vacation in Florida to the fullest - rent a car in Fort Lauderdale made easy!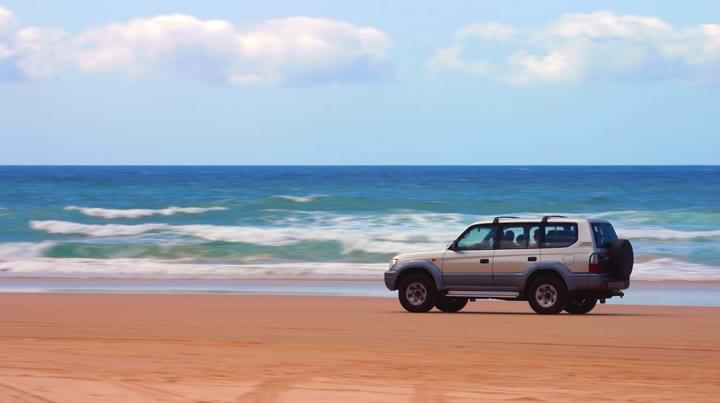 Explore Fort Lauderdale in a SUV