What's the cost of a car hire on Majorca?
On Mallorca you can book rental cars from less than 4€ per day. Compare different car hire offers for Mallorca in our price comparison and find your best option. With a car hire you can discover the beautiful island flexibly and enjoy your holiday to its fullest. Driveboo compares for you the prices of all major car hire providers on the island. Thus, you get a car hire on Mallorca, which fits to your conceptions no matter whether you need a low price or a large vehicle. With the car rentals at the airport Palma de Mallorca you can book the most different vehicle categories, from the small car to family van, from convertible to off-road vehicle.
Do you have any questions about hiring a car in Mallorca? Then do not hesitate to ring our service team. We will be happy to advise you! ☎ +49 89 1436 7940
Enjoying springtime on Mallorca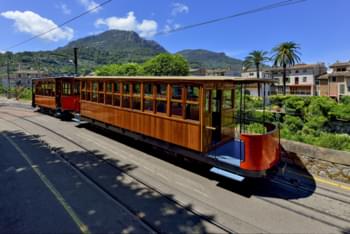 With the train to Port de Sóller
Are you dreaming of empty beaches and red poppy fields? Then you should travel to Mallorca and enjoy the spring here. Hire a car and explore the popular island on your own. A sports car can be an excellent choice for an exploration tour. Alternatively, you can rent a scooter or a convertible. Whatever your choice will be you will have a lovely springtime on Majorca.
If you want to visit Port de Sóller, you should consider taking the train. That way you can enjoy the view during the trip. In addition, take a boat trip to the islands of Dragonera or Cabrera. Those miraculous places show nature at its best. As you can see, Mallorca is the ideal destination in spring. With the right rental car, you are always mobile and independent of public transportation.
Getting the sun on Mallorca - cheap with a rental car
Mallorca is an island belonging to Spain. It belongs to the Balearic Islands and lies in the Mediterranean Sea. Palma, capital of Mallorca is also the capital of these islands:
With a rental car in Mallorca you can discover the island without restrictions. Mallorca is about 3.600 square kilometre in size and has almost 900.000 inhabitants of which one third live in the metropolis Palma. Many tourists come to the island by plane and land at the airport Palma de Mallorca (IATA-Code: PMI). The easiest way to hire a car is to pick it up at PMI airport. Hence, immediately after your arrival you are flexible and mobile on Mallorca. The driving forces are a pleasant climate, fantastic landscapes, multifaceted possibilities for leisure activities, appealing cuisine and historical sights.
Car hire Mallorca: Start your holiday in the United Kingdom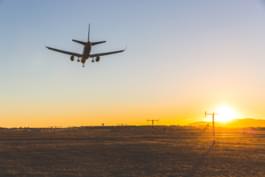 Plane at the airport Palma de Mallorca (PMI)
Departing from England, you will be on the Balearic island in about two and a half hours. To discover it in all its beauty and to start a stress-free holiday you have ideally booked a rental car on our website in advance. By car you will reach Palma first. The city of Palma is only eight kilometres from Mallorca airport (PMI). Below are some suggestions on how you can plan your holiday in Mallorca with a hired car.
Where can I rent a car on Mallorca?
You can hire a car for Maljorca at the following places:
Discover Mallorca with a rental car: The Southeast
If you want to experience the island from the original, traditional perspective you should drive your rental car to the southeast. The region is largely undeveloped for tourism, little visited, but very hospitable and well worth seeing. The small town of Vallgornera offers attractive bathing opportunities in the middle of untouched nature. Here Mallorca shows itself from its contemplative side. Colònia de Sant Jordi and Cala Figuera also offer you a quiet atmosphere and inviting ambience. Both villages have relatively empty sandy beaches surrounded by woods. You reach the southeast of Mallorca by rental car from Palma via the road to the airport PMI and then follow the signs to Santanyi. The small town offers with the historic old town numerous sights and a quiet sandy beach.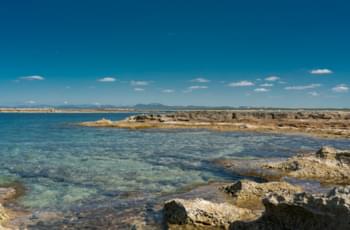 Colonia de Sant Jordi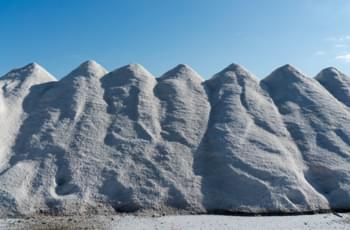 Salt-Mountains at Ses Salines in Colonia de Sant Jordi
Discover Mallorca's coastline with a rental car
Makean island round trip with the rental car. Take a ride on Mallorca's mostly well-developed roads with sea view around Mallorca or drive to the equally charming island centre. In the middle, the small town of Inca offers itself as a starting point for discovery trips. Every Thursday the biggest market of Mallorca takes place here in the centre. In this context, ask your car rental company about other worthwhile destinations.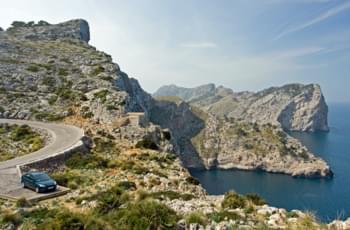 Mountain road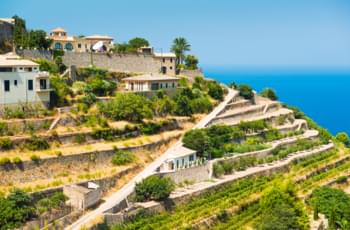 Discover lovely places by car
Car hire Mallorca: Insurances
We at driveboo recommend that you book a rental car in Mallorca with "fully comprehensive cover without excess / with refund of excess". If you book the insurance online, the insurance cover will usually be better and also cheaper than if you take out a local insurance at the local car rental in Mallorca. If you have already booked insurance via driveboo, you usually do not need insurance from the local car rental company.
Single driver or would you like to take turns?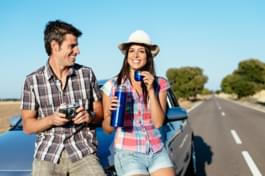 Before renting, ideally before booking, you should consider whether you want to take turns driving the rental car. If this is the case, we recommend filtering for second driver offers before booking. When booking an offer with an additional driver, you do not have to pay any extra fees for entering the second driver in the rental contract. If you want to add an additional driver on site additional fees will be charged.
You can ask the car hire company at the airport for an up-to-date road map or book a navigation device.