Explore Port de Sóller and surroundings by hired car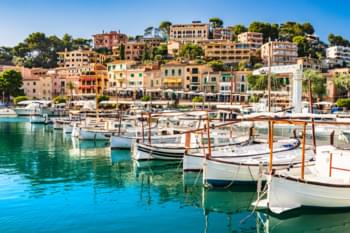 Port de Sóller
Crystal clear waters and white yachts swaying in the sunlight await you in Port de Sóller, the perfect car hire destination on the Balearic Island of Mallorca. Enjoy a walk along the promenade, splash around in the lukewarm waters of the Mediterranean, take a spin in your hired car or enjoy the hospitality of the Mallorcans in one of the quaint pavement cafés. But what would a stay on Mallorca be without having been around a bit? Go on an exciting voyage of discovery of the Balearic Island with a hired car and compare the offers of all car hire companies in Port de Sóller and the surrounding area before you start your journey with Driveboo.com to book the right hired car for your holiday comfortably online. Get behind the wheel, drive to the island's reservoir and explore the Tramuntana mountains or go shopping in the island's capital, Palma.
Port de Sóller or Palma - car hire pick up in Mallorca
PMI Airport
The journey to the airport of departure was arduous, the flight perhaps not quite as pleasant and the queues at the suitcase delivery were long, a scenario that probably every traveller has experienced at least once. Most travellers are all the happier when they can get straight into the hotel's air-conditioned transfer bus or taxi, because now the holiday begins! But those who think about hiring a car a few days later might be unlucky, especially in the high season, in the holiday resort of their choice, as most of the rental cars are already fully booked or there are only a few rental cars left. Those who have already reserved their hired car from home and can get into their hired car right at the Airport of Palma (PMI) can smile with satisfaction.
Spending the summer in Port de Sóller
Book a hired car, pack your bags and off you go on your summer holiday in Port de Sóller! Pure sunshine and unbelievable nature is waiting for you! A summer in Port de Sóller has a lot to offer. Go hiking, ride the famous "Red Lightning" or just relax on the beach. The best thing is to take a convertible as a hired car. So you can feel the wind in your hair and the sun on your skin when you live your summer dream in Port de Sóller. Stroll over one of the markets and watch the hustle and bustle on the streets while you enjoy a cup of coffee. There is always something on offer in Port de Sóller, especially in summer. This summer in Port de Sóller you will not forget so quickly.
The advantages of hiring a car at the airport
Whether it's a larger fleet of vehicles or cheaper offers, hiring a car for your trip in and around Port de Sóller is obvious:
longer opening hours, especially on Sundays
German- and English-speaking staff
large selection of small cars, mid-sized cars, station wagons and much more
no transfer costs for bus or taxi
Here you can park your hired car in Port de Sóller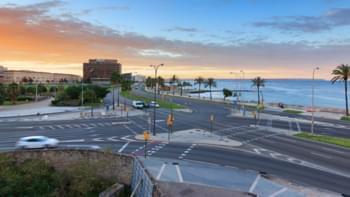 Traffic in Mallorca
Admittedly, the parking situation in Port de Sóller is not very satisfactory, as all free parking spaces are located outside the village and require a longer walk. Although there are also some paid parking spaces that are marked with a blue line or a blue curb, you will face severe penalties if you exceed the parking time. Should you nevertheless get a parking ticket (Spanish "multa"), you can usually pay half price directly at the parking meter and put it together with the envelope you received directly into the mailbox located at the parking meter.
Traffic offences on Mallorca - You should pay attention to this:
TRAFFIC OFFENCES AND THEIR FINES IN MALLORCA
All highlights in Port de Sóller at a glance:
a ride with the red lightning
a visit to the Museu Balear de Ciencies Naturals
the extensive range of water sports activities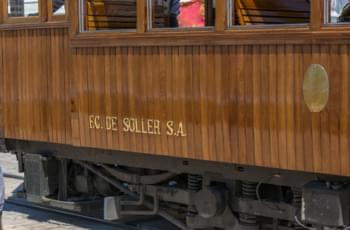 "Red Lightning" of Sóller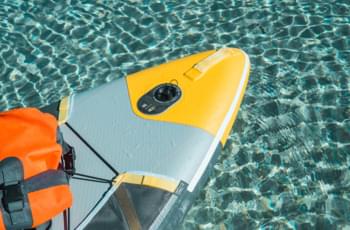 Water sports in Mallorca