Car hireal Formentera: Holidays on one of the most beautiful islands in the Mediterranean Sea
Do you fancy sun, beach and sea? Then book a hireal car for Formentera today and explore the island paradise near Mallorca and Ibiza on your own. With a hireal car on Formentera you are always flexible and independent of public transport. Drive your dream car to the most beautiful beaches and most exciting sights on Formentera. You can find the right vehicle for your trip on Driveboo.com. Our portal compares car hire prices and shows you the best price. What are you waiting for? Compare prices and book a hireal car for Formentera!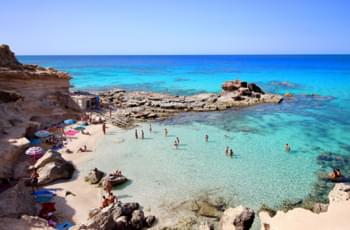 Bathing fun on Formentera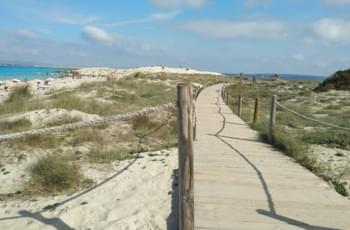 Way to the beach, Formentera
Where can I get my hireal car on Formentera?
If you book your desired car online in advance, you only have to pick it up at one of the car hire companies on Formentera. These are located either in La Savina or in Sant Francesc de Formentera.
In any case, take out fully comprehensive insurance without excess. In this way, even in the event of damage, you will not incur any additional costs and you can enjoy Formentera completely stress-free.
Additional options for your hireal car on Formentera
Decide for yourself about the model and features of your hireal car. You can choose between the following options:
Vehicle model: small car, minivan, SUV, convertible and many more
Features: air conditioning, all-wheel drive, automatic, etc.
Inclusive services: fair fuel regulation, additional driver, one-way hireal
By hireal car to the most exciting places on Formentera
CHURCHES, MONUMENTS AND MUSEUMS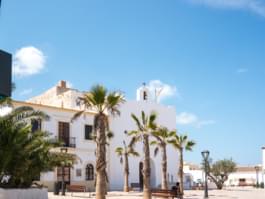 Church on Formentera
For example, drive to the church of Sant Francesc Xavier for a visit by hireal car. The architecture is sure to delight you. Afterwards you can stroll through the town.
Other places of interest:
Torre de la Gavina
Museo de Etnografía de Formentera
Torre de sa Punta Prima
Formentera has so many breathtaking beaches to offer. Convince yourself and drive to these dream destinations by hireal car:
Also visit the following highlights on Formentera:
Estany Pudent
Cala en Baster
Barbaria Lighthouse
Far de la Mola