Explore Santa Ponça with your hired car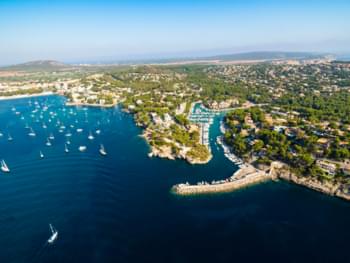 Santa Ponça is located in the southwest of the Balearic island of Mallorca and belongs to the municipality of Calvia. It is about 20 kilometers from Santa Ponça to the capital of the island Palma by hired car. With your hired car from Driveboo we strongly recommend to make excursions to the surrounding villages and landscapes. In the price comparison you have the possibility to compare all offers for rental cars in Santa Ponça and Mallorca fast and easy and to secure the cheapest offer by online booking.
Exploring Santa Ponça in spring or fall by hired car
If you want to explore the Santa Ponça area by hired car, you've chosen a convenient starting point with good road connections. Drive to the interesting Palma de Mallorca or go to one of the wonderful surrounding bathing beaches. If you want to enjoy the beautiful mountains, take a hired car to the adventurous Tramuntana Mountains to Soller. Do you like spectacular drives over numerous serpentines? Then you should go on an unforgettable tour in your hired car.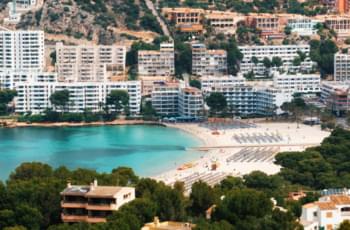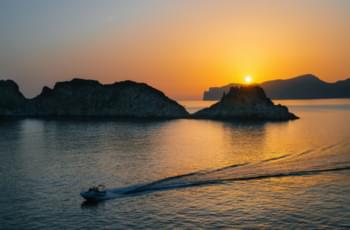 The best pick-up stations for a hired car in Santa Ponça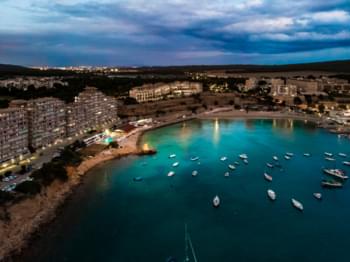 If you are arriving by plane in Mallorca at Palma de Mallorca Airport (PMI), it pays to choose the airport as your pick-up location when booking your hired car on Driveboo. After baggage claim, you just need to go to the counter of the car hire company where you booked online in advance and refer to your booking. Shortly after, you can pick up your hired car and start exploring the area as you continue your journey to Santa Ponça! If you prefer to travel by cab or bus to Santa Ponça first, you have the option to book the hired car in advance, which can then be picked up directly on spot at the car hire company. Whether you prefer to explore the island in an air-conditioned family car, SUVor a convertible is up to you. On Driveboo you have an abundance of rental cars on offer - and at the best prices! This is where the competition is the fiercest, which is why the car hire companies are just outdoing each other with offers. Rest assured, here you'll find themost suitable hired car for your budget and in your desired travel period!
What to look for when picking up your hired car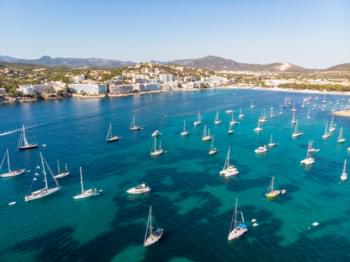 When you receive the hired car, you should take a quick look at some things so that you can make sure that before you hire the car, there are no damages that the car hire company can later blame on you. Therefore, look for body and paint damage, tread of tyres and function of lights and luminaires. If you find any defects, address them to the car hire company while you are still there and have them documented together with the car hire company. This way, you can be sure that you will not be held responsible for the defects later when you return the hired car.
Hire a car and refuel in Santa Ponça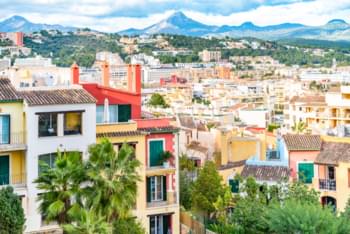 Santa Ponça, Mallorca, has a dense network of gas stations. At regular intervals along the highways or freeways you will find gas stations where you can refuel your hired car. As a rule, the gas stations of larger towns are located slightly outside the centers on arterial roads. Check with the local car hire company which fueling regulation applies to the return of the hired car. Not all car hire companies want the car back with a full tank. Otherwise, in the near the airport there are two gas stations where you can refuel your hired car before returning it.
What parking facilities are available in Santa Ponça?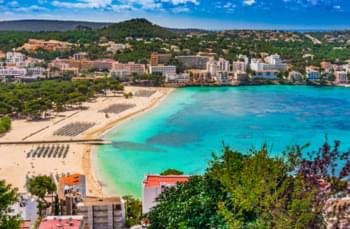 Sometimes parking in Santa Ponça can be a bit stressful, especially when the weather is not so good and there are a lot of people with cars. The easiest way is to park the hired car in one of the parking garages. Here you are charged by the minute. In white parking zones you can park continuously for free and in blue parking zones you have to get a parking ticket. At night, on weekends and at lunchtime, the blue zones are usually free.
Traffic rules in Mallorca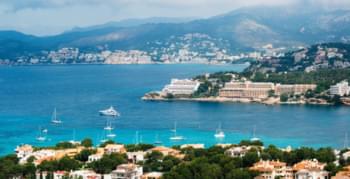 Speed limits are posted, otherwise:
Interurban: 50 km/h
Out of town: 90 km/h
Motorway: 120 km/h
In Spain, the right traffic applies. No cell phones may be used while driving. During the day, you must drive with dipped headlights in poor visibility conditions. No headphones should be used while driving, and if you forget to set your indicator when turning, you can expect to be fined.
What is the best time of year to travel to Santa Ponça?
What the best time to travel to Santa Ponça in Mallorca is, depends on the activities you want to pursue. Depending on that, almost the whole year comes into question. However, the usual travel time to hire a car is from June to August.
The following temperatures and weather conditions prevail throughout the year and could help you decide when to travel to Santa Ponça: