Car hire Palma de Mallorca: hire a car and explore the capital at low cost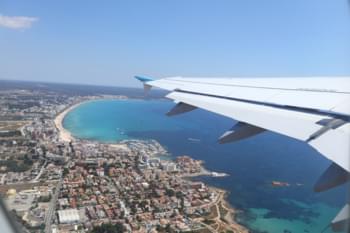 Palma de Mallorca from above
Palma de Mallorca is the capital of the Spanish Mediterranean island of Mallorca and is ideal for a discovery tour with your own hired car. Mallorca is still one of the most popular destinations within Europe. We recommend that you book a hired car online in advance. On our portal you can compare the prices of the car hire companies transparently and book the best offer for your hired car. Palma de Mallorca has so much to offer, so let's go! Look forward to varied excursions, lots of beach and sun and an unforgettable holiday with your hired car.
Fly to Palma de Mallorca in spring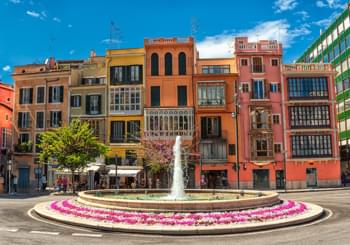 Spring in Palma de Mallorca
What do you think about a spring holiday in Palma de Mallorca? Book a hired car, pack your bags and off you go! Pick up your hired car directly after your arrival at the airport of Palma de Mallorca and start mobile into your well-deserved spring in Mallorca. Explore the most beautiful beaches, stroll through colorful markets and enjoy the spring sun on your skin. Palma de Mallorca is worth a trip at any time of year, but in spring the capital of Mallorca is particularly enchanting. Everywhere the most beautiful plants are blooming and the joy of life of the inhabitants is guaranteed to carry you away. Look forward to an unforgettable spring in Palma de Mallorca.
Hire a car in Palma de Mallorca and explore the capital of the island conveniently
Palma de Mallorca, the capital of the Spanish Mediterranean island of Mallorca and seat of the autonomous government of the Balearic Islands, is a well-known holiday destination for many European tourists. The island of Mallorca itself is often associated with sun, beaches and parties. However, Palma de Mallorca offers much, much more. Therefore, you should not spend your holiday only at the beach, when in the city and its charming surroundings, there is so much to discover. So, if you want to explore as much as possible of Palma de Mallorca, as well as its surroundings and attractions, it is advisable to book a hired car. With Driveboo, you will be able to compare offers of many different hired car companies and choose the one that meets your requirements.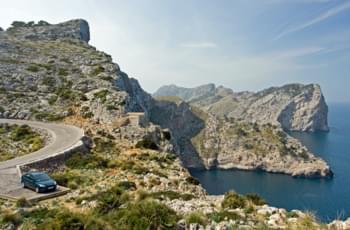 Explore the wonderful area around Palma de Mallorca.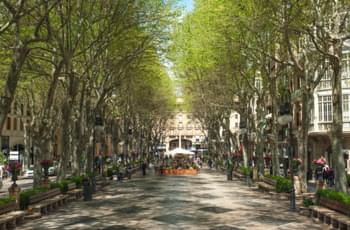 Boulevard in Palma de Mallorca.
Pick up your hired car at the airport of Palma de Mallorca
Palma de Mallorca Airport (PMI) is the third-largest airport in Spain. Stations of various car hire companies are available directly at the airport so that you can pick up your hired car right after arrival and start your Spanish holiday. The capital of Mallorca is just nine kilometres away.
Insurance for your hired car in Palma de Mallorca
All car hire companies in Spain offer insurance for their vehicles. You should always opt for insurance for your own protection. Definitely advisable is to choose fully comprehensice insurance without excess.
In Spain, rental cars are also required to have fire insurance and third-party liability insurance coverage.
What emergency numbers should I know when hiring a car in Palma de Mallorca?
Escape the city and discover the surroundings of Palma de Mallorca with your hired car
During a holiday in Mallorca, you may want to escape the hustle and bustle of the capital city. If this is the case, you can simply take your hired car and drive across the island to some more remote beaches. An advantage of driving around Mallorca is that the excursion destinations can usually be reached in manageable driving time. While travelling in a hired car, you will never need more than max. 1-1.5 hours to reach any given destination on the island. Day trips on Mallorca are perfect for some quiet days on the beach.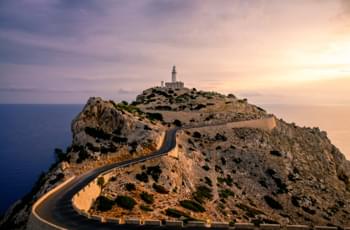 Cap Formentor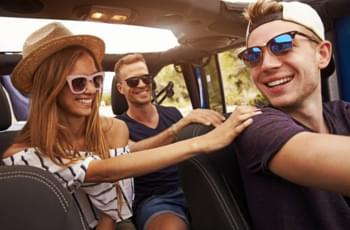 Exploring Mallorca by hired car
Cala Figuera
An example of a beautiful bay is Cala Figuera, in the north of the island. The area has been almost undiscovered by tourists. It is located at the end of the tangent between Palma in the south and Port de Pollenca in the north. It can, therefore, take some time to get there, but it is well worth the drive. In less than an hour, you will reach the small bay and will be able to relax in peace on the beach. It's great fun to book a hired car and visit the somewhat rough but quieter North.
Cap Formentor & Cala Murta
Places that are also worth seeing are Cap Formentor or Cala Murta. Routes leading there are curvy; this prevents some tourists from taking a drive with a hired car. However, you should not be afraid to get past this obstacle and enjoy some of the most beautiful places on the island.