Cheap Car Hire at New York Airport JFK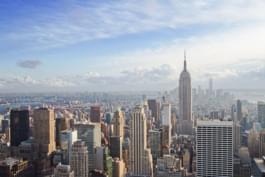 If you have reserved a hired car online in advance, you can pick it up at the New York JFK airport car hire companies' pick-up point. Find the best deals on hire a car at New York Airport using our online price comparison. JFK Airport is the central point of contact for many visitors to the USA. From the airport, you can quickly reach New York City or many other cities in the region, such as Boston or Philadelphia. The Big Apple is always worth a trip and offers visitors of culture and action-packed events everything.
Where can I hire a Hired Car at New York Airport?
After arriving at the JFK International Airport terminal, a longer entry procedure is required. This is due both to the stricter entry regulations and a large number of passengers arriving at this airport. After completing the entry formalities and collecting the baggage, a hired car can be picked up from a car hire company. Most car hire companies have either a service stand or a service phone in the terminal arrival area. They are located near the baggage claim area and are easy to find via the signs. Here, travellers can find out where to find their booked car at JFK airport at the pickup point of the car hire company or how to hire a vehicle at a reasonable price. The head office and pick-up station of the various hired car providers are conveniently located at Federal Circle in the western part of John F. Kennedy Airport. The hired car will also be returned to the Federal Circle prior to departure.
Summer in the "Big Apple" - New York City awaits you!
The summer in New York is a very special one and awaits you with numerous possibilities to get to know the city with all its facets from its best side. Feel like a real New Yorker while you admire Time Square with a milkshake in your hand or relax with a leisurely picnic in Central Park. Grab a hired car and explore the city's surroundings, because what many people don't know is that New York has some very nice beaches like Orchard Beach, Rockaway Beach or Coney Island, which is home to one of the oldest amusement parks in the USA. The amazingly clean beaches are perfect for a little cooling off and offer a great opportunity to escape the summer heat of the city with a little road trip in your hired car. End the evenings in one of the countless rooftop bars or immerse yourself in the wide range of evening open-air events in Central Park. A summer in New York is always a good idea, and with a hired car to match, nothing will stand in the way of your holiday.
Distance from JFK Airport to the city
New York - cheap Car Hire and city tours
New York City is a city of superlatives. More than 50 million travellers travel to NYC every year via Newark Airport or JFK International Airport to see the Statue of Liberty, Manhattan or Broadway. The cosmopolitan city on the east coast is not only an important gateway to the United States for travellers. The world metropolis, which is also affectionately called "Big Apple", is a worthwhile destination. NYC has five districts, each with its own unique flair: Brooklyn, Queens, Staten Island, the Bronx and Manhattan. If you are travelling to NYC, you can hire a car at the airport for your discovery tour. There are a number of national and international suppliers on site. It is possible to hire a car online before your trip or after arrival at the terminal to hire a car at JFK Airport. The pick-up station is located directly at the airport and can be easily reached from the terminal. Via the expressways at the airport, you can reach the city centre or the surrounding area.
Welcome to New York City: John F. Kennedy International Airport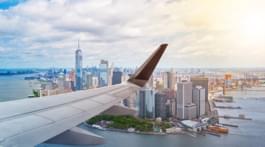 John F. Kennedy International Airport is the largest airport in New York City. The other two are Newark Airport, which is also used for international flights, and La Guardia Airport for domestic flights. John F. Kennedy Airport is newer and better developed than Newark Liberty International Airport, located southwest of Manhattan. The JFK Airtrain provides passengers with a fast connection from the terminal to another part of the airport or the surrounding area. Rides on the airport premises are free of charge. Car hire at the airport is fast and cheap. The different suppliers offer vehicles in all sizes and price ranges.
Which type of insurance should I take?
INSURANCE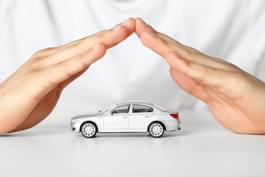 With the right insurance through New York
Even if you drive very carefully and safely, damage may occur to the hired car. To ensure that you can continue your journey without stress, we recommend that you take out fully comprehensive insurance without excess. In the event of damage, you will have to advance the costs. However, you will be reimbursed by your insurance company after your arrival back home. Simply submit the relevant receipts when you return from Los Angeles.
Sights you have to visit in New York
No other New York borough has as many famous sights as Manhattan. It is not far from both Newark Airport and John F. Kennedy International Airport. The island with its unmistakable skyline is one of the most densely populated areas in the world. About 27,800 people live here per km². In the list below, you will find some examples of sights that you must visit:
Empire State Building

Rockefeller Center

Central Park

High Line

Times Square

Brooklyn Bridge

Statue of Liberty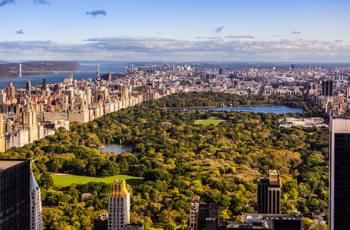 Central park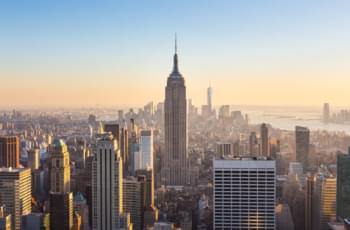 Empire State Building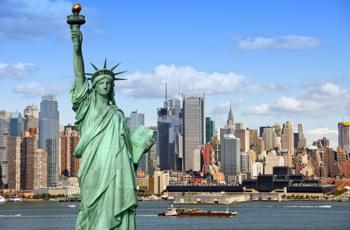 Statue of Liberty
Culture in New York City: Parks, Zoos and Museums
In NYC you can visit some of the world's most famous museums: The American Museum of Natural History, the Guggenheim Museum or the Museum of Modern Art, to name only a few. Visits to museums in New York can be very cheap. Some of them are free of charge, other museums allow the visitor to pay what he wants. The green areas of the metropolis invite you to relax. If you are travelling to Manhattan by hired car, you should make a diversion to the world-famous Central Park. Here you will find the Central Park Zoo, the zoo of Manhattan. The other four districts have their own zoo.
A Trip into American History: Statue of Liberty and Ellis Island
This trip is a must for New York travellers: visiting the Statue of Liberty on Liberty Island and Ellis Island is part of a longer stay. Between 1892 and 1954 alone, more than 12 million people immigrated to the United States via Ellis Island. The islands in Upper New York Bay are best reached by ferry from Battery Park on the southern tip of Manhattan. There are good parking facilities in this area, so it is easy to get there by car hire. Highlights of the excursion include a visit to the Statue of Liberty and the Immigration Museum.
Exploring New York by Hired Car from the airport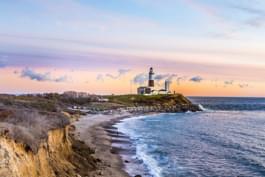 Long Island
For excursions to the surroundings of NYC, it is worthwhile to hire a car at a reasonable price. The Hamptons in the northeastern Long Islands offer pure scenery. The former fishing villages on the long, light sandy beaches are ideal for relaxing. For example, those who have booked a larger hired car at the car hire company and want to make longer trips can travel to Philadelphia in two hours. In the city, with its unique history, you can visit the Liberty Bell and Independence Hall. The American capital Washington can be reached by car in about four to five hours. You can also hire a car and enjoy beautiful tours in the picturesque countryside of New York State north of the metropolis. The Hudson Valley and the Catskill Mountains attract many visitors every year with their beautiful landscapes.