Cheap Car Hire at New York Airport JFK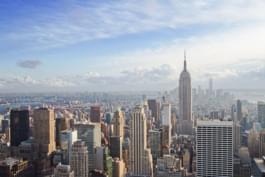 If you have reserved a hired car online in advance, you can pick it up at the New York JFK airport car hire companies' pick-up point. Find the best deals on hire a car at New York Airport using our online price comparison. JFK Airport is the central point of contact for many visitors to the USA. From the airport, you can quickly reach New York City or many other cities in the region, such as Boston or Philadelphia. The Big Apple is always worth a trip and offers visitors of culture and action-packed events everything.
Sights you have to visit in New York City
No other New York borough has as many famous sights as Manhattan. It is not far from both Newark Airport and John F. Kennedy International Airport. The island with its unmistakable skyline is one of the most densely populated areas in the world. About 27,800 people live here per km². In the list below, you will find some examples of sights that you must visit:
Empire State Building

Rockefeller Center

Central Park

High Line

Times Square

Brooklyn Bridge

Statue of Liberty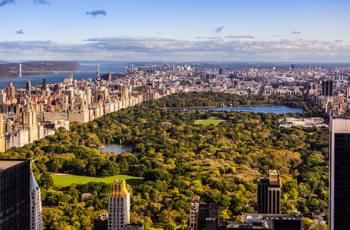 Central park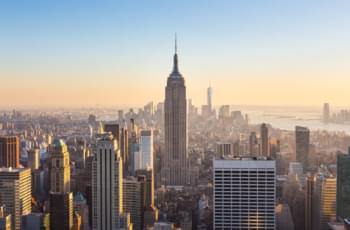 Empire State Building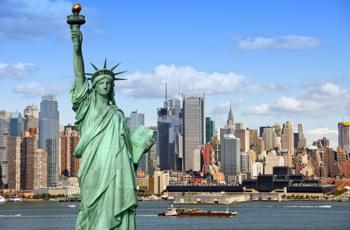 Statue of Liberty
Moreover, your hired car enables you to visit places outside Manhatten and to explore the federal state, New York. For example, you can visit the Niagara falls with your hired car. Another option would be Boston for example.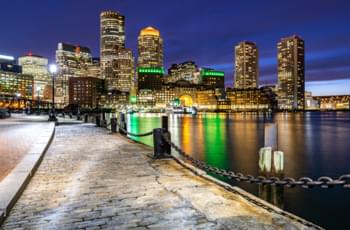 Boston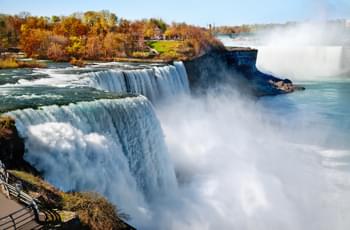 Niagara Falls, NY
Distance from JFK Airport to the city
What are the options for my hired car?
INSURANCE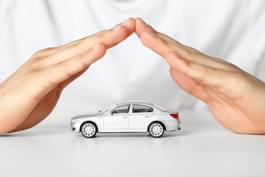 With the right insurance through New York City
Even if you drive very carefully and safely, damage may occur to the hired car. To ensure that you can continue your journey without stress, we recommend that you take out fully comprehensive insurance without excess. In the event of damage, you will have to advance the costs. However, you will be reimbursed by your insurance company after your arrival back home. Simply submit the relevant receipts when you return from New York City.
One-way rental
For those who want to do a road trip to New York with a hired car, the one-way rental might be the best option. This means that you can pick up your hired car at the location of your choice and return it conveniently to another location. This is particularly useful if you are heading for cities that are far away from each other, such as Boston, Washington and Philadelphia.
Additional driver
What does the additional driver option actually mean? If you specify another person as an additional driver when booking, you can take turns driving the hired car. Distances in New York are often very long. If only one person drives the hired car, this can be quite exhausting. So that the driver can sit back and relax, too, you can simply hand over the steering wheel to the additional driver.
Culture in New York City: Parks, Zoos and Museums
In NYC you can visit some of the world's most famous museums: The American Museum of Natural History, the Guggenheim Museum or the Museum of Modern Art, to name only a few. Visits to museums in New York can be very cheap. Some of them are free of charge, other museums allow the visitor to pay what he wants. The green areas of the metropolis invite you to relax. If you are travelling to Manhattan by hired car, you should make a diversion to the world-famous Central Park. Here you will find the Central Park Zoo, the zoo of Manhattan. The other four districts have their own zoo.
A Trip into American History: Statue of Liberty and Ellis Island
This trip is a must for New York travellers: visiting the Statue of Liberty on Liberty Island and Ellis Island is part of a longer stay. Between 1892 and 1954 alone, more than 12 million people immigrated to the United States via Ellis Island. The islands in Upper New York Bay are best reached by ferry from Battery Park on the southern tip of Manhattan. There are good parking facilities in this area, so it is easy to get there by car hire. Highlights of the excursion include a visit to the Statue of Liberty and the Immigration Museum.
Welcome to New York City: John F. Kennedy International Airport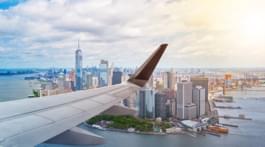 John F. Kennedy International Airport is the largest airport in New York City. The other two are Newark Airport, which is also used for international flights, and La Guardia Airport for domestic flights. John F. Kennedy Airport is newer and better developed than Newark Liberty International Airport, located southwest of Manhattan. The JFK Airtrain provides passengers with a fast connection from the terminal to another part of the airport or the surrounding area. Rides on the airport premises are free of charge. Car hire at the airport is fast and cheap. The different suppliers offer vehicles in all sizes and price ranges.
Important rules while driving in New York City
The speed limit on all New York City streets is now 25 MPH, unless otherwise posted.
Moreover, the blood alcohol level while driving is limited to 0,08%
New York City follows right-handed traffic