Car hire at Toronto Pearson International Airport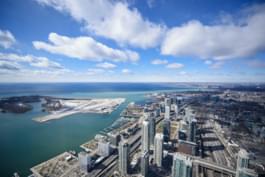 View of Toronto Airport
In order to start your holiday in Canada in a relaxed manner, it is a good idea to pick up the hired car you have rented in advance immediately upon arrival at Toronto Pearson International Airport. On our independent comparison portal you can quickly and easily compare the numerous offers of our well-known partner car hire companies at Toronto Pearson International Airport. Find the cheapest car hire at Toronto Pearson International Airport and fly away on your holiday!
Things to know about Toronto
Toronto is Canada's largest city. About 2.6 million people live here. It is also the capital of the Canadian province of Ontario. Located on the beautiful Lake Ontario, Toronto is only about 100 km away from the USA. Since Toronto is located in the south of Canada, it has a very pleasant climate. Nevertheless, all four seasons are clearly distinct. With your hired car, which you can pick up at the Toronto Pearson International Airport, you can explore not only the city but also the surrounding area flexibly and comfortably without having to rely on public transportation. The city itself has many sights to offer, for example the CN Tower, which is one of the tallest freestanding buildings in North America. Hire a car of your choice online at low cost and discover the sights of Toronto comfortably by hired car.
Winter Wonderland Toronto
If you travel to Toronto in winter, you can expect crisp, cold temperatures. But that's what makes it so exciting. Because in winter, Toronto is a true winter wonderland. Wrap yourself up tightly and look forward to a round of ice skating in a wintry atmosphere. If you get too cold, you can sit down in one of Toronto's cafes and drink a delicious winter hot chocolate. Afterwards you can explore the surroundings of Toronto by hired car. Take advantage of your winter holiday and immerse yourself in Toronto's winter wonderland.
General information about Toronto Airport (YYZ)
Toronto Pearson International Airport, or YYZ for short, is about 27 kilometers from the city.
Near the airport are the cities of Hamilton and Mississauga.
When you are at the airport terminal, you can try international and national food and drinks in various restaurants and bars. You will find yourself at the terminal in front of and behind the security checkpoints.
The local currency is the Canadian dollar. You can also change your money at Toronto Pearson International Airport in one of the exchange offices or banks located at the terminal. Travelex Canada Limited Bank is located in each terminal. If you only want to exchange money, you can do so at the exchange office ICE Currency Services. When the exchange office and bank are closed, you can use the ATM machines at the YYZ Airport, which are available 24 hours a day.
There are also many stores at Airport YYZ. Before you pass through the security checkpoint, you can look around in the various stores selling perfume, clothing and shoes, jewelry or electronics. Here you can buy high-quality textiles, regional products or souvenirs.
Where is the car hire company at Toronto Airport located?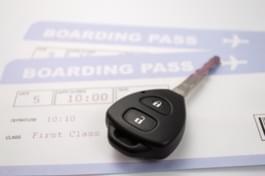 Car Hire at Toronto Airport
After you have received your baggage, you will proceed to the pick-up station of your car hire company. The car hire counters are located in the arrivals hall. After you have cleared all formalities with the car hire staff, they will take you to your hired car. Book your desired car online in advance. This way you can choose between different models and add extras. So your holiday in Toronto can start right after your arrival at the airport.
By hired car from Toronto Pearson Airport to the city
Are you travelling by hired car in and around Toronto? Then you can use various highways from the airport, such as the 400, 401 and 403, which guarantee ideal connections to the airport. Via Motorway 427 and the Gardiner Expressway you can reach city centre Toronto in the fastest way. Pick up your hired car at the car hire pickup station and explore Canada in a comfortable way.
What you should pay attention to in Canadian road traffic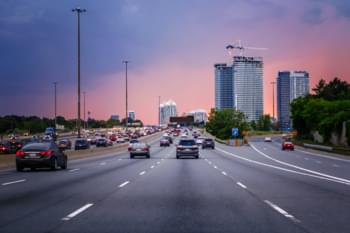 Road Traffic in Toronto
If you are driving a hired car in Canada and leaving from Toronto Pearson International Airport, it is important that you adhere to the speed limits, as these are often checked by the police and are subject to heavy fines if you violate them. Please refer to the table below for the respective speed limits. The blood alcohol limit varies by province, but in Toronto it is 0.8, but drivers under the age of 21 and beginners must observe the 0.0 blood alcohol limit. In Canada, seat belts are obligatory for all passengers. In addition, adults are responsible for all children under 16 years of age. In Canada it is allowed to overtake on the right side of the motorway. Therefore, it is recommended to keep in the right lane when reeving. With your hired car you can drive from the airport to your hotel or to the sights of the city.
What are the speed limits in Canada?
Explore sights in Toronto by hired car
After you receive your hired car at the car hire pickup location at Toronto Pearson International Airport, you will be taken from the airport to Toronto's attractions.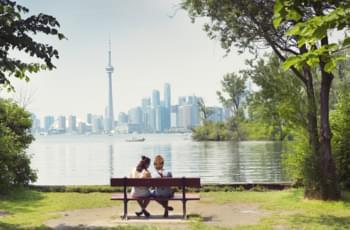 Toronto Island Park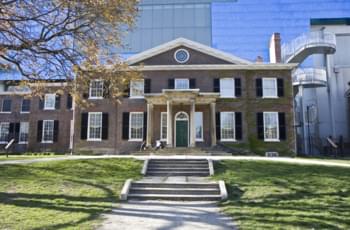 Art Gallery Toronto
Fairmont Royal York Luxury Hotel
The Fairmont Royal York Luxury Hotel is one of the most imposing buildings in the city. Drive there from the airport with your hired car and take a look at the building. It is located opposite the main train station and offers its guests more than 1,600 rooms. This is where the British Royal Family is accommodated when they are on a state visit to Canada. The different heights and gradations make the hotel resemble a castle.
UNDERGROUND CITY
Beneath the city itself there is a 28 km long tunnel network, which is one of the largest underground cities in the world. Here you have the opportunity to go shopping in various stores. Numerous buildings, such as the Air Canada Centre, City Hall or CN Tower are connected to the system. Take a hired car from YYZ airport to Toronto and also take a look at the city's parks and gardens.
More Highlights
Toronto Island Park
Hockey Hall of Fame
Art Gallery of Ontorio
Toronto Botanical Gardens