Discover Ontario on a road trip by hireal car
The Canadian province of Ontario is an excellent place for a road trip by hireal car. Whether you're travelling through the capital Toronto in a small car or through the numerous national parks in an SUV - a hireal car gives you the flexibility to travel independently of public transport. You can find the right vehicle for your trip through Ontario on Driveboo.com. Compare the offers of the car hire companies from the comfort of your own home and book your dream vehicle at the best price online in advance. You can easily pick up your hireal car after your arrival in Ontario.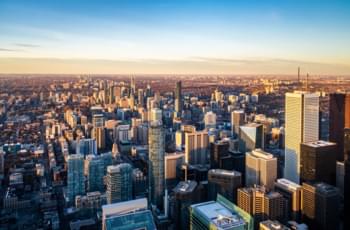 View over Toronto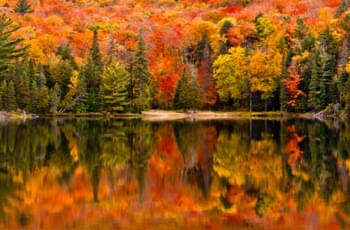 Autumn landscape in Ontario
Any questions? Then don't hesitate to contact our service team. We will be happy to help you.
Car hireal Ontario: Where can I get my hireal car?
In the province of Ontario you can pick up your hireal car both in the capital Toronto and many other places. If you want to be mobile in Canada right from the start, we recommend hiring a car directly at one of the airports. This way, you won't lose precious time waiting for public transportation. You will find locations for your hireal car at the following locations:
The right insurance for your hireal car in Ontario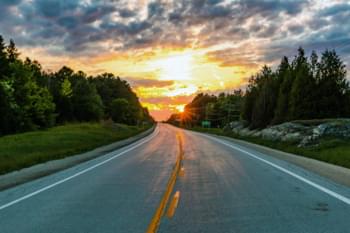 With the right insurance through Ontario
Canada's breathtaking scenery often tempts you to look out of the window while driving. The roads in Canada are in very good condition and quite unused. However, it is common for animals to be on the road. Especially moose like to sunbathe on the road. For this reason you should drive particularly carefully with the hireal car. Despite all caution accidents or damage to the hireal car can happen. We don't want such an incident to cloud your good holiday mood. Therefore we recommend that you take out fully comprehensive insurance without excess. In this way, even in the event of damage, you will not incur any further costs and you can enjoy your holiday stress-free.
The maximum speed in Canada is 50 km/h in town, 80 km/h on country roads and 100 km/h on motorways.
What does one-way hire actually mean?
Do you also find it annoying to bring the hireal car back to where you started at the end of your journey? A road trip is characterized by the fact that it starts at one place and ends at another. For this reason, you can select the one-way hireal option with Driveboo.com. This means that you pick up the hireal car at the car hire company of your choice and simply return it to another location. This gives you the flexibility to drive to all your favourite destinations in Ontario and customise your trip.
Don't miss these places in Ontario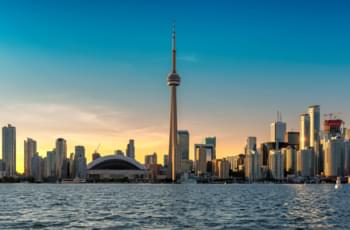 Skyline Toronto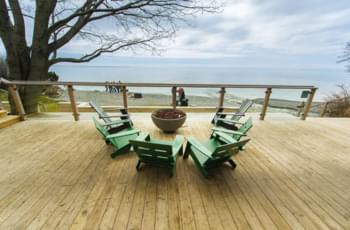 Prince Edward County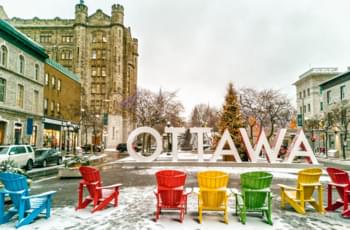 Discovering Ottawa
Toronto
If you would like to explore Ontario's capital Toronto on your own, a ride in your hireal car is a good option. This gives you the flexibility to reach all your desired destinations. Alternatively, you can hire a bicycle. From the Canadian National Tower you have a gigantic view over the city. If the weather is good, you can even see as far as the USA from there. Those who like beer, good food and history should not miss the Distillery District. The old industrial area in the east of the city centre offers numerous restaurants, cafés and shops. Treat yourself to a cup of coffee and enjoy Toronto!
Prince Edward County
Prince Edward County is one of Canada's best wine-growing areas. You can reach the area in about three hours by hireal car from Ottawa. Here you can enjoy delicious wine tastings with numerous winemakers and also cheese tastings. On your way to Prince Edward County you will pass beautiful beaches between vineyards with your hireal car. If you choose a minivan as your hireal car, you can take the tour with your friends. In that way your holiday will be twice as fun!
Ottawa
Canada's capital Ottawa lies directly on the Rideau Canal and is often underestimated. Visit historic sites, national landmarks and government buildings. Afterwards you can fortify yourself by exploring Ottawa's famous and varied food scene.
Ontario Activities: What to do in Canada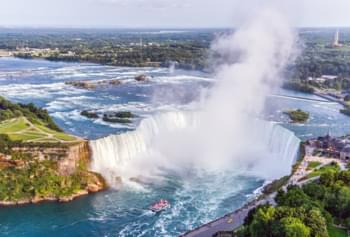 View over Niagara Falls
The province of Ontario in Canada has something to offer for every taste. Below you will find some suggestions to ensure that you won't get bored while in Ontario:
Helicopter flight over the Niagara Falls
Wine tour
Speedboat ride
Zipline to the Niagara Falls
Sightseeing tour to the most exciting must-sees in Toronto
Boat tour on the Rideau Canal
Drive to the most popular national parks in Ontario by hireal car
Pukaskwa National Park
The Pukaskwa National Park is located in the north of Ontario. The national park is only little developed and offers therefore original, breathtaking nature to you. Enjoy the tranquility of ancient forests and dreamlike lakes. With a bit of luck you can observe moose, black bears, wolves and lynxes, which are typical for this area. Drive with the hireal car comfortably to your favourite places and look forward to the fantastic landscapes in the Pukaskwa National Park.
Fathom Five National Marine Park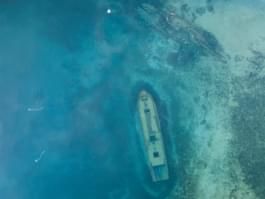 Visit Fathom Five National Marine Park
Fathom Five National Marine Park is a marine reserve bordering Bruce Peninsula National Park to the southeast. The marine reserve includes numerous historic shipwrecks and three lighthouses. Take an unforgettable walk and marvel at bizarre rock formations, rare orchid species and forests bordering cliffs. The most adventurous among you can dive to the shipwrecks.
Algonquin Provincial Park
Algonqin Provincial Park is one of the most beautiful parks in Ontario. Enjoy the peace of typical Canadian nature. For example, hire a canoe and go on a tour through the beautiful forests. Pack a tent and everything you need for the next days and off you go. Cross some of the countless lakes by canoe and camp on a diffehire small island every night. On most islands there are already small fireplaces of previous visitors. Before your tour, inform yourself extensively about bear-safety and don't forget to raise your supplies in the evening in one of the canoe barrels on a tree far away from your night's camp.
Is it worth taking a road trip by hireal car to other Canadian provinces?
A road trip with a hireal car is always worth it! Explore Ontario and other Canadian provinces such as Alberta, British Columbia or Québec. Here, fascinating national parks and exciting cities such as Calgary or Vancouver await you. Book your suitable hireal car today and look forward to an unforgettable journey through Canada.