Explore Vancouver and Southwest Canada with a hired car in Summer 2020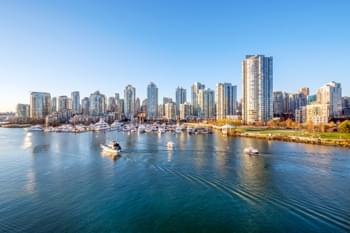 If you long for a mix of modern cityscapes and breathtaking natural surroundings, you should definitely consider visiting Vancouver. This metropolis is located in southwestern Canada. It's in the province of British Columbia, on the Pacific coast, near the Coast Mountains and the US border. With nearly 2.5 million inhabitants, Vancouver is Canada's third-largest metropolitan area. The city itself has about 630,000 inhabitants. Perhaps surprisingly, settlement of the city only began in the 1860s. Vancouver also has a large port, which now exports more goods than any other port in North America. What many do not know, is that after Los Angeles and New York, Vancouver is the third most important location for the North American film industry. There is therefore much to see in "Hollywood North", as the city is known.
Vancouver is a perfect place to discover with a hired car. Make use of DriveBoo and compare offers of many different car hire companies and choose the one that suits your needs best.
When should I travel to Vancouver?
If you want to enjoy the Canadian summer, we recommend planning your holiday for the months between May and September. Winter is often hard and icy cold here - we imagine that most people do not want to make a city trip under these conditions!
Looking for a hired car in Vancouver? Book it at the airport!
You will probably arrive in Canada by plane. Vancouver International Airport (YVR) is easily accessible and connects the city with the rest of the world. In terms of passenger numbers and aircraft movements, it is the second largest airport in Canada. It is located just 15 km south of the city, on Sea Island. With a hired car, you can get from the airport to the city centre in no time. Then, you can discover not only the city itself, but also the sprawling, beautiful surroundings of the metropolitan region.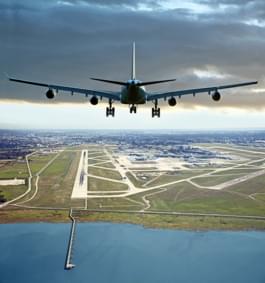 Our specialists working at Driveboo confirm that booking a hired car at the airport is always beneficial for the following reasons:
Great selection and availability of vehicles
Long opening hours
Favourable prices, thanks to great competition
What should I know about driving in Canada?
A national driver's license with a translation (English/French) should be sufficient in Canada. However, an international driver's license is also highly recommended. A national driver's license is valid for different periods of time in different provinces—in British Columbia (Vancouver) it is valid for 90 days.
If you want to hire a car in Canada, you have to be at least 21 (or 25 in some cases) and have a valid driver's license and a credit card (for the deposit).
If you wish to hire a car, you should always remember to take out full insurance without non-waivable excess in case of an accident, damage or theft and the liability insurance with a sufficient level of risk coverage from a recognised insurance company in Canada.
What you may not know is that Canada does not have social security agreements with most European countries. We therefore recommend supplementary insurance that provides comprehensive protection in the event of illness.
Which traffic regulations apply in Canada?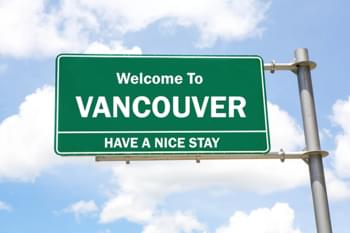 The roads in Canada are well developed. Therefore, some routes require a toll, such as parts of Motorway 407, as well as some tunnels and bridges. You will also have to pay a toll when driving on the Golden Ears Bridge and the Port Mann Bridge in Vancouver.
When driving in Vancouver, be sure to always keep an eye on your speedometer. The maximum speeds of 40-50 km/h in urban areas and 80-110 km/h outside of urban areas are strictly enforced.
More traffic regulations in Canada
Your lights have to be on also during the day.
Yellow lines at the edge of the road determine whether or not you can park at the roadside.
It is forbidden to drive with a blood alcohol level which exceeds eighty milligrams of alcohol in one hundred millilitres of blood.
Winter tyres are mandatory in Vancouver from October 1st to April 30th. The tyres should, however, be taken care of by the car hire company.
What are the penalties for drivers in Canada?
In Canada, speed monitoring is performed by radars installed in police cars. If you are caught speeding, you will be prosecuted. We have summarised some of the possible penalties for you.
Where can I park my hired car in Vancouver?
If you are ever unsure, it is best to park in a designated car park. Parking by hydrants or in other forbidden areas can be very expensive if you land a fine. If the curb is marked in yellow, then you can be sure that you cannot park there.
We also strongly advise against throwing away a ticket. The authorities will contact your car hire company - who will already have your credit card details.
Should I expect to pay a deposit for my hired car in Vancouver?
Yes. This has nothing to do with Vancouver in general but more with the fact that every car hire company bills a deposit based on the value of the vehicle. If the car is returned without damage, your deposit will be repaid almost immediately.
What phone number should I know while driving in Canada?
Where to go with my hired car from Vancouver?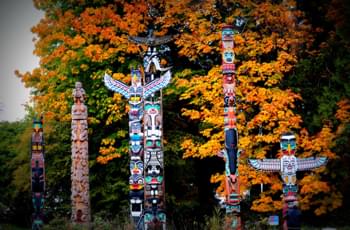 Totem Poles Stanley Park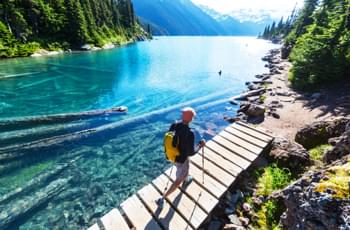 Whistler Mountain
Vancouver is situated, as already described, in the beautiful southwest of Canada. Both the city itself and the surrounding area offer wonderful sights and attractions. These include:
Pacific Coliseum
Sun Tower
Living Shangri-La
Vancouver Art Gallery
Vancouver Maritime Museum
Museum of Anthropology
First Beach and Jericho Beach
Whistler Mountain
North Shore Mountains
And this is only a short list of the area's sights and destinations—you'll find many more when you visit!
Trips with a hired car in the area around Vancouver
Vancouver is a breathtakingly beautiful, modern metropolis. If you plan to enjoy not only the city itself, but also its surroundings, you should definitely hire a hired car. We highly recommend exploring of this corner of Canada.