Car hire at San Francisco Airport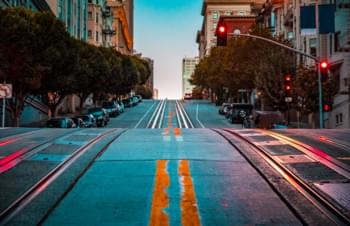 Discovering San Francisco
Enjoy legendary road trips through California and start your journey with a hired car at San Francisco Airport. We recommend that you book your hired car online before your trip. Benefit from early booking prices and our transparent price comparison for rental cars. At San Francisco Airport (SFO) you can hire various vehicle models, such as SUVs, convertibles, small cars and vans. Especially if you want to enjoy nature in California, we recommend you to hire an SUV.
Why should you hire a car and visit San Francisco?
Every visitor to the United States should spend part of his or her stay in San Francisco. This Californian metropolis with its pleasant climate, many sights and unique flair captivates countless people from all over the world every year. Most of them arrive at the airport and take a suitable hired car to get to the city centre. Although San Francisco City with its 800,000 inhabitants seems to be much more manageable than Miami or New York, the distances between the individual highlights are quite long.
Spending the golden autumn in San Francisco
Especially in October and November there is almost no rain in San Francisco. So what are you waiting for? Pack your bags and off to San Francisco in the fall. The fall months are ideal for a road trip by hired car. Don't be surprised if there is still some fog in the early morning hours. It will clear up as soon as the autumn sun rises into the sky. Take a hired car and drive through San Francisco and the surrounding area and enjoy your fall holiday to the fullest. Choose the most beautiful places to have a picnic and enjoy the magnificent view over an autumnal landscape.
Car hire San Francisco Airport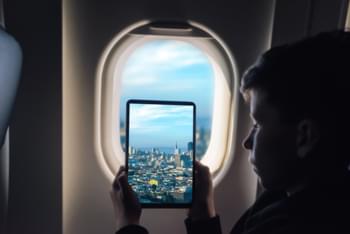 Die passende Autovermietung finden
Compare the offers of different car hire companies at San Francisco Airport. We work with all major car hire companies in the United States. The following car hire companies are a selection of the available providers at San Francisco Airport:
Alamo
Avis
Europcar
Hertz
You can hire a car at San Francisco Airport from any of the mentioned car hire companies and book your car online via the price comparison at Driveboo. The idea of hiring a car at San Francisco International Airport SFO CA is advantageous. The hired car will take you from the airport to the hotel, city centre and to every part of the metropolis or to one of the viewpoints on the hills of the outskirts.
Information about San Francisco Airport SFO
From San Francisco Airport, 22 national airlines fly to more than 60 cities in the USA. Approximately 37 million passengers land or depart from the International Airport SFO every year. Information on all relevant topics, such as car hire, is provided in several languages and interpreters are available via a telephone hotline. As a passenger arriving from abroad, you will arrive at Terminal 4 and your first route will lead to the passport control in the arrivals hall. Afterwards, you can take your baggage off the treadmill and pass through the control area of the US customs. You can then pick up your reserved hired car at the car hire company of your choice. The building in which the car hire companies are accommodated is located outside the international terminal.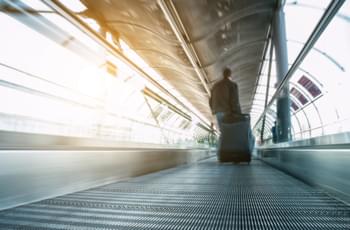 Way to the car hire company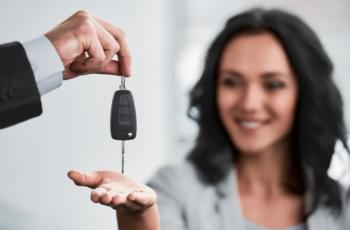 More flexibility with a hired car
What should you know when hiring a car at San Francisco Aiport?
Minimum Age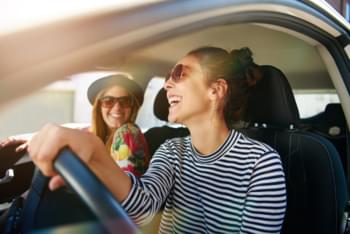 Ask for the minimum age
What age does your car hire require? This question should be clarified at the time of booking, as almost every car hire company present at San Francisco CA International Airport requires a minimum age of 25 years. However, there are some exceptions, such as the Alamo provider. With this company you can hire a car at the age of 21 years, but an insurance supplement of 25 dollars per day is due. Small rental cars are an option for 18-year-olds as long as there is a willingness to pay for a high insurance.
Insurance
If you hire your car through the price comparison at Driveboo at a low price you can include the optimal insurance. You are advised to choose fully comprehensive insurance (CDW) and extended liability insurance (EP). With us both policies are standard.
Additional driver
Do you want to drive the hired car alone or should an additional driver be registered? If you make use of the additional driver option, you can take turns in driving the hired car. In this manner, both of you can take a break and enjoy the beautiful landscape.
One-way rental
Do you want to pick up your car at the appropriate pick-up station at the International Airport SFO and return it to the pick-up station of another airport? That's no problem with the one-way rental option of Driveboo. Our partners often offer very favourable one-way contracts. On Driveboo you can hire your dream vehicle at a low price and only have to calculate comparatively low surcharges for extras such as navigation systems and child seats.
Is there a petrol station at San Francisco SFO airport?
Hired car San Francisco: Important traffic rules
Drive on the right-hand side of the road
Pay attention to the speed limits
Wear seat belts
It's forbidden to overtake school buses
The traffic regulations in California do not differ significantly from those in Europe. Inform yourself about the special features at your car hire company, so that the commendable intention to hire a car at a reasonable price does not experience any unpleasant burden from expensive parking tickets.
Explore San Francisco with your hired car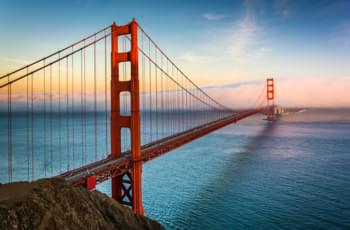 Golden Gate Bridge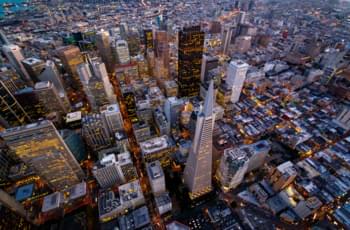 View of San Francisco City centre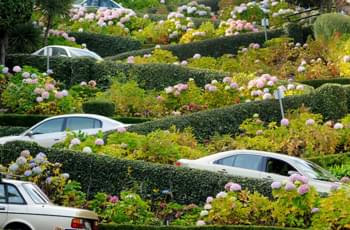 Lombard Street
At SFO International Airport, you can hire a car cheaply and without mileage restrictions. You probably want to discover the attractions of the Californian metropolis. It is therefore essential to drive to the Golden Gate Bridge or the nearby Golden Gate Park. Both destinations are only a few kilometers from the city center and offer exciting impressions accompanied by a captivatingly beautiful appearance.
Even if you were able to hire your car at San Francisco Airport at a very reasonable price, you should still explore certain destinations on foot or by cable car. These include the hills in the northeast and the densely populated city centre. However, some streets invite you to drive a hired car, especially Lombard Street leads you over the hills of the metropolis with sometimes very steep gradients.
Other car hire destinations in San Francisco
The city of Sacramento, located about 170 kilometres north of San Francisco, offers so many highlights that one day is not enough to discover it. You should therefore choose a hotel and stay here for a few days.
South of the SFO International Airport, Santa Cruz is located 110 kilometres away. Enjoy the fantastic flair of the city with its characteristic features, choose an attractive hotel and relax in a varied environment.
Nature lovers should spend a few days in the exciting Yosemite National Park. Located approximately 260 miles from San Francisco City and the airport, the park covers 3,000 square kilometers and is located in the east of California. You can reach it by car in about five hours and find a suitable hotel nearby.