Hireal car Arizona: Flexible travel in the Grand Canyon State
Discover the US state of Arizona with its dry deserts and red rocks by hireal car. Compare offers of car hire companies on Driveboo and find the right vehicle for your trip early in advance. The highlight of Arizona is of course the Grand Canyon. But also other sights can be easily explored with a hireal car. Whether cactus fields, reservoirs or the Colorado River - Arizona is definitely worth a trip. If you book your hireal car online in advance, you can start your holiday relaxed right after your arrival in Arizona.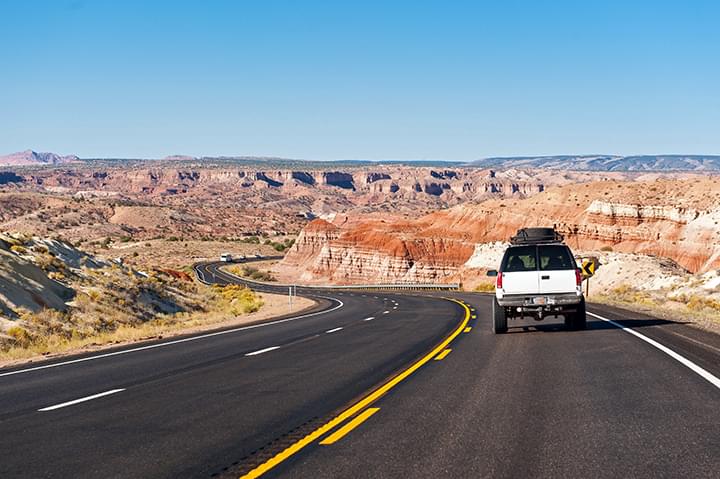 With the hireal car through Arizona
Car hireal Arizona: Where can I get my hireal car?
For the perfect start to your well-earned Arizona holiday, you should book a hireal car in advance. There are car hire companies in most of the cities in Arizona. You can pick up your dream car at the following locations:
What airports are there in Arizona?
To be flexible in Arizona right from the start, you should pick up a hireal car immediately after landing. You can do this at the following airports in Arizona:
Conquer Arizona with the right hireal car
To travel pleasantly through Arizona, you should definitely choose the right hireal car. At Driveboo you have the choice between diffehire models. You can also choose the equipment individually. You can choose from the following car models:
Select the following additional options: air conditioning, all-wheel drive, fully comprehensive insurance without excess and much more.
Discover the highlights of Arizona by hireal car
Besides the Grand Canyon National Park there is so much more to discover in the US state of Arizona. Nature lovers and hiking enthusiasts in particular will get their money's worth here. Take the wheel of your hireal car and set off to the impressive sights of Arizona. You should not miss these under any circumstances:
Antelope Canyon
Grand Canyon Skywalk
Monument Valley
Havasu Falls
Painted Desert
Oak Creek Canyon
Bell Rock
Arizona-Sonora Desert Museum
Tonto National Forest