Car hire at Phoenix PHX Airport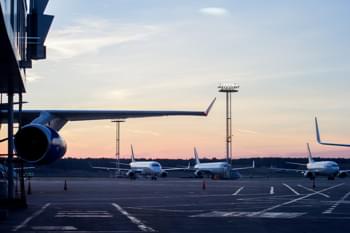 Planes at the airport
Once you've decided to travel to Arizona, check out the comprehensive car hire deals at Phoenix Sky Harbor International Airport. With us you hire a car very cheaply and are able to add all the important details to your booking. At Phoenix Airport, the Sky Harbor International Airport PHX, all you have to do is go to your car hire company and pick up the car at the pick-up point. Look forward to an unforgettable time in Phoenix, Arizona. With a hired car you can explore the city and surrounding area flexibly and independently.
Plenty of sunshine in autumn in Phoenix
Would you like to get some more sun before the cold winter comes? Then enjoy the autumn in Phoenix. Since the temperatures in Phoenix are still very warm even in autumn, you can go on a lot of excursions. For example, how about a hike in the Grand Canyon or even a helicopter flight over the canyon? In the fall months the weather conditions are ideal for this. For all shopping enthusiasts among you, Phoenix offers a wide range of shopping opportunities. Take a stroll through the city and enjoy the sun in the fall. Autumn in Phoenix - you'll get enough sun to get through the winter.
Interesting facts about Sky Harbor International Airport Phoenix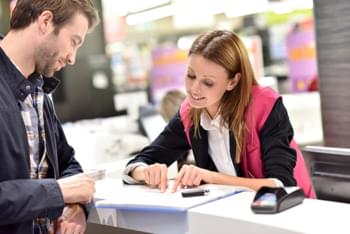 Collecting the hired car at the airport
The airport with the IATA code PHX is located only five kilometers southeast of city centre Phoenix. More than 43 million passengers are handled each year at the international airport Sky Harbor, making it one of the world's largest airfields. They will presumably arrive at passport control after landing in Terminal 4, Terminal 3 is reserved for the major US airlines and Terminal 2 is used by smaller airlines for domestic flights.
As soon as the entry formalities have been completed and you have taken your baggage off the treadmill, you naturally want to pick up your hired car at the car hire company. At the Sky Harbor International Airport PHX there is also no terminal with a car hire service. Every car hire company has its office and pick-up station outside the arrivals hall. It is possible to hire a car spontaneously at the airport, but with some effort and additional costs.
Which car hire companies are there at Phoenix Airport?
Among other things, you will find these car rentals at Phoenix Airport:
Auto Europe
CarDelMar
Auto Escape
Alamo
Holiday Autos
What to consider when hiring a car in Phoenix
Check the hired car in advance
Cheap rental offers should not prevent you from visually inspecting the car you are hiring. Damages have to be tracked down before the takeover, reported to the supplier on site and registered in a list of defects. Be sure to have a copy of your car delivered to you so that you are safe from any car hire problems.
Tank regulations
Depending on the type of fuel option you chose, you will receive a fully refuelled car and have to return it with a full tank as well. For this purpose, a petrol station should be present at the airport near the car pick-up station. Unfortunately, there is no petrol station at the car hire company, but there are some petrol stations in the vicinity of the airport.
Traffic Rules in the US
Before you take part in road traffic, you will find some important traffic rules here. Please note that individual traffic regulations in the USA may differ from state to state.
Obligation to fasten seat belts in the hired car
Prohibition to carry alcoholic beverages
Overtaking on both sides allowed
Car Pool Lane may only be used with at least two persons in the hired car.
Stop and parking ban at bus stops and hydrants
Discover the city of Phoenix by hired car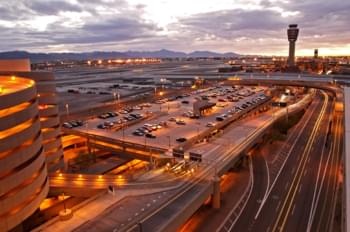 Unterwegs in Phoenix
Hiring a car at an affordable price allows you to conveniently access the highlights of the Arizona metropolis, which are located far away from each other. In this context, the Arizona State Capitol with its copper dome or the Phoenix Museum of History, the oldest museum in the state, are worth seeing. Equally interesting are the Arizona Science Center, the Phoenix Art Museum and the Heard Museum. All destinations are located in the city centre, have free parking spaces and can be reached quickly by hired car due to well-developed roads. The range of leisure activities in the megacity near the airport is equally extensive, with 27 public swimming pools, for example. But the absolute attraction is Big Surf, a huge water and adventure park in the middle of the desert. Relax with the whole family on fine sandy beaches and enjoy swimming pleasure with water slides and artificial waves of one meter height and more.
Explore Arizona with your Hired Car
Hiring the right vehicle at a reasonable price and still offering sensationally cheap petrol will put you in a position to explore the entire state. For example, Phoenix Airport could be the starting point for a tour of the Grand Canyon. The Grand Canyon National Park is probably the most attractive and well known tourist attraction in Arizona. To do this, you drive 670 kilometres northwards in a hired car from Phoenix and, while adhering to all speed limits, you will need nine hours, which is worthwhile in every respect. On the one hand, the canyon is a geological miracle and on the other hand, the multi-faceted desert landscape merges halfway into green forested mountains. You can also take the bike to neighboring states such as New Mexico and Albuquerque.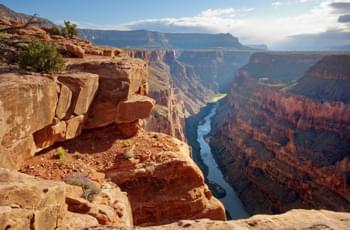 Grand Canyon National Park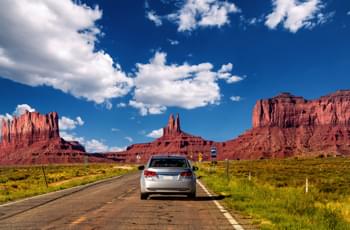 Mit dem Mietwagen durch Arizona
Experience a huge range of national parks
Another reason why you should definitely hire a car or motorbike is the comparatively wide range of very different national parks. If you continue west from the Grand Canyon, the hired car will take you to large lakes, a true paradise for anglers and water sports enthusiasts.
On your way to Lake Mead National Park you could visit Hoover Dam. The Saguaro National Park in the west of Arizona has a completely different atmosphere. Here, huge cacti and a wide variety of desert plants dominate the scenario. An amusement park in Tucson is a great way to explore the Wild West. From there you could hire a car and drive to the old western city of Tombstone. Worth seeing are also the Kofa National Wildlife Refuge and Joshua Tree National Park, both located at Interstate 10 west of Phoenix Sky Harbor International Airport.