Car hire at Los Angeles International Airport (LAX)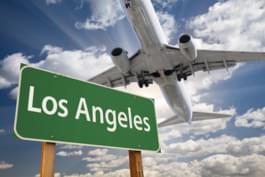 A holiday with a hired car in Los Angeles will make the hearts of film enthusiasts beat faster: Hollywood, the centre of the US film industry, is located in the heart of the city.
Explore L.A. with your hired car and drive along the west coast of California.
If you travel to L.A. by plane, you land at Los Angeles International Airport (LAX). Pick up your hired car from the car hire company and make your stay more affordable, independent and flexible. On Driveboo.com you can compare the best price offers online with the comparison service.
Car hire at Los Angeles airport
The car hire service is available at counters outside the airport building and can be reached by free shuttle bus. In the baggage pick-up area or in the arrivals hall you will find telephones that can be used to order the shuttle bus from your car hire company to the terminal exit. The bus stops of the shuttle buses are marked by purple-coloured signs with the inscription "Hired Car Shuttle". Some smaller hired car companies do not have a counter at Los Angeles Airport (LAX). Customers need to hire their car in advance. The providers bring the booked hired car directly to the exit of the respective terminal at your arrival so that the customer saves time and can start driving directly from the terminals. If you hire a car cheaply before your departure via Driveboo.com, you will find out in your travel documents where exactly you have to pick up the hired car.
5 things to do in Los Angeles during the winter
Your next trip in winter goes to Los Angeles? That is an excellent idea. We will tell you 5 things you can do during your winter holiday in Los Angeles:
Spend the winter at the beach.
Go ice skating.
Spend the winter days on a wonderful hike in the Los Angeles area.
Visit a museum. If the winter days in L.A. are a bit rainy, it is definitely worth it.
In winter it is even more worthwhile to visit Disney Land in L.A., because there are not so many visitors.
Car hire at Los Angeles Airport: drive into the city
The airport is located on the outskirts of Los Angeles, close to the Pacific coast and about 25 kilometres from the city centre. The city centre of L. A. can, therefore, be reached from the airport by hired car in about half an hour to one hour, depending on the volume of traffic. Traffic jams and heavy traffic are frequent in Los Angeles, especially in rush hour traffic between 7:00 am and 10:00 am and between 3:00 pm and 7:00 pm. Therefore, you should plan enough time for your journey with the hired car to and from the airport. From the pick-up station at the airport, take Interstate 405, which takes you directly from the airport to the city by car.
Hire a car and pay attention to traffic in Los Angeles
You should keep to these rules, as California carries out numerous speed checks every day and is punishable by high fines for exceeding them. Also, note that there are some toll roads in the south of Los Angeles.
Discover the sights of Los Angeles with your hired car
Los Angeles offers a variety of sights that you can easily visit with your hired car. You will experience the benefits of a hired car, as you will be more flexible and independent of public transport and tourist groups.
In the list below, you will find some examples of sights that you should not miss during your stay in Los Angeles:
Hollywood Sign
Walk of Fame
Universal Studios
Santa Monica Pier
Griffith Observatory
Hollywood Boulevard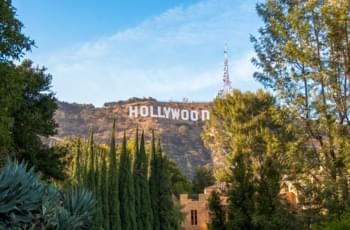 Hollywood sign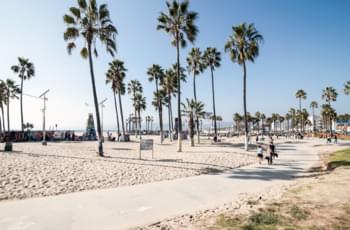 Venice Beach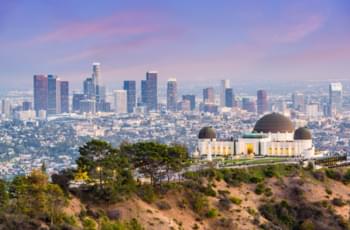 Griffith Observatory
What are the options for my hired car?
INSURANCE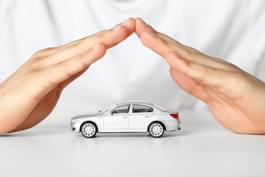 With the right insurance through California
Even if you drive very carefully and safely, damage may occur to the hired car. To ensure that you can continue your journey without stress, we recommend that you take out fully comprehensive insurance without excess. In the event of damage, you will have to advance the costs. However, you will be reimbursed by your insurance company after your arrival back home. Simply submit the relevant receipts when you return from Los Angeles.
One-way rental
For those who want to do a road trip to Los Angeles with a hired car, the one-way rental might be the best option. This means that you can pick up your hired car at the location of your choice and return it conveniently to another location. This is particularly useful if you are heading for cities that are far away from each other, such as San Diego, Las Vegas or San Francisco.
Additional driver
What does the additional driver option actually mean? If you specify another person as an additional driver when booking, you can take turns driving the hired car. Distances in California are often very long. If only one person drives the hired car, this can be quite exhausting. So that the driver can sit back and relax, too, you can simply hand over the steering wheel to the additional driver.
VEHICLE MODEL AND EQUIPMENT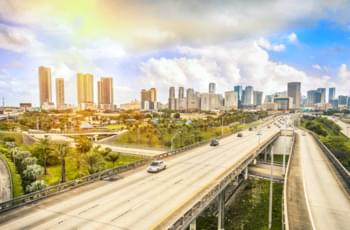 By small car through the big city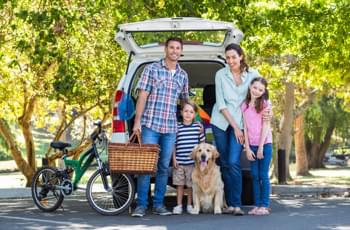 Enough space in the minivan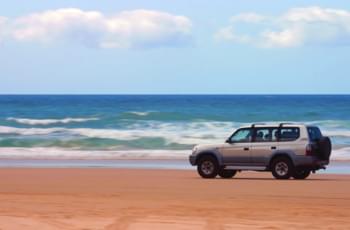 Safe journey with the SUV
Do you travel to Los Angeles with friends or family and have a lot of baggage? Then it's best to hire a minivan. In this minivan, you should have no space problems. If you want to drive a lot through the terrain, you can hire an SUV. In this way, you will never get stuck. If, on the other hand, you need a hired car for the city, we recommend a small car. It is manoeuvrable and fits into even the smallest parking space. As you can see, everyone will find what they are looking for on Driveboo.com. If you want to adapt the car even more to your wishes, you can also select the options all-wheel drive, air conditioning or automatic.