That's why travelers choose Driveboo

Booking in only 3 steps. Simple and transparent.

Cancellation free of charge up to 24 hours before pick-up.

Personal advice from our experts.
Hireal car Africa: Dicovering a continent full of surprises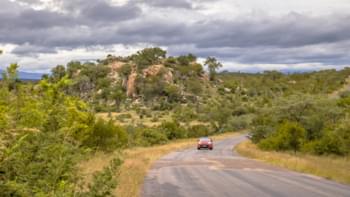 On the road in Africa
Africa is the second largest continent in the world and is a great place to travel by hireal car. The diversity of Africa is hard to put into words. There is an endless list of languages, cultures, landscapes and ethnic diversity. To be able to reach all your desired destinations flexibly, hiring a car is a good idea. Observe the Big Five in one of the numerous national parks, relax on beautiful beaches and much more. Africa is a continent full of surprises and is guaranteed to captivate you.
Car hireal Africa: Can I hire a car in any country?
In Africa you can hire a car in almost every country. Book the car you want from the comfort of your own home. In that way you can pick it up directly after your arrival and save long waiting times. In the following table you will find a small overview of the countries including places where there are car hires.
Which car hire model is best suited for Africa?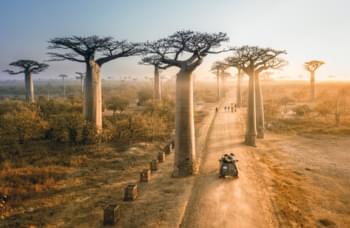 Mit dem SUV bleiben Sie garantiert nicht stecken
Depending on what your plans for Africa look like, the diffehire hireal car models are diffehirely suitable. Since the roads are often in poor condition, you will definitely be well served with an SUV. Here you will have fewer problems with unpaved roads, sand or potholes. If you are more likely to be in town, a small car is also an excellent choice. With this car you can get into even the smallest parking space. If, on the other hand, you are travelling through Africa with the whole family, you might be best served with a minivan. With this you will have no problems to accommodate your whole baggage.
You can also choose from the following options for your hireal car:
Equipment: air conditioning, all-wheel drive, automatic
Inclusive services: fair fuel regulation (full/full), additional driver included
Insurance benefits: Underbody insurance, glass and tyre insurance, fully comprehensive insurance without excess
Highlights of the most popular travel destinations in Africa
Egypt
Egypt is a popular holiday destination. You should not miss to visit the capital Cairo with its beautiful promenades by hireal car. Also a visit of the Sphinx and pyramids of Gizeh should be on the program. Safaga is the oldest harbour on the Red Sea. You can also relax on one of the dream beaches and enjoy the colourful coral reefs on a snorkel trip.
SOUTH AFRICA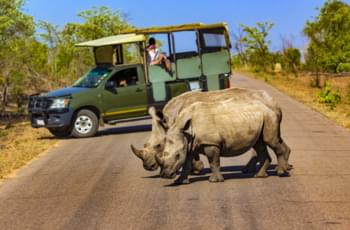 Visiting Kruger National Park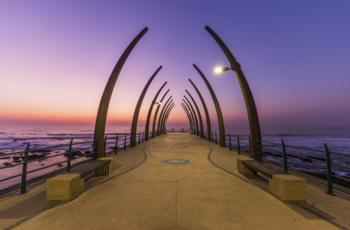 Durban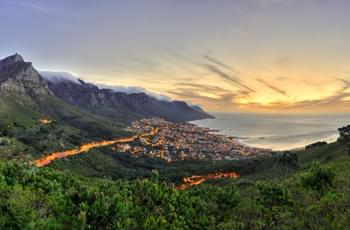 View of Cape Town
Like everything else in South Africa, the Kruger National Park is very extensive. For this reason it is worth hiring a hireal car. Embark on an adventure and observe wild elephants, lions, giraffes and much more. Another place worth seeing is Durban on the Indian Ocean. A perfect blend of bathing, culture and entertainment awaits you here. Of course you should also write a visit of Table Mountain on your bucket list. Park your hireal car at the cable car station and take a gondola ride to Cape Town's landmark. From above you can enjoy a magnificent view over the Cape Peninsula.
Zanzibar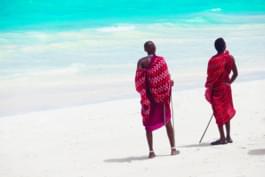 Massai at the beach of Zanzibar
Those who dream of paradisiacal sandy beaches should definitely travel to Zanzibar. The island lies off the coast of Tanzania and is also known as the "spice island". But not only the beaches will enchant you. Visit Stone Town, the oldest part of Zanzibar, by hireal car. It got its name because of the coral limestone with which the buildings were erected. Stroll through the countless alleys with imposing doors and souvenir shops. In the evening you can enjoy the sunset on one of the rooftop terraces.
What insurance should I take out for my hireal car?
Even if you are a very careful and experienced driver, there may be an accident or damage to your hireal car. Often the roads in Africa are unpaved or have numerous potholes. To ensure that you can enjoy your trip without stress, we recommend a fully comprehensive insurance without excess. This means that in the event of damage, no further costs will be incurred. Although you will have to advance the costs, you will be reimbursed by the insurance company after your return. Simply hand in all documents for this. Like that, you can look forward to an exciting and above all stress-free trip through Africa.