Exploring Marrakech and Morocco by hired car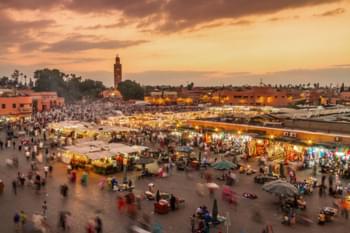 Exploring amazing Marrakesh with a cheap hired car
Marokko is an all year round great travel destination. The warm temperatures makes it even during the winter months to the perfect escape. One of the greatest places in Marokko, is the fascinating city Marrakech. Marrakech is via its international airport easily to arrive. Marrakech is a city with almost one million inhabitants in the southwest of Morocco and is the perfect starting point for a round trip through Morocco by hired car. The best way to explore this amazing city and its surroundings is with a personal hired car. Via Driveboo you can compare offers of car hire companies in Marrakech and book your car hire in Marrakech online, fast and easy.
Where can I hire a car in Marrakech?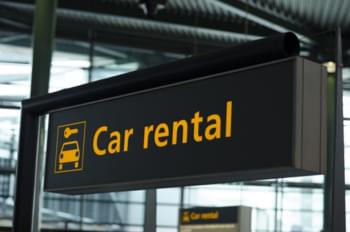 Benefit from the many advantages of a hired car
There are many car hire companies both in the city and at the airport. Choose the pick-up location that best matches your plans. If you arrive at Marrakech Airport (RAK) and want to be mobile from the beginning with a hired car, you can expect cheap rental cars directly at the airport. There are different providers with rental cars in different categories. Do the check and get a detailed overview with the suppliers and available vehicles!
Your advantages of hiring a car at the airport:
Cheap offers for hire cars
Longer opening hours
Higher availability of vehicles
Is there a toll Marrakech and Morocco?
There are exactly four motorways in Morocco:
Tangier Med - Agadir (with interruptions)
Rabat - Oujda
Fnideq - Tetouan
Berrechid - Beni-Mellal
Most of the motorway routes are subject to a charge. Exceptions are bypasses for some major cities. There are two ways to settle the bill, either you draw a ticket at an ATM at the beginning or you pay a fee that depends on the distance travelled. Or you can pay directly at a toll station after each motorway section.
Where can I park my hired car in Marrakech?
There are several parking spaces in Marrakech. For a small fee, you can go on a sightseeing tour without worrying about your hired car. The inner medina is not accessible by car. Red-white stripes at the side margin stand for parking ban.
What are the speed limits in Morocco?
What insurance do I need for my hired car in Marrakech?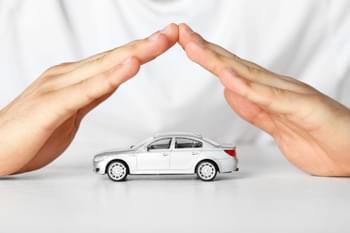 Choose the right insurance for your hired car
When hiring a car, for your own protection, you should always choose "comprehensive insurance without excess", regardless of the country. You should also pay attention to a high liability coverage. The liability should cover at least one million euros in damages, or even 7.5 million euros. Moroccan car hire insurance policies often do not cover the full amount of damage caused by the accident. For this reason, pay close attention to the details when hiring and have a contract drawn up in a language that you understand.
How to include an additional driver for the hired car:
If you don't want to spend the whole time of your stay in Marrakech and Morocco alone at the wheel, you can have an additional driver for the hired car included in the price. Usually a small additional fee is charged for this service, which is often charged per day. However, there are also offers that include an additional driver free of charge. Here an online comparison is worthwhile in advance.
When is a trip to Marrakech worthwhile?
Marrakech is definitely worth a visit all year round. However, the most pleasant time to travel is in spring or autumn, when it is pleasantly warm and neither too hot nor too cold. The fact that the country blossoms and appears in colourful splendour speaks for spring. In autumn, on the other hand, it can be a bit sparse after the hot summer. If you want to escape the cold winter, you can do it in Marrakech. The temperatures are mild, but at times warmer than in the homeland.
Discover Marrakech and its surroundings by hired car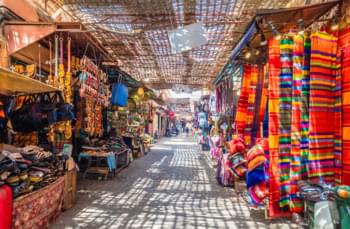 Explore all sights of Marrakesh independently
Marrakech, also known as the royal city or Red City, is a popular tourist destination. Situated at the foot of the Atlas, it has a lot to offer not only in terms of landscape but also in terms of culture. In 1985, for example, the entire Old Town, together with the Agdal Gardens and the Menara Garden, was declared a UNESCO World Heritage Site.
Special highlights in Marrakech:
Ben Youssef Medersa
The Ourika Valley
Saadian Tombs
Majorel Gardens
Bahia Palace
Jemaa El-Fna
Dar Si Said Museum
El Badi Palace
Suqqq
Medina
Excursions by hired car in the Marrakech area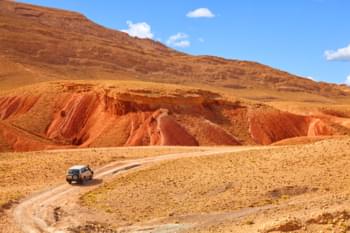 Explore the beautiful scenery of Marokko by car
Explore not only the royal city of Marrakech with your hired car, but also the varied surroundings: drive into the Ourika Valley or to the waterfalls of Ouzoud, which at 110 metres are the highest in North Africa. Usually a colourful rainbow is reflected in them. Or drive to L' Oukaïmeden, from where you will be taken to a winter sports area by the highest cable car on the continent. You won't forget the view so quickly. An excursion to the coast is also worthwhile: plan Essaouira into your trip!
Particularly beautiful and interesting places of interest in the immediate vicinity are listed in the following table with information about the distance: