With the hired car cheap on the road in Aschaffenburg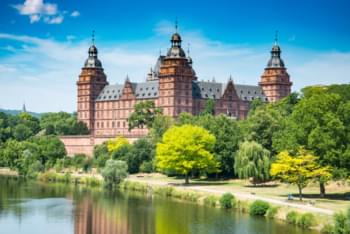 Hire a hired car in Aschaffenburg and explore the northwest of Bavaria on your own. Close to the state border with Hessen in the metropolitan region of Frankfurt/Rhine-Main, is the idyllic university town of Aschaffenburg located. Compare car hire companies in Aschaffenburg easily with our car hire portal. Find a cheap hired car in Aschaffenburg and book conveniently online. You can choose from different classes of cars for hire in our portal, such as small cars, SUVs or midsize cars.
Aschaffenburg belongs to Lower Franconia and is located on the Main River. The city borders on the Spessart, which is why it offers visitors an optimal mix of city and nature. Whether you are spending your holiday in Aschaffenburg, taking a day trip to the city or travelling here on business: Explore the many facets of the region cheap and flexible with your hired car. On our portal you will find cheap offers for your desired vehicle. The earlier you book, the better conditions we offer. Do not worry if your travel plans change at short notice: You can cancel most rental cars up to 24 hours before the agreed pick-up date free of charge. Details on this are best found in the rental conditions. From Aschaffenburg many trips can be made by car in the region. It offers itself for example in the Franconian wine city Würzburg very well. With a vineyard and the castle, the city is an ideal destination for an excursion.
Exploring Aschaffenburg and surroundings with hired car in spring & summer
Spring and summer are perfect for taking aroad trip or simply exploring several cities in one holiday. You can also explore many major cities from Aschaffenburg and discover most of Germany. Below is a list of cities that you can easily reach by hired car from Aschaffenburg.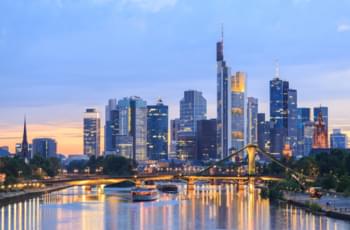 Frankfurt on the Main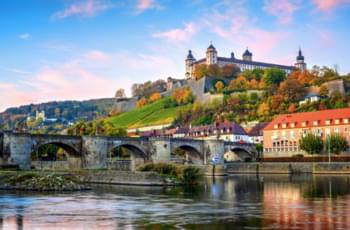 Würzburg
Hire a car cheaply and drive to the sights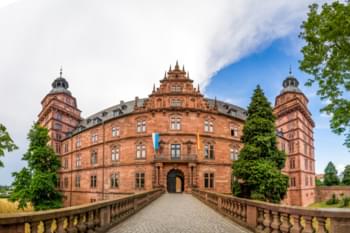 Johannisburg Castle is considered a landmark of Aschaffenburg. Take a trip by hired car and visit the building from the Renaissance period. The building shapes the townscape by its four large towers. In the past, archbishops and electors used the castle as a residence. Today it houses the state court library as well as several museums, including the Aschaffenburg State Gallery. Johannisburg Palace is framed by an attractive palace garden that extends to the banks of the Main River. Many Mediterranean plants grow here, which is why the town is nicknamed "Bavarian Nice."
Mediterranean flair can also be experienced in the Pompejanum. This is a replica of an Italian villa from Pompeii, which sits on an elevation on the banks of the Main. The building has Ionic columns, white parapets and magnificently painted interiors. Exhibitions are held here from time to time. Hire a car cheaply to visit the structure.
Collegiate Church of St. Peter and Alexander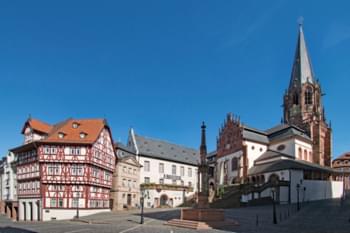 Asthe oldest church in the city, the Collegiate Church of St. Peter and Alexander immediately catches the eye thanks to its high tower and richly decorated facade. The sacred building, which combines Romanesque and early Gothic elements, is located on a hill and is therefore visible from afar. Among other things, the Collegiate Church is known for its art treasures such as the 10th-century Triumphal Cross, the 16th-century painting "Lamentation of Christ" by Matthias Grünewald and the pulpit in the style of the early Baroque.
Car Hire Aschaffenburg: Get Insurance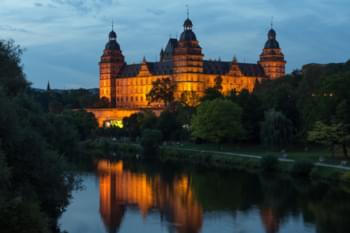 When you hire a car, you need liability insurance for it. Since we would like to offer you the best service at Driveboo, all our offers already contain the insurance automatically. So you are secured against potential damages. The exact conditions of the insurance can be found in the rental conditions. Make sure that the coverage amount is at least one million euros. Optionally, we have further insurances for you, including a key replacement insurance, an anti-theft insurance and insurance for damage to underbody, glass, tyres and roof. Use our search function to find your desired car with suitable insurance. Optimal are offers and complete packages where everything is already included in the price. If you are covered all around, you will not be tempted to take out unnecessary additional insurance at the local car hire.
Full coverage with no deductible for hired car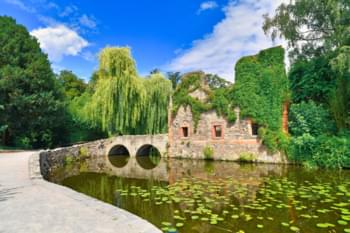 Comprehensive insurance without deductible is a type of insurance that is highly recommended. Here you are covered against possible damage to the vehicle. The fully comprehensive insurance without deductible already includes all claims for scratches or similar damage, so you do not have to pay anything extra in case of damage. When you return a damaged car, the car hire company will first deduct the costs incurred from your deposit. You will receive an invoice and a protocol, which you submit to your car hire agency as soon as you get home. Thanks to the fully comprehensive insurance without deductible the broker will reimburse you for the costs afterwards.
Put down a deposit for the hired car in Aschaffenburg
Most reputable hired car companies require a deposit. If you hire a car, you deposit it on site with the car hire company. This is how the provider secures himself. You pay the deposit mostly with your credit card. A few providers also accept a cash payment of the deposit. If you return the car undamaged, the deposit will be refunded in full. Each landlord determines for himself how high it turns out. Factors such as the type of vehicle and the value of the equipment influence the amount. For exact information, please refer to the rental conditions of the respective car.
Collect a hired car at Frankfurt Airport- One way rental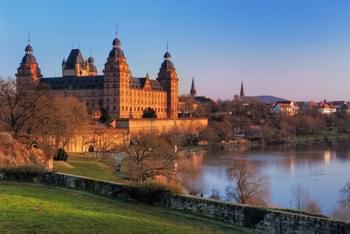 With its central location in southwestern Germany, Aschaffenburg is an excellent starting point for exploring the area. You can take a hired car to Frankfurt am Main, Kaiserslautern, Karlsruhe and Würzburg, for example. A road trip across the country from Berlin to Aschaffenburg is a special event. Should you be planning such a trip, you can take advantage of one-way car hire offers. Thereby, you pick up your hired car at one station and return it at another. This way, you enjoy maximum freedom and flexibility thanks to one-way rental. If you prefer to travel by plane from Berlin, Hamburg or another city, you can hire your car directly at the airport and return it in Aschaffenburg. Check the rental conditions to see if the provider charges a fee for the one-way rental or if the service is already included. It is also possible to hire a car directly at Frankfurt am Main Airport (FRA). Aschaffenburg city center is about 43 kilometers away from Frankfurt Airport, which is why you can cover the distance by car in about half an hour
Register an additional driver
Are you travelling with a companion? Then you can register this person as an additional driver. This is especially convenient if you are travelling longer distances. For example, take turns at the wheel when driving from Berlin to Aschaffenburg. However, only registered drivers are included in the insurance and are allowed to drive the hired car. Therefore, a registration of the additional driver is necessary. The registration is done by the car hire company when you pick up the keys and papers for the hired car. Your additional driver must be present and show his ID card and driver's license in person. Some providers charge a fee per additional driver. Use our comparison portal to find offers where the additional driver is already automatically included in the total price. This way you can travel together at a particularly low price. Our service team will be happy to answer any further questions you may have regarding your hired car in Aschaffenburg.