Hire a Car at Seattle Airport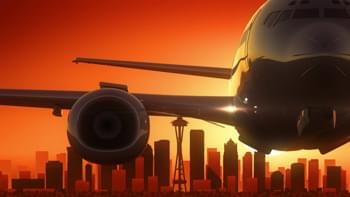 Plane in Seattle
Hiring a car at Seattle/Tacoma Airport (SEA) is easy and straightforward - there is a wide range of car hire companies and many models to choose from. From the airport, also known as "SeaTac", you can hire a car and drive directly to the center of Seattle or out into the countryside - Seattle is one of the most attractive and attractive cities in the USA and has a lot to offer both in the city center and the surrounding area. The price comparison at Driveboo.com helps you find the right car for your car hire and compare prices before you get started.
General information about car hire at Seattle Airport
Seattle/Tacoma Airport is a modern passenger airport and one of the largest airports in the United States. The airport's infrastructure is very good and the transport facilities are varied. Here you will find numerous shopping possibilities and a wide range of gastronomic offers, in case you want to have a refreshment after your arrival.
Spend the fall in Seattle
Experience the golden autumn in Seattle up close. Visit the Pike Place Market in Seattle and watch the colorful hustle and bustle as you visit the various stands. There are also numerous seafood restaurants that invite you to visit during your fall holiday. Another thing you shouldn't miss on a trip to Seattle is a hired car ride in the area. Look forward to leaves in all autumn colors and enjoy your time out in Seattle.
What car hire companies are there at Seattle Airport?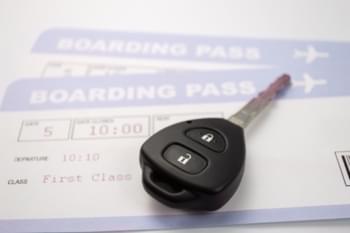 Car hire at the airport
There is a wide range of Seattle Airport car hire companies and travellers can choose from a wide range of international and local car hire companies.
Sixt car hire
Budget Car Hire
Hertz Car Hire
National Car Hire
Seateac Rental
E-Z Hire A Car
Thrifty Car Hire
Alamo
All car hire companies are located in a specially equipped car hire station, which can be reached by shuttle bus at very regular intervals. Passenger pick-up stations are also located at the northern and southern end of the main terminal outside the baggage collection area. Since the selection of car hire companies is large and the prices vary depending on the car model and equipment, it is worthwhile to check and compare the prices of a direct car hire. In addition, inquire in advance about the availability of special equipment and reserve the hired car before arrival to save some time on site. Whether you want to hire a convertible, family car or van, Seattle Airport has many models to suit your needs. You will certainly find what you are looking for and have the best selection of rental cars.
Where are the petrol stations at Seattle Airport?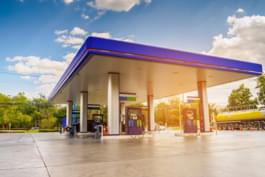 Petrol station at the airport
Check with the car hire company which fuel regulations apply. Depending on the provider, the hired car has to be returned with a full tank of fuel as it was at the time of collection or a full/full tank regulation applies. Refuel your hired car directly at Seattle Airport before you go on a discovery tour. Along the International Boulevard you will find several petrol stations, including a Shell and several 76 Gasolines.
What is the distance to city centre Seattle Airport?
The airport airport is located about 20 km from the center of Seattle. The city center can be reached in no time at all by hired car - but you should plan in a buffer during peak hours. Car hire is usually fast in the center of Seattle and you can explore the city in comfort and flexibility.
Explore Seattle by Hired Car from Seattle Airport
Seattle is a very attractive city and can be explored by hired car. The Museum of Flight and the Space Needle are very popular with technology enthusiasts and are well worth a visit - even if the entrance fee is impressive. If you decide to dine in the exclusive restaurant of the Spaceneedle, you will get the lift ride for free. Visitors who prefer to stroll or shop in peace and quiet park their rented car and stroll around the Pike Place Market - a popular Farmers market where there's just about everything on the waterfront. Large American chains are more likely to be found in the Bellevue Square Mall. Cultural fans can, for example, attend a concert at Benaroya Hall or visit the permanent Chihuly Garden and Glass exhibition. Art lovers will love the Seattle Art Museum. From the Sky View Observatory you have a breathtaking view of Seattle at any time of the day. If you stay in Seattle for a couple of days, why don't you use your time for a roadtrip to San Francisco?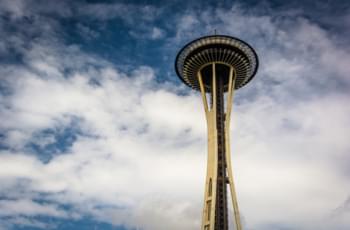 Space Needle in Seattle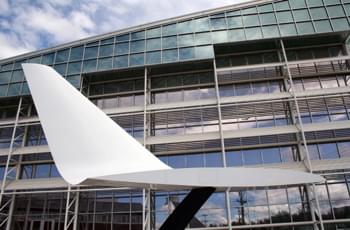 The Museum of Flight
Getting to know Seattle's surroundings with a hired car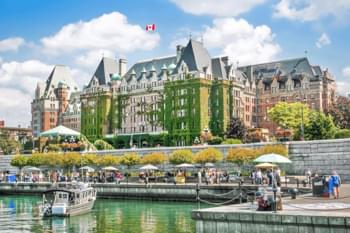 Excursion to Victoria in Canada
The area around Seattles also has a lot to offer. Nature lovers will be delighted by the scenery around Seattle and are only a few minutes away by hired car. The Puget Sound and Lake Washington as well as the nearby Pacific Coast are especially interesting for water sports and outdoor enthusiasts and offer numerous sports opportunities. How about a leisurely harbour cruise or a short trip to Victoria in the Canadian British Colombia? If you like, you can go on a whale watching tour and, with a little luck, experience whales up close and personal. Or go inland with the Leihauto and explore the diverse flora and fauna of the Olympic National Park. The park offers ideal conditions for short walks and excursions and you will get to know a completely different side of the state of Washington.