Explore Seattle with a rental car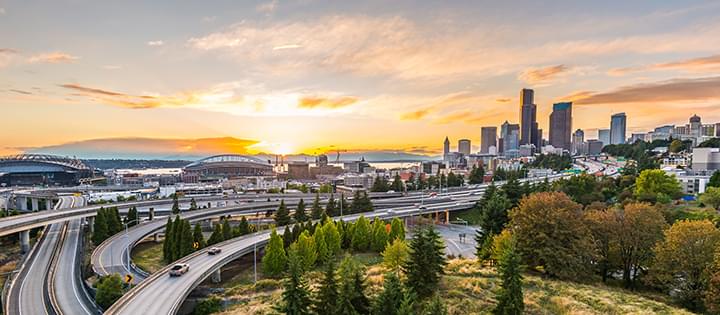 Compare all car rental companies in Seattle with Driveboo before you start your journey to the United States and easily book a rental car online. Seattle, the largest city in the northwest of the United States, known as "The Emerald City" because of its green belt of greenery, attracts hundreds of thousands of tourists from all over the world every year. Many of them leave from here for extensive walks and excursions to the national parks of Oregon and Montana after a city trip.
Car hire in Seattle - Downtown or at the airport?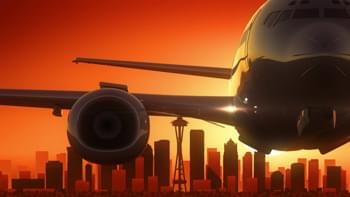 Airport Seattle
Impressive nature reserves with gigantic volcanoes, crystal-clear streams and hospitable Americans await you when you travel by rental car from Seattle to explore the state of Washington. Whether you want to take over your rental car in Seattle's city centre or directly after arriving at the airport, you might want to decide how fit you feel after a long-haul flight. However, it can be advantageous to get into the reserved rental car directly at the airport, as you may not only benefit from an early booking discount, but also know that you will actually have a rental car available before your departure. We have put together the other advantages you can benefit from when renting a rental car at Seattle Airport in the following.
Advantages of renting a car at the airport:
Large selection of rental cars
Attractive opening hours
Multilingual staff
Reduction of transfer costs
Good parking space when returning the vehicle
Do I need an international driving licence in Seattle?
Although the USA has reached an agreement with most countries that allows tourists to drive a car from their home country with their driving licence, many car rental companies also require an international driving licence. Therefore it is advisable to apply for an international driving licence early enough in your home town.
Rent a car and observe the speed limits in the USA
The following speed limits apply in Seattle and the United States:
Here you can park your rental car in Seattle
We have put together the color markings that you should look out for in the following:
When is a trip to Seattle worthwhile?
If you would like to travel to the most beautiful national parks in the surrounding area from Seattle by car to undertake extensive hikes, the travel period from the beginning of May to the end of October is particularly suitable, as the least precipitation falls during this period and the daytime temperatures are 18.6 and 21.6 °C. This means that you will be able to travel from Seattle to the most beautiful national parks in the surrounding area without much effort. But also a trip to the sea is worthwhile, as the breathtaking coastal sections invite you to photo safaris and the jump into the cool water is also worthwhile. Take advantage of the flexibility of your rental car or motorcycle in Seattle to get the most out of your West Coast trip in the USA in the shortest possible time and plan your trip according to your own imagination.
Explore Seattle and its surroundings by rental car
Whether you're travelling to Seattle alone, with your partner or with your family, you're sure to find a wide range of museums, galleries and exhibitions. Whether you're traveling alone, with your partner or with your family. Make a detour to downtown or to the waterfront, gaze at the "Space Needle", stroll a little over the "Pike Place Market", explore the "Kerry Park" and don't miss the view from the "Smith Tower" over the city.
Car hire Seattle - Discover the highlights
Chihuly Garden and Glass
The Museum of Flight
Washington State Ferries
Sky View Observatory
space needle
Seattle Public Library
Museum of Pop Culture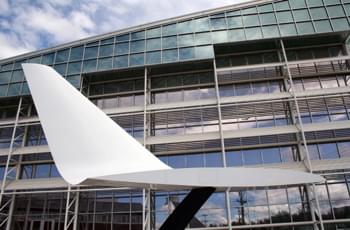 The Museum of Flight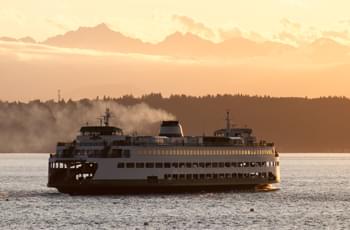 Washington State Ferries
Explore Seattle Surroundings with a Rental Car
We have put together some suggestions below:
Seattle and its environs will undoubtedly make the heart of every nature-loving traveller beat faster, thanks to the extensive range of walks on offer. Take your car to Mount Rainier National Park, North Cascades National Park or Olympic National Park, three of the most beautiful national parks in the vicinity, where you can expect not only a breathtaking volcano and emerald green mountain lakes, but also rainforests almost reminiscent of Jurassic Park.