Hire your car at Karpathos Island National Airport
Port of Karpathos
Do you want to get from Karpathos Airport (AOK) to the island capital or your accommodation independently and flexibly? Then you should book a hired car online at Karpathos Airport with Driveboo.com in the price comparison. With a pre-booked hired car you can travel relaxed after your arrival and experience Greece independently and flexibly. Look forwardto amazing villages, days on the beach and many adventures. All this is possible with an own hired car from Karpathos Island National Airport.
Go to all highlights of Karpathos island in winter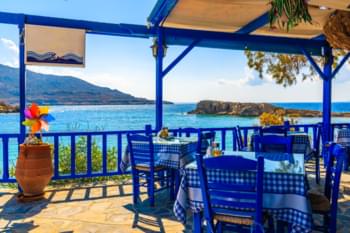 Restaurant on Karpathos
The main attraction on the Greek islands are certainly the dream beaches. Karpathos is considered the Caribbean of Greece and a popular destination even during winter. Crystal clear water and fine sandy beaches can be found at every corner. Since the island is not very crowded, especially during winter, you are guaranteed to find your personal beach here. Before you go to the most beautiful beaches of Karpathos, you should check out the following sights.
The beautiful mountain village Olympos
The fishing village of Lefkos
The island capital Pigadia
Facilities at Karpathos Airport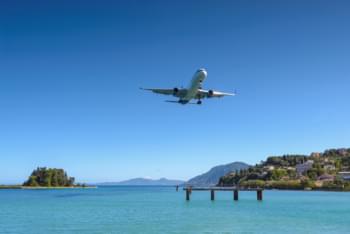 There is no bus connection to the airport. Therefore, you have to get there by your own car, hired car or cab. Package tourists are picked up by tour operators' buses and rental cars are brought to the airport on order. In July 2009, a new terminal was put into operation to replace the previous terminal building, which meets the requirements of modern airport operations. Arrivals and departures areas are separated within the building. In addition, an automatic baggage handling system has been installed. In the public area there are several check-in counters, a store and the counters of some car hire companies. Behind the security checkpoint, there is a large waiting hall with several exits to the gates and the airfield. A duty-free store has also been set up here. The terminal has no jetways, so passengers are transported to and from the planes by bus.
Airlines and destinations at Karpathos Airport
Scheduled flights of Olympic Air connect Karpathos with Athens and Rhodes all year round. Between April and October, charter and low-cost airlines also land in Karpathos. During the summer, flights arrive from Munich, Düsseldorf, Frankfurt, Vienna, Amsterdam and other cities.

Booking a hired car online is easy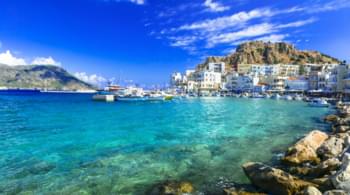 When booking online, you can easily compare different cars with our help and pick the cheapest one. First of all, you indicate where you want to pick up the hired car, so it is best to indicate your destination. Afterwards you indicate your return station, thus the place at which you would like to return the rented car again. Most of the time, the locations for the pick-up and return stations are the same, but with one-way rental, you have the option to choose two different locations, so a road trip, for example, will be much more convenient for you. When you are done with this, specify the travel period in which you need the hired car. Next, specify how many people the hired car will be needed for so that you have the perfect vehicle size. You can then choose between different vehicle categories, features, insurance and inclusive services as indicated below. To make your choice easier we also offer three different benefit packages so you don't have to filter everything individually.
Fully comprehensive insurance and theft protection
Fair refuelling regulation
All kilometers free
Third party insurance
Air conditioning
4-5 doors
Automatic
Manual gear shift
Glass and tire insurance
Navigation system included
Hiring a car in Karpathos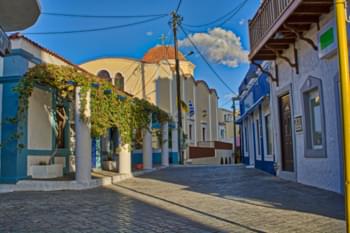 Numerous car hire agencies await you both in the city and at the airport, so you are completely independent during your trip to Karpathos. Should you wish to pick up your hired car upon arrival at Karpathos Airport, there are numerous, inexpensive rental cars from various providers available at the airport. Try it immediately and get a comprehensive overview of all providers and their vehicles!
Where can I park for free with my hired car in Karpathos city?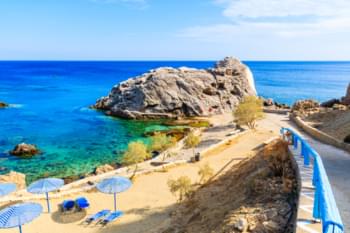 In general, you can park for free in all white marked zones in Karpathos. Yellow marked roadsides, on the other hand, mean that parking is prohibited here. On the other hand, blue-marked roadsides are parking areas for which a fee is charged. In addition, look for no-stopping signs with a single line indicating that you are not allowed to park there on odd-numbered months. Two dashes, on the other hand, stand for even months.
More information about driving on Karpathos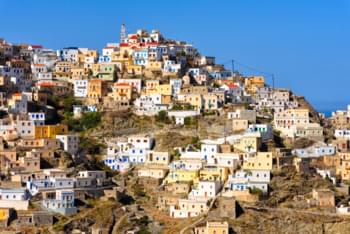 In Greece seat belts are compulsory! Furthermore, it is compulsory to wear a high-visibility vest in case of an accident, which is why we advise you to check the appropriate equipment of the vehicle (warning triangle, first-aid kit, fire extinguisher) before departure. Talking on the phone in the car is only allowed with a wireless hands-free device and the blood alcohol limit is 0.5. Speed limits are as follows:
In town: 50 km/h
Out of town: 90 km/h
Freeway: 120 km/h