Hireal car Saint James Parish: Caribbean flair guaranteed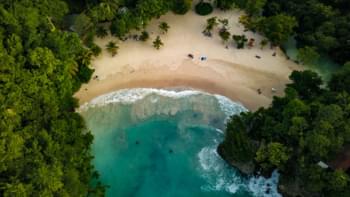 Explore dream beaches by hireal car
When you hire a car in Saint James Parish, Jamaica, all your dreams of paradisiacal white beaches will come true. Drive your hireal car through lush, wild nature and to breathtaking beaches in the Saint James Parish region of Jamaica. In Montego Bay, you can soak up the Caribbean lifestyle while sipping a chilled cocktail and listening to reggae music. Find the right vehicle for your dream holiday in Jamaica on Driveboo.com. On our portal you can compare the offers of the car hire companies and book your dream car at the best price. Thus, your trip to Jamaica will be an exciting and unforgettable journey with the hireal car.
Saint James Parish Airport: Where can I get my hireal car?
The popular Caribbean holiday island of Jamaica has two airports through which you can reach your dream destination. The airport in Saint James Parish, Sangster International Airport, carries the IATA code MBJ and has a car hire service where you can pick up a hireal car as soon as you arrive. If you arrive at Norman Manley International Airport in southeast Jamaica, you can also pick up a hireal car there. In any case, you will directly be mobile and flexible if you pick up your hireal car immediately after landing at the airport. No valuable holiday time will be lost waiting for public transport.
The most popular activities in and around Saint James Parish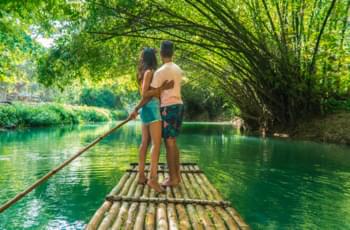 Rafting on the Martha Brae River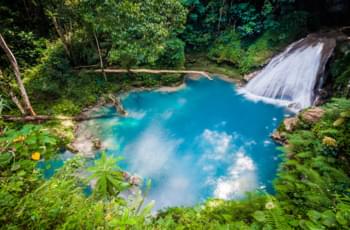 Blue Hole Waterfall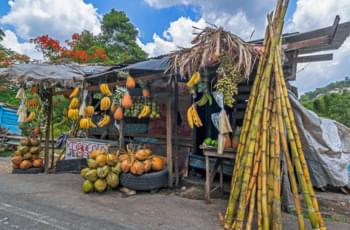 Delicious fruits in Jamaica
Sailboat tour from Montego Bay
Rafting on the Martha Brae River
Visit to the Blue Hole Waterfalls and the Blue Lagoon
Diving in Jamaica's fascinating underwater world
Trip to the pineapple and coffee plantations
Open-air disco on Howard Cooke Boulevard
Jamaican delicacies
What should I look out for in Jamaica with a hireal car?
Which other Caribbean islands should I visit?
Cuba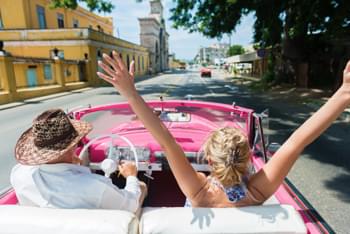 With the Cabrio through Havana
Do you fancy an unforgettable ride in a vintage car through the old town of Havana? Then let's go to Cuba! Get into a vintage convertible and drive to the numerous highlights. In addition to Havana, Cienfuegos, Trinidad and Varadero are also places worth seeing. Especially if you want to see as much of Cuba as possible, a round trip by hireal car is a good idea. So you are free in your decisions and your travel planning. Drive with the hireal car to dreamlike beaches, breathtaking national parks and exciting cities.
DOMINICAN REPUBLIC
The Dominican Republic is an island state between the Caribbean and the Atlantic Ocean. If you hire a car, you can fully enjoy the beauty of the Dominican Republic and make adventurous trips. Drive to beautiful beaches and enjoy the varied scenery.
Barbados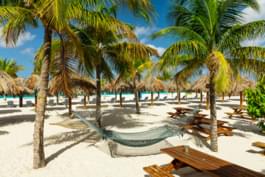 Strand von Barbados
On Barbados you can relax wonderfully on the beach. But also nature and culture enthusiasts won't miss out on the popular Caribbean island. Visit Harrison's Cave, the George Washington House or Bottom Bay. With a hireal car, you can reach all your desired destinations quickly and flexibly. Book the right hireal car today and look forward to an unforgettable time with your loved ones in Barbados.