Holiday with a hired car in Puerto de la Cruz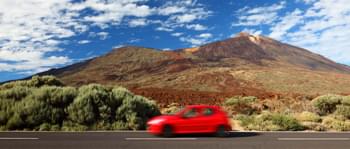 Tenerife by hired car
If the destination of Puerto de la Cruz is fixed, then it's time for further planning and organization like booking a suitable hired car. If you are looking for a flexible holiday, hiring a hired car is the best choice. A hired car offers you enough freedom and an individual design of your itinerary for the stay in Puerto de la Cruz. With Driveboo.com, you can conveniently book the right hired car from home and pick it up right after your arrival. Explore Tenerife in a comfortable way and collect great impressions of the island.
Vacations in Tenerife during the cooler seasons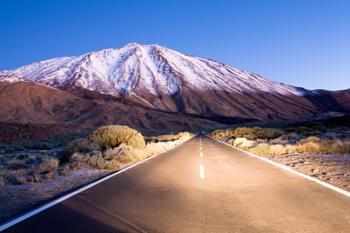 Pico del Teide at night
Tenerife can also impress in cooler weather. The island is not only suitable for swimming during the hot months. Also in autumn and winter temperatures are sometimes very pleasant, so you can enjoy nature to the fullest. If you travel with a hired car, you can discover the interior of Tenerife independently and flexibly. On this island of the Canary Islands is the highest mountain of Spain. The Pico del Teide is a highlight. Around the mountain is a vast nature reserve, which brings out all the beauty of the island. The extinct volcano has an altitude of 3,718m. While some reach the summit on foot, the cable car can also be used. Around 3 million visitors a year make their way to the highest mountain in Spain. Surrounded by a natural landscape, which is now counted as a UNESCO World Heritage Site.
Where can I pick up the hired car in Tenerife?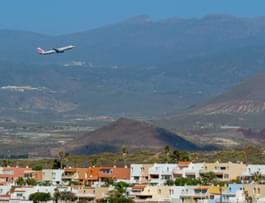 Landing at Tenerife South
Booking cheap means first of all booking before you start your trip. Simply select the cheapest hired car on Driveboo.com in advance and then travel to the airport with ease. In Tenerife you can either pick up the hired car in Puerto de la Cruz, or already directly after your arrival at the airport. Most passengers reach the island via Tenerife South Airport. From here you can reach Puerto de la Cruz very well in only one hour with the hired car. If you want to pick up your car in Puerto de la Cruz first, you can also take a bus or cab from the airport to the city.
Which insurance to take out for the hired car?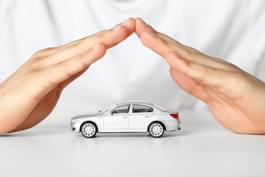 Suitable hired car insurance
As nice as the holiday can be, unforeseen incidents should never be excluded. Especially not if you have booked a cheap hired car. Prevention is usually better than cure. Therefore, it is advisable to take out an appropriate insurance package. A comparison of the individual providers is therefore enormously worthwhile. Basically, a liability insurance is necessary to be able to hire the vehicle at all. Comprehensive insurance and theft insurance can be added. We recommend you to book the fully comprehensive insurance without excess, so that you do not incur any unforeseeable costs in case of damage.
Special traffic conditions on Tenerife - What do I have to pay attention to?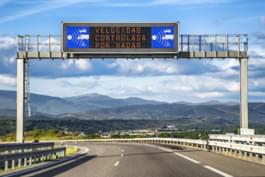 Road traffic in Tenerife
If you are travelling by car on Tenerife, you should know a little bit about the existing traffic rules. There is not too much to pay attention to, as the regulations are similar to those of most European countries. Nevertheless, you should always be aware of the prevailing rules in order to also avoid possible misunderstandings on the spot. Especially language problems could lead to uncertainty in road traffic, which is why we briefly summarize the most important information for you.
You should always be aware of the following rules when on holiday in Tenerife:
There is right-hand traffic
Seat belts are compulsory
Use of the telephone is prohibited while driving
Children under 12 years or with a height under 1.50m must take a seat on the back seat
The blood alcohol limit is 0.5 and novice drivers who have only had their license for two years may have a maximum of 0.1% blood alcohol.
Round trip from Puerto da la Cruz by hired car
Now that everything is settled and the hired car is ready at the airport, you can look forward to an exciting and impressive round trip. After all, there is much to discover on Tenerife. The picturesque landscapes alone will take your breath away. With a hired car your are now completely free to explore the island. The weather will always be kind to you, because Tenerife is not called the island of eternal spring for nothing. With a hired car you can easily get from Puerto de la Cruz to the numerous destinations of the island, such as the national park el Teide or the capital Santa Cruz de Tenerife.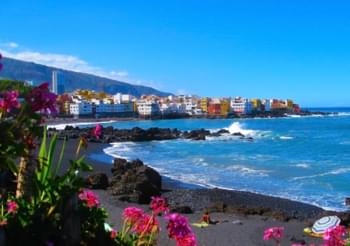 Playa Jardin
Playa Jardin is located just outside the city of Puerto de la Cruz and can be reached in a few minutes. The Canary Islands, of course, offer many of these impressive dark beaches. But here on Tenerife, vacationers experience some of the most beautiful beaches in Spain. The black sand, which got its colour from deposits of volcanic lava, is characteristic for Playa Jardin. In addition, visitors are impressed by the great flower splendor that you can find here.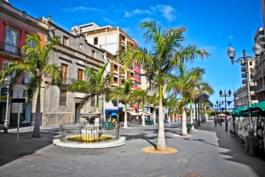 Santa Cruz de Tenerife
With the hired car we now continue north to the capital Santa Cruz. The capital of Tenerife is one of the most popular cities in the Canary Islands. Who is already on holiday in Tenerife, should take the time to explore this city. An eventful history has left its traces in many places. In addition to numerous, historic buildings, it is the squares and parks that cast a spell over you. Visit the Plaza España or the Mercado Municipal, where you can certainly try one or the other delicacy of the island.