Discover Lanzarote with a Rental Car
Lanzarote is one of the Canary Islands and is popular with tourists looking for sun, sea and sand holidays. It is located just under 130 km from mainland Spain. Although it is not a particularly large island, Lanzarote offers diverse landscapes, pristine natural surroundings, and numerous tourist attractions.
Holidaymakers who choose Lanzarote as their destination will be able to visit white sandy beaches with crystal clear waters, volcanic grottos, mysterious craters, and the remnants of lava lakes scattered all over the island. The area is also famous for being a UNESCO biosphere reserve with many sites of interest hidden around the island.
Driving around Lanzarote is pure pleasure as the island offers many safe and newly built roads. These will allow you to visit fancy restaurants, interesting accommodation options, and cafeterias, as well as peaceful rest areas. With Driveboo, you can now easily compare different car rental offers on Lanzarote and choose the one that best suits your needs. Are you ready to start your journey?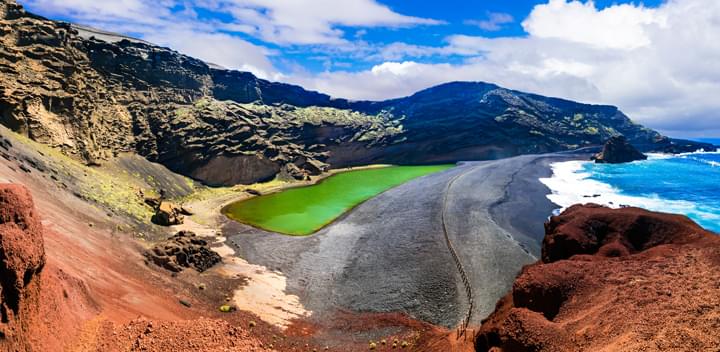 Volcanic crater Montaña de Golfo
Where can I rent a car on Lanzarote?
Tourists will have the opportunity to hire a car in almost all the towns of Lanzarote as car hire companies are relatively popular on the island. What is more, you will also be able to rent a vehicle at Lanzarote Airport (ACE), located approximately 5 km southwest of the popular town of Arrecife. This is surely the most convenient way for tourists who would like to start their trip around Lanzarote right after touchdown. At the airport, you will be provided with plenty of possibilities of rental cars tailored to your specific needs. You can rent a large SUV or a small coupé—there are multiple options!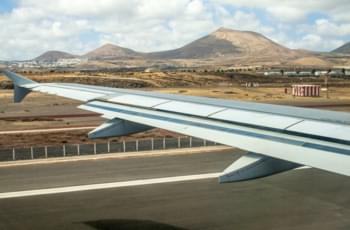 Airplane at Lanzarote Airport (ACE)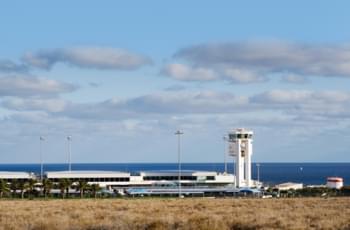 Tower of Lanzarote Airport (ACE)
While renting a car, you should remember to:
carry a valid driver's license, and ID or a passport, and a credit card
check the car thoroughly in order to find any damage so that you can immediately report it to the car rental company
ask about the types of the insurance that are available for your rental car
Insurance of rental cars on Lanzarote
All car hire companies in Spain provide insurance for the cars that they rent. In order to ensure full protection of yourself and your passengers, you should choose full insurance. This insurance covers accidents, theft, and damage. The car will also need third party liability insurance coverage.
Driving a rental car around Lanzarote
When it comes to driver's licenses, any in the EU are valid throughout Spain.
Motorways in Spain are marked as "AP-X", where "X" is the road number (e.g., AP-7).
You will need to pay a toll on motorways. Tolls are usually collected at specified toll gates.
The cost is based on the category of vehicle that you are driving as well as the length of your trip.
The toll can be paid in cash or with a credit card. It is also possible to use a special payment system, known as "Via-T", which will allow you to pass through the gates without the need to stop—the average price while driving a rental car is € 9.5/100 km.
In Spain, there are different speed limits for every kind of road. See the table below:
You might pay anything from several hundred to a few thousand Euros for speeding in Spain. The cost is dependent on the degree of the offence as well as your income.
The legal blood alcohol content in Spain is 0.05% (breath alcohol content: 0.25 mg/l), and 0.03% (breath alcohol content: 0.15 mg/l) for drivers with less than two years of experience.
The driver and any passengers occupying the front and rear seats of the vehicle are all required to wear seatbelts. The fine for not wearing seatbelts may amount to EUR 90 per person.
If you park in an unauthorised place, you can expect to be charged up to EUR 300.
Emergency numbers on Lanzarote
Enjoy beautiful Lanzarote with a rental car
Are you already bored with long hours spent on sunbathing and swimming in the warm, crystal clear waters? The time has come to start your journey around the island! Renting a car will grant you real freedom and allow you to reach a number of natural wonders and tourist attractions.
For those who enjoy spending their free time exploring stunning natural gems, Timanfaya National Park will be the best choice for a day's trip. It is considered by many to be one of the must-see tourist attractions on Lanzarote. It is characterised by its astonishing moon-like volcanic landscape.
You should also consider visiting the Mirador del Rio—a natural viewing point that is sure to give you a rush of adrenalin and endorphins. This great lookout point will provide you with an exquisite view across much of the island of Lanzarote.
Lovers of art should definitely visit the Cesar Manrique Foundation, where they will learn all about the artist's approach to the symbiosis between man, nature, and art. The house was built as part of a series of volcanic bubbles creating an out-of-this-world household.
The distances and travelling time provided in the table below are all measured from Lanzarote Airport to the destination place. The table also features the most important and popular towns around Lanzarote.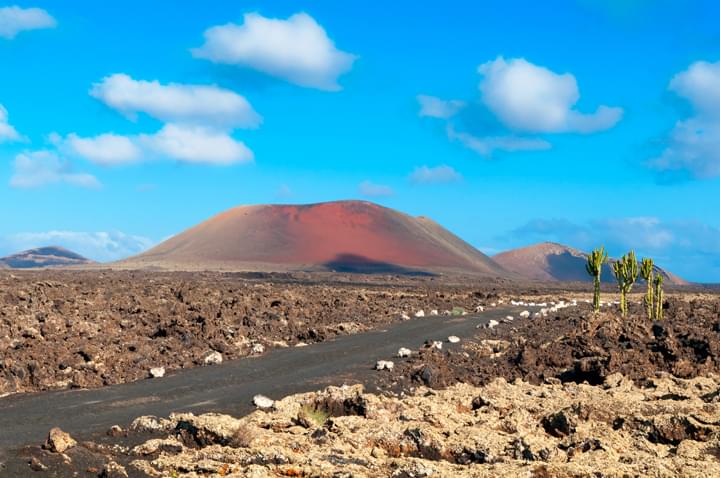 Road through the volcanic landscape
Nice Destinations with your rental car in Lanzarote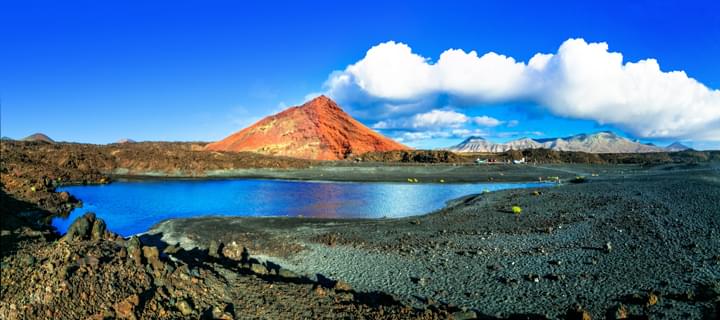 Impressive volcanic landscape, Lanzarote