Book a hireal car in Oakland
Hire a car in Oakland and discover Northern California! The city of Oakland with its 400,000 inhabitants is one of the most famous metropolises of the state of California in the western USA. It was founded in 1852 and is located on San Francisco Bay. Oakland is home to a large number of internationally renowned schools, universities and historic buildings. In addition, there are many tourist attractions, a distinctive nightlife and attractions that are spread throughout the city. Holidaymakers prefer to explore Oakland by hireal car because the streets are in excellent condition and the highlights are far apart. At Oakland International Airport (OAK), 15 km south of the city center, every renowned car hire company is represented with counters and vehicles. However, you can hire the car of your choice cheaply on Driveboo.com before departure. This saves you time-consuming comparisons on the spot and long waiting times. All you have to do is pick up the hireal car from the car hire company and drive to the city of Oakland on Interstate 880.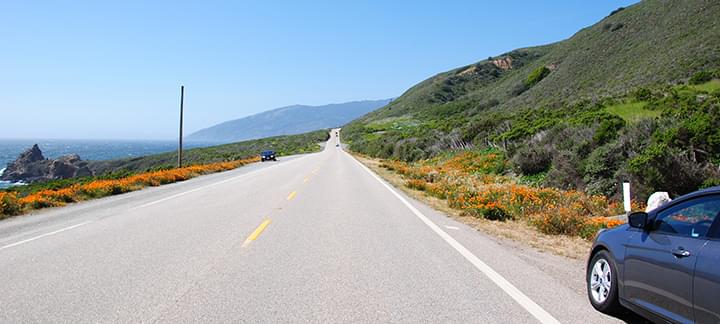 Roadtrip California
Discover the sights in the city center by hireal car
The center houses, among other things, a large number of interesting buildings in Art Deco style. The Fox Theater, built in 1928, the Paramount Theater from 1931, located on Broadway, the library from 1901, the Africa-America Museum as well as the Dunsmuir House from 1899 are internationally known and worth seeing. Have a drink and relax in Heinold's harbour pub at London Square. It was built in 1883 and has been preserved in its original condition. Around London Square, numerous bars, nightclubs and cinemas invite you to linger.
Also visit these highlights:
USS Hornet Museum
Lawrence Hall of Science
Sather Tower
Oakland Museum of California
China Town by hireal car
The China Town of Oakland offers you culture and cuisine from many Asian countries. You should pay it a visit because it's less crowded than China Town in San Francisco, but has just as much to offer.
Relax in Redwood Regional Park
Take Motorway 13 a few kilometres out of the city center and discover one of California's most beautiful parks. Parking for your hireal car is always available, admission is free and the atmosphere is breathtakingly beautiful. There are signposted trails and vantage points that give you unforgettable views of Oakland and San Francisco Bay. Huge redwood trees provide a very pleasant climate even on hot days. There is a hotel with a restaurant that is a great place to rest and relax.
Other parks and lakes:
Compare offers and hire a cheap car
This is exactly what our independent comparison portal enables, because we cooperate with every car hire company present at Oakland Airport. Enter your arrival date into the search form and you will immediately see all car hire offers available on that day. The comparison in your own living room is much more comfortable than walking from one hireal car to another after landing. With just a few clicks you can hire the right car at the right price with individual extras. After you have picked up your hireal car at the favourite car hire company, you can relax and enjoy your holiday in the USA. Below are a few points you need to bear in mind when hiring and taking over the vehicle.
REMEMBER THE Car Hire DEPOSIT
Every provider requires a deposit when handing over the hireal car, which nowadays is no longer transferred or paid in cash, but blocked on the credit card. In the USA, a fully-fledged card with sufficient credit limit is required.
Hire CHEAP FOR LONGER ROADTRIPS
If you want to go on a California round trip with a hireal car from Oakland, choose our one-way hireal offers. Booking is as simple as the classic option: you choose a station, a hireal car and an airport for the return. This option is less expensive and you will see more of the country.
CHOOSE INSURANCE WITH CARE
We recommend that you take out comprehensive insurance without excess for every hireal car. This means that you are just as safe in the event of typical parking damage as you are in an accident.
Please remember to have a second driver included in the contract by the car hire company. This is the only way he will be protected by your insurance.
Driving a car through the USA
Road traffic in California isn't much diffehire from ours. Car hireal at the airport will draw your attention to the most important regulations.