Book a cheap hired car at Mykonos Island National Airport (JMK)
Compare Mykonos Airport (JMK) car hire prices and explore the island on your own. The Greek island of Mykonos is a popular destination and attracts numerous tourists every year. Book a hired car already from home and pick it up directly after your arrival at Mykonos Airport. This way, you won't have to rely on public transportation or a cab. On Driveboo.com you can compare the prices of the car hire companies at Mykonos Island National Airport and book the cheapest offer. Drive your hired car along the coast and enjoy your holiday in Mykonos to the fullest.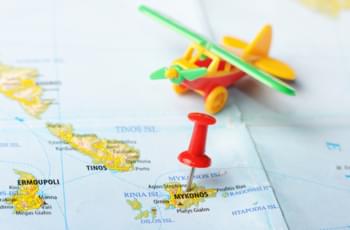 Holiday in Mykonos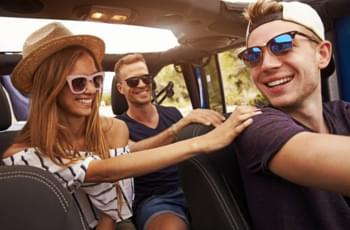 Explore Mykonos together with the hired car
Travel to Mykonos in winter
If you are looking for peace and relaxation in winter, Mykonos is the right place for you. After all, there is not so much hustle and bustle here during the winter months, so you can recharge your batteries. Pack your favourite book and enjoy a few rays of winter sun on your face with a cup of coffee. Afterwards, take a walk on one of the secluded beaches and really unwind. If you prefer to do some winter sports, take a spin on a mountain bike or go for a hike through the wintry landscape of Mykonos. Whatever your perfect winter looks like, Mykonos has plenty in store for you.
Where do I get my hired car at Mykonos Airport?
Once you have landed at Mykonos Airport and picked up your suitcase, just look for the signs directing you to the car hire agencies. Mykonos JMK Airport is not too big, so you should not have any problems. If you have already booked your desired hired car online in advance, you will not have to worry about long waiting times. The local car hire staff will explain everything important to you and then guide you to your hired car. Look forward to your holiday in Mykonos.
Everything you need to know about Mykonos Airport
IATA code: JMK
Opening: 1971
Terminals: 1
Annual passenger volume: 1.5 million
Distance to the main town: about 4 km
Alternatives to a hired car: city bus or cab
Find the right hired car for Mykonos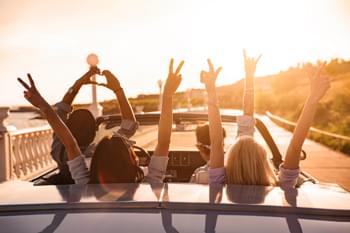 Convertible as a hired car
On Driveboo.com you can find the right vehicle for your trip to Mykonos from many different hired car models. Whether travelling with friends or the whole family, everyone will find their dream car with us. Jet around the island with your clique in a convertible or take a romantic spin with your sweetheart in a luxury car. If you're travelling with kids and lots of baggage, it's best to opt for a minivan. Hikers and outdoor enthusiasts usually opt for an off-road vehicle. As you can see, our portal has the right vehicle model for every taste.
What insurance is best for my hired car?
When it comes to insurance for rental cars, it is easy to lose sight of the big picture. We always recommend our customers the comprehensive insurance without excess. If a damage to the hired car happens during your vacations on Mykonos, you will be safe with the comprehensive insurance without excess. There will be no further costs for you and you can continue your holiday relaxed.
In addition, you can select the following additional insurances:
Underbody insurance
Passenger insurance
Glass and tire protection
With the hired car to the most popular sights on Mykonos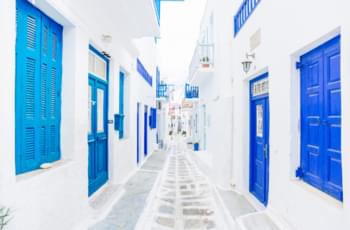 Exploring the Old Town Palea Chora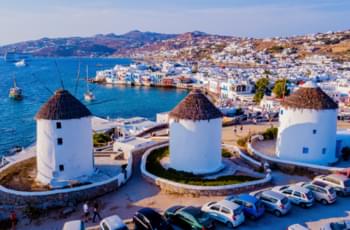 Famous windmills of Mykonos
Palea Chora
Palea Chora is the old town of Mykonos. Stroll through the charming alleys that could have come out of a postcard. Take souvenir photos in front of the whitewashed houses with their colorful wooden balconies. This place is just like something out of a picture book. Be sure to visit the orthodox church Panagia Paraportiani.
LITTLE-VENICE
Ditch the hired car and explore the famous Little Venice neighborhood on foot. The neighborhood is one of the most popular highlights in Mykonos. At the end of the day, have a bite to eat at one of the restaurants or bars along the waterfront.
THE WINDMILLS OF MYKONOS
One sight you should not miss during a trip to Mykonos are the windmills. You can get a great view of the windmills from the north end of Little Venice. There is a granite rock in the sea. If you come to Mykonos by ferry, you can see the five windmills already from the sea.