Explore Naxos Town & the whole island by hired car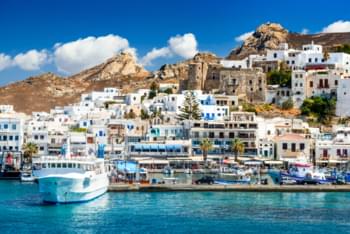 Naxos is one of the many islands of the southern Aegean Sea, which you can explore excellently by hired car, especially as it is so small. You can arrive in Naxos town directly by plane at Naxos Airport and from home you have already booked a hired car online at the airport. With the hired car you can then drive directly to your accommodation after your arrival by plane. On Naxos you will find pretty villages that are not crowded by tourists, which provide an unforgettable charm. There you will encounter old houses, churches, traditional souvenir stores and handicrafts. Also, you should pay a visit to the largest village on the island of Naxos, Filoti. The village is known for its agricultural products such as grapes, wine, olives and cheese. With the hired car you can also explore this, from the town of Naxos, 20 kilometers away and much more.
Discover the sights in winter with a hired car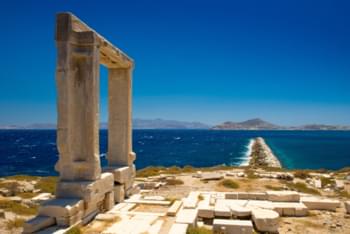 Temple ruins on Naxos
The winter is not too cold in Greece, which means that you can still do a lot during your winter holiday in Naxos. Above all, it is worthwhile to hire a car on an island, since cabs are very expensive and public transport runs very irregularly. In winter it will not be so crowded with tourists, which means you will meet more locals on Naxos, so you can get to know Greece all the better.
Discover some sights of Naxos town, like the ones in the list below, or simply explore the whole island by hired car.
Temple ruins: Portara
Archaeological Museum
Temple: Sanctuary of Yria
Excavation site: Grotta Naxos
Beach: Paralia Agios Georgios
Beach: Agios Georgios
Things to consider when booking a hired car in Naxos
On the one hand, there is the one-way rental, with which you can specify two different locations as rental and return station. With this option, especially a road trip becomes much more convenient for you, because you no longer have to drive back the whole deposited route just to return the hired car.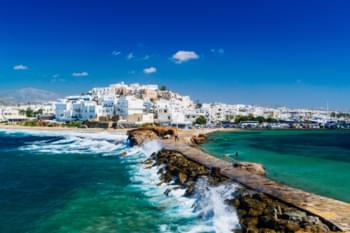 Exploring Naxos together
A convenient option that is available to you is the additional driver option. Through this option you can specify one of your travel companions as an additional driver. You can then take turns driving with this person. Thus, you do not have to take the whole route on your own. You pay only a small surcharge per day, whereby all concluded insurances are automatically also transferred to the additional driver. If you let a person drive the hired car who is not authorized, all concluded insurances will expire.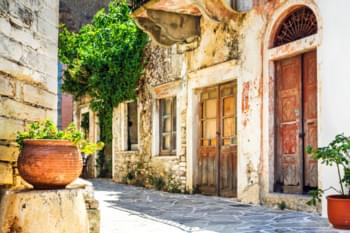 The last important information you must have before booking a hired car is that you can cancel the booked hired car up to 24 hours free of charge. Therefore, it is better to book a hired car earlier so that you can get an early booking discount. Some rental companies offer free cancellation only up to 48 hours, so pay attention to this when booking. To cancel the hired car just write us an email and from 72 hours before rental you should additionally call us.
Hiring a car in Naxos
Numerous car hire agencies await you both in the city and at the airport, so you are completely independent during your trip. Should you wish to pick up your hired car upon arrival at Naxos Airport, there are numerous, inexpensive rental cars from various providers available at the airport. Try it out immediately and get a comprehensive overview of all providers and their vehicles!
Where can I park for free with my hired car in Naxos town?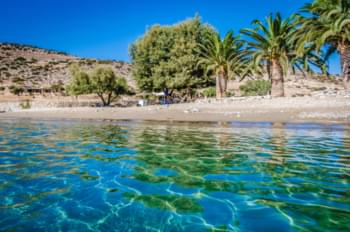 Beach on Naxos
In general, you can park for free in all white marked zones on Naxos. Yellow marked roadsides, on the other hand, mean that parking is prohibited here. On the other hand, roadsides marked in blue mean that parking is subject to a fee. In addition, look for no-stopping signs with a single line indicating that you are not allowed to park there on odd-numbered months. Two dashes, on the other hand, stand for even months. You will be charged 80 euros if you park wrongly on Naxos.
Park your hired car and enjoy some time on the beach.
More information about driving on Naxos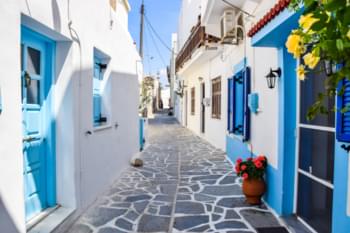 Streets in Naxos
In Greece seat belts are compulsory! Furthermore, it is mandatory to wear a high-visibility vest in case of an accident, which is why we advise you to check the appropriate equipment of the vehicle (warning triangle, first-aid kit, fire extinguisher) before departure. Telephoning in the car is only allowed with a wireless hands-free device and the blood alcohol limit is 0.5. Speed limits are as follows:
In town: 50 km/h
Out of town: 90 km/h
Freeway: 120 km/h
When is a trip to Naxos worthwhile?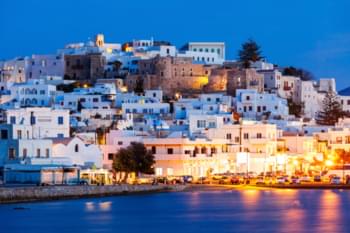 Naxos at night
The Mediterranean climate of the island located in the southern Aegean Sea with its long summers and mild winters has something to offer almost every season. Nature-loving travelers especially appreciate the splendor of flowers in spring, while sun-seeking travelers get their money's worth in the summer months. On the other hand, those who don't like it quite so hot and would like to soak up a few warming rays of sun before winter, will feel very comfortable on Naxos in autumn.
What does Naxos have to offer?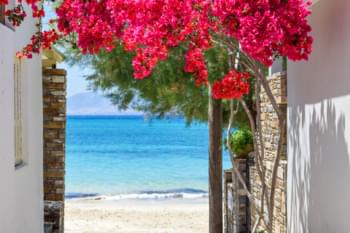 Exploring Naxos
Naxos is the largest island of the Cyclades and only a narrow strait away from Paros. With an area of about 390 km², you can easily explore the island at any time of the year with a hired car. The beaches on Naxos are like on every island in Greece simply fantastic and invite you to enjoy and relax. As on all other Greek islands, temperatures on Naxos are around 40°C. So you can spend wonderful days at the beach or pool. Between May and October it hardly rains on the island. Only a light wind brings cooling. The nature of Naxos is as diverse as the cultural sites and with a hired car you are completely independent and can explore everything on your own.