Have fun driving around Las Vegas with your hired car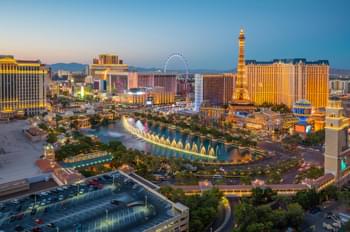 Las Vegas at night
With Driveboo, you can easily compare different car hire offers in Las Vegas and book your hired car directly online. With a hired car you are independent and flexible while exploring the city of Las Vegas and its surroundings. Las Vegas is the biggest city in the state of Nevada and is mainly known for its casinos and wide choice of entertainment. That's how it got its nicknames: Sin City and City of Entertainment. In terms of conference facilities, the city's importance can also not be underestimated. Las Vegas is one of the top three cities in the United States for meetings and business events.
The climate in Las Vegas is desert-like and dry. In summer, it can become extremely hot, while temperatures in winter are around 0°C. Therefore, the best time to travel to the City of Entertainment is around spring or autumn. At this time of year, you can enjoy the entertainment without suffering from the excesses of cold or heat. Also, excursions in the desert with your hired car are much more fun in these seasons, as the sun is relentless throughout the summer months.
Where can I hire a car in Las Vegas?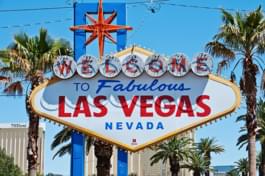 Willkommen in Las Vegas
In Las Vegas, you can hire a car both in the city and at the airport. At each pick-up location you have a wide selection of rental cars. If you arrive at Las Vegas Airport (LAS), you can enjoy your holiday right from the word go with a hired car, and have full independence. At the airport itself, you will find numerous cheap hired car offers waiting for you. Get a detailed overview of all the best offers and available cars!
Las Vegas: Visit Sin City in autumn
A visit to Las Vegas, the Sin City, has some great activities in store for you, especially in the fall. In Las Vegas it is still relatively warm in the autumn months, but not too hot, so you can do a lot of things. Hire a hired car and drive to the Grand Canyon, which is only half a day away. When the fall sun shines on the Grand Canyon, you can see the most beautiful colors. If you prefer not to hike, you can go to one of the concerts that take place in Las Vegas in the fall. The autumn evenings will of course end in one of the casinos, as is usual for Las Vegas. Well, how does that sound to you?
Where can I park my hired car for free in Las Vegas?

Parking your hired car in Las Vegas
Currently, the hotels on the Strip that still offer their parking garages free of charge are Circus Circus, Wynn, Treasure Island, Venetian, and Stratosphere. Outside of car parks, there is a general parking prohibition beside hydrants (a distance of at least three metres must be observed) and areas marked red, as well as bus stops.
Driving with a hired car in Las Vegas
The state of Nevada has exactly one toll road, the Valley of Fire Road, with a fee of about $10. All other roads, including highways or freeways, can be used free of charge. In most cases you can pay for toll roads using a transponder, which should already be fitted to your hired car. Cash payment is also possible; however, make sure you've got 25 cent coins with you.
What are the speed limits in Las Vegas?
What kind of insurance do I need for my Las Vegas hired car?
When hiring a car in Las Vegas, for your own protection, you should always choose full insurance without non-waivable excess in case of an accident, damage or theft, regardless of the county or state you will be driving in. You should also pay extra attention when booking your car to include a liability insurance with a high coverage, as third party claims in the United States can be very high.
Where can I refuel my hired car?
Finding a petrol station in Las Vegas is easy. There are many petrol stations within the city itself and along the nearby Interstate 215. Petrol stations in the United States are normally open around the clock. When you pick up your car from a car hire company, it is advisable to inquire which fuel should be used. In the United States, the unit of measurement is not litres, but gallons. One gallon is about 3.8 litres.
Emergency phone numbers in the US
Discover Las Vegas and its surroundings by hired car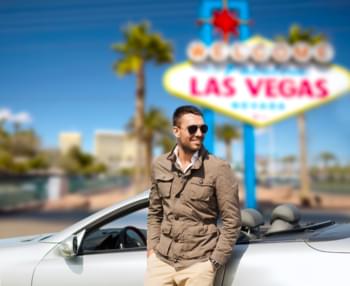 Discovering Las Vegas
Las Vegas is infamous for one thing: entertainment. Visit the most famous hotels in the world, have fun and try your luck in the casinos. The so-called "Strip" is the best place to start. Caesars Palace and the Bellagio are waiting for you. Enjoy shows like the famous Cirque du Soleil or explore the history of the country and the city. One thing is for sure: you won't forget your time in Sin City.
Some Highlights in Las Vegas: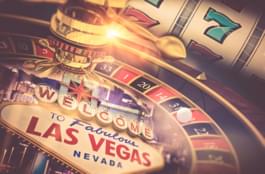 the Strip – casinos, shows and world-famous hotels!
Fremont Street – the first casino in Las Vegas was opened right here!
High Roller – a Ferris wheel that takes half an hour to turn around once
The Neon Museum
City centre Las Vegas
Excursions with a hired car around the city of Las Vegas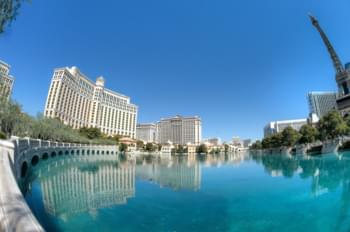 Bellagio Hotel in Las Vegas
After a large dose of entertainment, a few rounds on the one-armed bandit , several blackjack games and amazing shows and performances, it is time to explore the surroundings of the city of Las Vegas. Let's put it another way: it is time for the desert! Excursion of particular interest in the surrounding area are listed in the following table, along with information about their distance from the city:
If you're looking for the perfect blend of urban entertainment and spectacular natural scenery in the desert, Las Vegas will be just right for you.