Car hire Fuerteventura Airport
Fuerteventura, which belongs to Spain, is a popular destination in summer, but especially in autumn and winter, because it is always spring in the cold months. The second largest island of the Canary Islands is especially good to discover with a hired car, which was found cheaply over a price comparison in the Internet.
Arriving on Fuerteventura in Summer 2020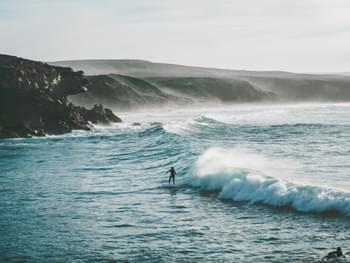 Surfing best in the Summer!
Fuerteventura is known as the island of everlasting spring and is a very good destination for holidays during the summer of 2020! On arrival at Fuerteventura Airport (FUE) you can expect temperatures of up to 28 degrees Celsius in July, August and September, with the most hours of sunshine and the least rainy days - perfect conditions for a discovery tour with your personal hired car.
Especially if you arrive by plane, which is common practice, you will arrive at the airport south of Puerto del Rosario and can pick up your cheaply booked hired car directly at the car hire company's pick-up point.
The island has an area of about 1,660 km², so that you can travel independently of public transport and local tour operators, it is a good idea to book a cheap hired car in advance via the Internet, which is provided by the local car hire company at Fuerteventura Airport at the pick-up station in the terminal.
Fuerteventura Airport - small but nice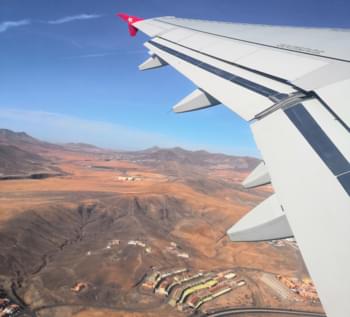 Plane over Fuerteventura
Even if it is an international airport, which you can reach from many German airports in a four-hour flight, the building is still quite manageable. This way you can see the pick-up station of the car hire company directly when you enter the arrival hall of the airport terminal from the baggage carousel.
Therefore, you don't have to search here for a long time if you searched for and were able to hire a hired car in the Internet cheaply via the price comparison. At the pick-up station you will be given the key for your car, which is ready to be picked up at one of the car parks, if you have booked it in advance. All in all, the airport in Puertodel Rosario is very clearly arranged without having to travel long distances. However, waiting times may also occur at the pick-up point of your car hire company, which you should plan in advance. Because if a flight from Germany lands here at the local airport on Fuerteventura, here are many passengers who rush to the counters to pick up their cheaply booked car.
There may also be waiting times in the car park to the right of the airport exit, as all the cars of the various car hire companies are parked here, which you could hire cheaply on the Internet. The airport itself has a direct connection to the FV-2 motorway, which will take you to the capital of Fuerteventura, Puerto des Rosario, in seven minutes. Here you can drive along the coast and enjoy the first view of the sandy beaches. From here it is also not far to the coastal and holiday resorts, such as Costa Calma.
Hired car Fuerteventura Airport: Petrol stations
The petrol stations on the island are usually open from 8.00 a. m. to 9.00 p. m. on weekdays. However, they are usually closed on Sundays. If you are driving to refuel with a hired car, ask at the time of collection whether it is a diesel or petrol vehicle. This is especially important because almost all petrol stations are self-service. In Spanish, petrol is called "Gasolina" and diesel is called "Gasoil", which you should not confuse. Be sure to fill up with unleaded fuel, which in Spanish means "sin plomo" when you drive a petrol engine.
Some Fuerteventura petrol stations offer night service, where you pay for the fuel at the vending machine, but this is only for emergencies and not for a full tank, but should be enough for the first km. In such cases, you should always have five or ten euro notes available in your car that you have found on the Internet.
Petrol stations near Fuerteventura airport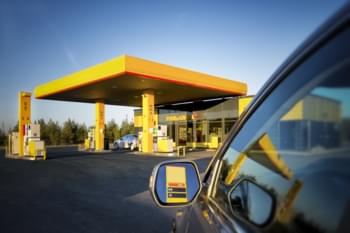 Petrol station nearby
In the immediate vicinity of Fuerteventura airport there are two petrol stations, one in the village of Puerto del Rosario and one on the FV-2 motorway. The petrol station in Puerto del Rosario has a night counter so that you can refuel the car hired at the airport pick-up point to drive the first kilometres and reach your accommodation. Let us know in advance how the car should be returned to the Fuerteventura airport pick-up point at the Fuerteventura airport, whether it is refuelled or not. We recommend that you select the option to be fully-fledged when booking.
Hired car Fuerteventura: Traffic rules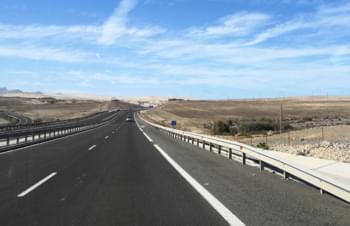 On the streets of Fuerteventura
Before you hire a car cheaply on the Internet through the price comparison, you should also familiarize yourself with the traffic rules at your holiday destination and obtain the relevant information. Since the island belongs to Spain and therefore to the European Union, they are similar to ours.
However, in the southern countries of Europe, such as Spain for example, you have to expect a higher and far more severe penalty for violations than in our country. You should therefore ensure that you do not violate the traffic rules in force in Spain and Fuerteventura.
In any case, legal relations apply in Spain. However, you should avoid using your mobile phone at all when travelling with your car hire company, as this is absolutely forbidden and will be subject to heavy fines. Headphones are also not allowed on Fuerteventura in road traffic. The dipped beam must also be switched on during the day when visibility is poor. Even if you forget to set the indicator, this can cost a lot of money. It is also important to know that cyclists on the Spanish island always have right of way in front of your car.
Car hire Fuerteventura: Speed limit
If there are deviations in the speed, these are signposted.
If you go on holiday with children, then you have to look for a car seat for children under 135 cm or children under 12 years of age. It would be a good idea to let the car hire company know when you hire a car how many child seats you need so that they can be handed over to you at the airport car hire collection point together with your car. Also obtain the information before hiring a car, because as a driver you are responsible for the car and the occupants, not the car hire.
Discover Fuerteventura from the airport by hired car
Fuerteventura is an island that belongs to the Canary Islands and Spain. In order to be independent on your holiday, you should use a price comparison to find a cheap hired car and hire it from home. You don't have to use public transport or local tour operators at the airport to hire a car, but you can travel independently.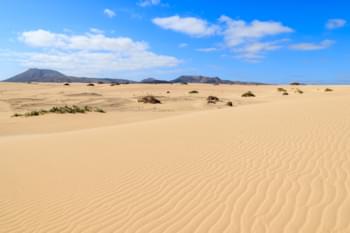 Corrajeljo
Just when you want to visit the many different beaches, for example Costa Calma in the south or Corrajeljo in the north, directly from the airport. There are long sandy beaches for sunbathing and swimming around the town of Costa Calma, which is an important tourist centre. However, the old town of Costa Calma remained untouched and the centre for tourists was built outside. Close to Costa Calma is the kitesurfing area. If you are interested in this sport, please obtain important information in advance.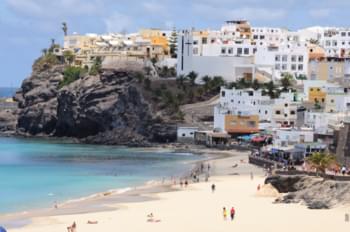 Morro Jable: beach paradise
And also the other villages of Fuerteventura are worth a trip and with the car, which you could hire cheaply by the price comparison with a local car hire company already before your holiday, not separated by many km and thus all quickly reached. Jandia and her small zoo is the perfect place for children to spend their holidays with you. In Morro Jable there is a daily ferry connection to Las Palmas, so that you can also get to know another Canary Island. But you can also enjoy a trip through the largest growing areas for Aloe Vera in Spain and even Europe with your hired car, which you could hire cheaply in the price comparison over the Internet.
Car hire Fuerteventura: By car along the coastline
Although Fuerteventura is the second largest island in the Canary Islands, if you were able to hire a car from a local car hire company in advance via the Internet, you can explore the whole island of Fuerteventura during your holiday. The roads to the various coastal towns, such as Costa Calma or Corrajeljo are well developed and you can reach them quickly by hired car from Fuerteventura airport in Puerto del Rosario. So you can make a round trip along the coast, which changes the landscape depending on whether you are in the south or north of the island. The long sandy beaches in the south invite you to swim and surf, while the cliffs in the north offer a wonderful view over the Atlantic Ocean. For this reason, if you are planning your next holiday here, check out the price comparison today for information about car hire and cheap car hire in Fuerteventuraein airport.