Exploring Caleta de Fuste and the Canary Island of Fuerteventura by hired car
Explore Caleta de Fuste flexibly and independently with a hired car! The place is also known as Caleta de Fustes or El Castillo and is in the municipality of Antigua, on the east coast of the Canary Island of Fuerteventura. It is one of the tourist centers of Corralejo, Costa Calma and Jandía Playa. The population is 6.000, so Caleta de Fuste is the ideal starting point to explore this unique island with a hired car. Via Driveboo you can compare the offers of the car hire companies in Caleta de Fuste and book online a hired car for Caleta de Fuste easily.
To Fuerteventura in autumn and winter?
It is more than clear that spring and summer in Fuerteventura have wonderful temperatures, but the question is what about autumn and winter? Is there much to do in Caleta de Fuste? Is a trip to Fuerteventura in winter worthwhile?
In Caleta de Fuste the following temperatures prevail over the autumn and winter: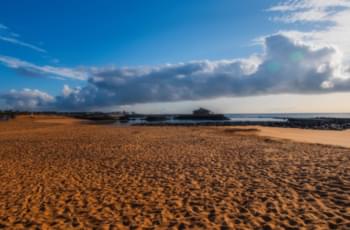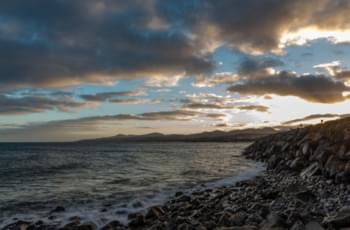 As you can see, high temperatures prevail even in autumn and winter, which means that you can do a lot and just like in spring and summer, it is worth booking a hired car for your stay. So you can discover and explore everything on your own and are completely independent.
Receiving the hired car in the city or at the airport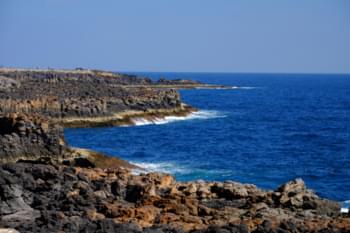 Branches of the well-known car hire companies can for example be found near the city center, just a short bus or cab ride away from Fuerteventura Airport. Here you can decide for yourself when you hire a car, which pick-up location is best suited for you and your plans. The airport is very clear, modern, clean and the check-in is very speedy and about 5 km away from the city Caleta de Fuste .
Road traffic on Fuerteventura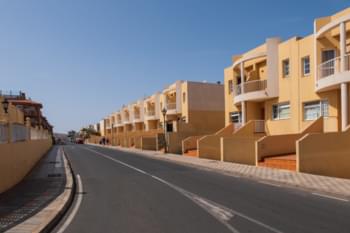 To get to the really beautiful places and beaches of the island, it is advisable to hire a car. The roads on Fuerteventura were completely renewed a few years ago, making them very passable. Some highlights of the island can be reached, however, only over partly bumpy and adventurous roads. However, the car hire companies on the island often forbid to visit these places with normal cars. If you want to get to every place on the island, you'll have to hire an SUV.
Car hire in Spain and Fuerteventura
In many Spanish holiday regions, such as the Canary Islands, rental cars are very cheap to have. The reason is the strong competition of the dealers. Thus, actually every vacationer can afford a hired car. If you want to hire the car over a longer period or have certain special requests such as a child seat, it is advisable to book the hired car beforehand online from at home.
The rental conditions in Caleta de Fuste
The rental contracts usually provide for flat rates including unlimited mileage. After a change in the law, liability insurance with unlimited coverage also applies in Spain. An additional insurance by the so-called Mallorca policy is therefore largely superfluous. Most car hire companies for Spain require that the car driver is at least 21 years old and is in possession of a driver's license for at least one year.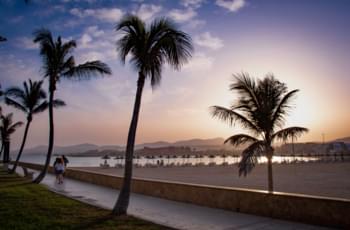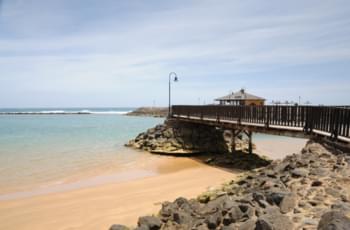 The fuel regime for the hired car
In southern countries - so also in Spain - applies quite often the tank regulation "full - empty". This means that the hired car is taken over with a full tank and can be returned with an empty tank. For some holidaymakers, this rule causes displeasure, especially if they have only partially used the (often expensively paid) tank filling. Therefore, it is best to talk to their car hire company beforehand to avoid any unpleasant surprises.
General traffic information for Spain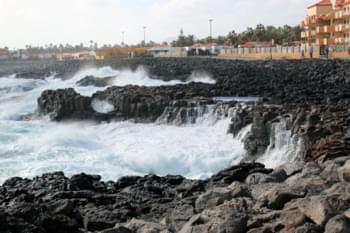 For those who don't know, the Canary Islands belong to Spain, as does Mallorca, so the same traffic rules apply there as in mainland Spain. However, most traffic rules in Spain are not significantly different from those in the EU. But some regulations are a bit different. Not to mention the discipline on Spanish roads, which leaves much to be desired. The situation is improving, however, since the police are taking stricter controls. Traffic offenders face stiff penalties.
Whoever breaks down must not be towed by another car. You have to always call a towing service, whose service in Spain is usually included in the car insurance.
Alcohol use & Drug use while driving
The alcohol limit is 0,5 per mille in blood and 0,25 per mille in breath. For novice drivers (less than two years in possession of a driving license), the limit is 0,3 per mille in the blood and 0,15 per mille in the breath.
Anyone who gets behind the wheel after drug use must expect heavy fines, as in the case of drink driving. The mere detection of drugs in the body is sufficient for punishment, thus there is no threshold rule.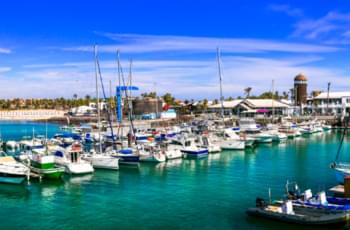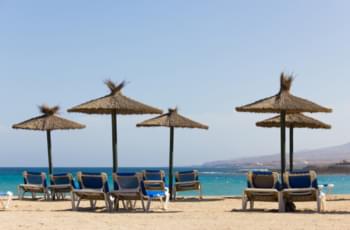 Driving with children - seat belts and child seats
Of course, drivers as well as all passengers are required to wear seat belts. All children smaller than 1,35 meters or younger than 12 years must travel in a special child seat and sit in the back if there is room.
Parking in Caleta de Fuste
Parking is regulated by no parking and no stopping signs. In addition, there are sometimes yellow markings on the edge of the roadway, which also signal a parking ban. With blue lines, you have to pay parking fees at a machine. Green markings mean residents parking, but there can also often be parked at certain times with paid parking ticket. Note that in the case of a violation parking claws are attached to the vehicle or in severe cases the vehicle is towed away!
What sights are there in Caleta de Fuste?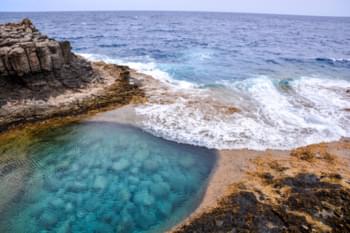 Caleta de Fuste is visited by a large number of tourists and has numerous hotels, stores, boutiques, bars, cafes and restaurants near the beaches. In the port, a castle (Castillo) is worth seeing, built in 1743 by military engineer Claudio de Lisne as Martello Tower. In addition to beach activities, other leisure activities include sailing, diving and windsurfing. The waters in the area are known for their dolphin and turtle populations. A weekly trade fair is known for some of the best deals on leather goods. Nearby is an 18-hole golf course, one of two in Fuerteventura and the venue of the Spanish Open in 2004. Another golf course is adjacent to the former and was completed in 2007. In addition, a shopping center with three hotels and a conference center was built directly on the coast.