Explore Jandía with the hired car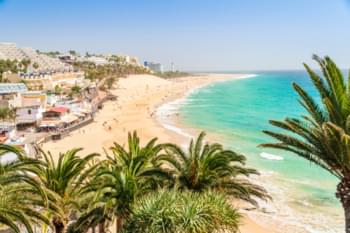 Beach in Jandia
With a hired car you can visit Jandia on the beautiful Canary Island Fuerteventura at any time of the year and explore it flexibly on your own. If you have booked your accommodation on the peninsula of Jandia, it is recommended to book a hired car from a local car hire company. This way you are independent of the various local travel companies and public transport. With a hired car you are always flexible and mobile and can discover the island and the sights in and around Jandía on your own. Via Driveboo.com you will find numerous offers from our partners and you can comfortably decide on the suitable hired car from home.
Visit the Jandia peninsula in autumn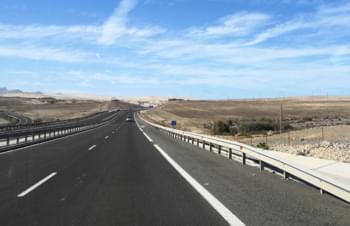 Exploring Fuerteventura by hired car
In autumn the climate is a bit milder after the intense hot days, but nevertheless the days are still pleasantly warm and you can still plan a beach holiday in Jandía on Fuerteventura. The most popular travel time for most tourists even starts in autumn, because at this time it already gets relatively wet, gray and cold in most Central European cities. In autumn, you should definitely take a bike tour of the island. Depending on the level, you can choose from numerous offers on site and start your adventure. You can also start a bike tour on the Jandía peninsula. For example, you could start in Costa Calma, then head towards Morro Jable through the island's interior and then end back in Costa Calma. Let the local offers inspire you.
Find cheap rental cars and deals in Spain in advance on the internet
If you are planning your next holiday trip and have decided on beautiful Jandia on the Canary Island of Fuerteventura, then it is a good idea to compare the prices of rental cars in advance on the Internet and to book a hired car cheaply here directly, This will then be provided to you by the responsible car hire company directly on site. The advantage of this is that the rental cars searched via a price comparison on the internet are cheaper than if you are looking for a car for hire only at the holiday destination directly. Because over the price comparison the different offers are looked for and presented to you. You can then pick up the hired car for example in the town of Jandia or also directly upon arrival at the airport of Fuerteventura near the town of Corralejo.
What should you consider when making your booking?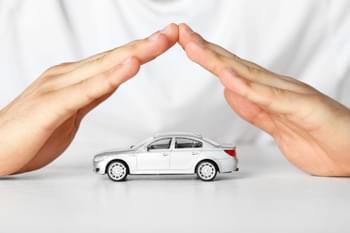 Hired car insurance
If you hire a hired car in advance through the price comparison, you should make sure that you take out the appropriate insurance for it. It also makes sense when taking out the insurance that you take out here a fully comprehensive insurance without excess, which may be a little more expensive. So you will be on the safe side even in the event of an accident. If you book the insurance directly through Driveboo, we recommend that you always have an overview of your booked benefits on site. Often it happens that car hire companies try to offer an additional insurance on the spot, but it is not necessary.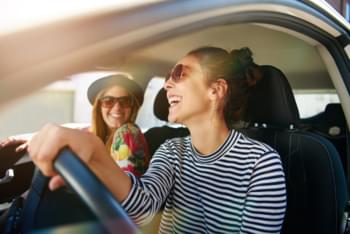 More fun with an additional driver
If you are planning a hired car round trip, you should also consider that you may not be registered as the sole driver, but also an additional driver who should take over the steering wheel from time to time. You can often add this additional person directly when booking the hired car for a fee. Alternatively, you can also register the person directly with the car hire company on site. It is absolutely necessary to have all possible driving persons registered as such by the car hire company. Only in this way you are insured in case of damage and you can start your trip relaxed.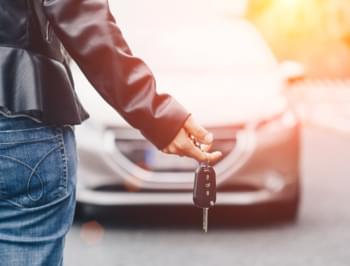 Book a hired car
You can also find one-way rentals for a hired car that will be returned at the destination through our homepage. With the one-way rental you are flexible on the road. You can pick up the hired car at one location and return it at another. So you do not have to drive back extra to the place of origin and save time that you can enjoy instead on the beach. Even if you only need a hired car for the trip from Fuerteventura Airport to your accommodation on Jandia, the so-called one-way rental is sufficient. In this way, you can save yourself a long-term rental if you do not need a car on site. In the same way, you can use the one-way rentals again for the return trip.
Jandia, the peninsula of Fuerteventura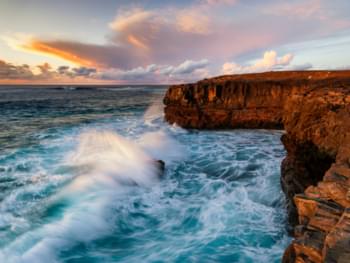 Sunset on Fuerteventura
In the south of Fuerteventura is the peninsula of Jandia, which is a popular holiday destination. Having a hired car is very convenient in Fuerteventura. Not only can you reach all the sights quickly, but you can also visit the beautiful beaches. Here are pleasant temperatures all year round and it is therefore also in winter a popular island of Spain. You can go hiking, visit beaches, do adventure tours and much more in Jandia. If you have booked a hired car in advance via the internet, you can reach everything quickly and easily. And you can likewise easily explore the rest of the entire island to reach the zoo or the beautiful sandy beaches on the island.
What are the most popular sights in Jandía and surroundings?
Punta Jandía Lighthouse
Playa el Puertito
Pico de la Zarza
Roque del Moro