Hire a hired car at Fort Myers Airport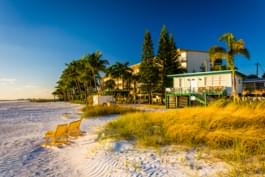 Beach in Fort Myers
It is recommended to start your holiday with a hired car at Fort Myers Airport and to explore the Gulf of Mexico as well as Florida's interior yourself and to arrange each day of your holiday according to your personal needs. Landing at Fort Myers Airport in Southwest Florida is a perfect place to combine relaxation and an unforgettable holiday. With a hired car from Fort Myers Airport you can start your journey right away and with a few travel tips, a varied, exciting and relaxing holiday is guaranteed.
Experience Fort Myers by hired car
The first destination is the US city of Fort Myers, located on the banks of the Caloosahatchee River, only 26 kilometres from Fort Myers airport and near the Gulf of Mexico. It is worth staying here for several days to discover interesting things, relax on the beach or take a day trip to Key West with the passenger ferries. Many accommodations are available here, ranging from simple motels to wellness or luxury hotels.
Experience Fort Myers in autumn
Travel to Fort Myers in the fall and enjoy the sun before the colder months. Fort Myers has sunshine all year round, so you can do a lot of things during your fall holiday. Take a hired car and explore Fort Myers and its surroundings on your own. Take it to Sanibel Island and enjoy your autumn trip. Here you can relax on the beach and recharge your batteries.
Discover the highlights from Fort Myers airport by hired car
Worth seeing is the city centre Historic District, which is situated directly on the river and impresses with its historical architecture. Regular events, countless shopping possibilities, cosy cafés on the pier and restaurants with culinary delicacies can be found here. To the right is the Dean Park Historic Residential District, a residential area embedded in tropical and subtropical trees and palm trees. Nature-loving individual travellers will find a quiet zone surrounded by parks.
The best known and most popular beaches are in the direction of the Gulf of Mexico. A trip to Lakes Regional Park by hired car is recommended, about 18 kilometres from Fort Myers and Fort Myers City centre Airport. Here, miniature cities can be travelled on the park-train, children can choose from countless adventures and playgrounds and many other things can be discovered, so that a whole holiday day should be planned for this.
Hire a car and head for Florida's most beautiful beaches on the Gulf Coast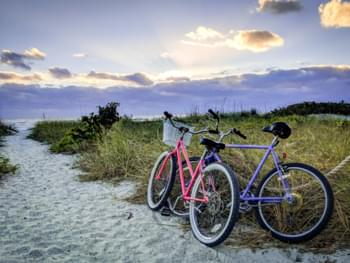 With the bicycle to the beach
The southern Gulf Coast is one of Florida's most popular and beautiful beaches and invites you to swim all year round. In less than 40 minutes you can find sun worshippers with a hired car from Fort Myers Airport on the fine white sandy beach "Fort Myers Beach" on the island of "Estero".
The Summlin Road takes you to Sanibel Beach on Sanibel Island in just 15 minutes. Other beaches such as Bowman's Beach and Lighthouse Beach make a beach day in the sunny state of Florida perfect. The Lovers Key Beach is famous for its numerous clams and is located on the way from Fort Myers airport to Naples. The beach is about 45 kilometres from Fort Myers airport.
You can also explore the most beautiful beaches in Fort Myers by bike.
By hired car from Fort Myers Airport along the Gulf Coast
After about 70 kilometres and 40 minutes drive by hired car from Fort Myers, the metropolis of the rich and beautiful Naples can be reached. The coastal town immerses visitors in a luxurious ambience while at the same time enjoying the idyllic coastline. Naples is also known as the second Palm Beach and attracts hundreds of thousands of tourists every year. Museums, art exhibitions and historical churches are just a few examples that will inspire people interested in culture. In Everglade City, a boat trip becomes a unique experience with flamingos and dolphins, where tourists can comfortably sail on catamarans or dive deep into the mangroves with motor boats.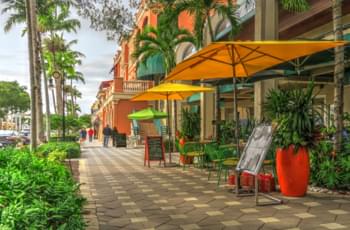 Discovering Naples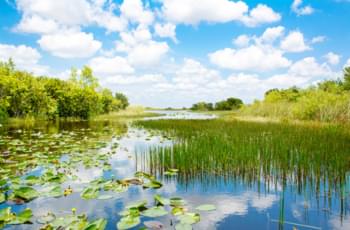 Everglades National Park
Back over inland and the east coast of Florida
Big Cypress National Preserve
48 kilometres inland, we head for the Big Cypress National Preserve. Here, an SUV hired car from Fort Myers proves to be an advantage when entering the slightly elevated nature reserve north of Everglades National Park. Crocodiles, panthers, snakes as well as rare plant species and much more are at home in these nature reserves.
Miami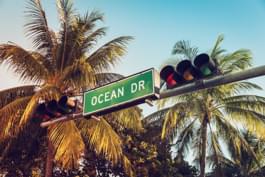 Ocean Drive Miami
From Fort Myers Airport, the Everglades National Park is less than 2.5 hours from Fort Myers Airport to Miami, the tourist hub of North America that tourists should not miss. Here young and old from almost all nations of the world meet. Visit dolphin shows at the Miami Seaquarium, adventures in Jungle Island, the Miami Child Museum or spend a day at the famous Miami Beach with numerous artists, make a visit to Miami Beach.
Fort Lauderdale
A few kilometres further on the east coast, the route heads north along Fort Lauderdale with an interesting day and nightlife as Miami.
Orlando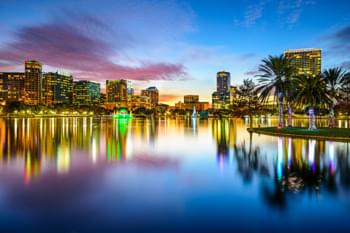 Orlando at night
Over a distance of approx. 270 kilometres, we travel along the east coast towards Orlando. Especially for families with children, Orlando and Disney World should not be missing on any itinerary. But Orlando has a lot more to offer. Adventure theme parks and the world's longest roller coaster, water and dolphin parks, Walt Disney Safari tours, the Kennedy Space Center or a reptile animal park are just some of the attractions.