Car Hire at Faro Airport (FAO)
Discovering Faro
Start your journey through the Algarve, the southernmost region of Portugal, with a hired car from Faro FAO Airport. By making an online reservation in the price comparison on Driveboo.com you can choose your desired hired car from a large selection of car hire companies. With a hired car you will be able to travel independently and get to know the region better. Faro With a hired car you can travel independently and get to know the region properly. Discover the most beautiful places with a hired car from Faro Airport. What are you waiting for?
Visit Faro in autumn
Escape the wet season and visit Faro in autumn. Look forward to many hours of sunshine during your autumn holiday in Faro. Autumn is the perfect time to explore the coast of the Algarve. Drive along the coast in a hired car and enjoy a relaxing autumn holiday. During the autumn months there are only a few tourists on the road in Faro, so you can explore the town itself and the surroundings at your leisure. Look forward to the autumnal cuisine in Faro and recharge your batteries.
The most important information about Faro Airport
Faro Airport is an international airport in the south of Portugal, operated by ANA Aeroportos de Portugal. It is the third largest airport in the country after the airports in Lisbon and Porto and, as the "gateway to the Algarve", an important location for tourism. Passenger traffic consists mainly of holidaymakers arriving with airlines such as Easyjet or Ryanair. In 2015, the airport's terminal building was rebuilt and extended. There are now 22 parking positions for aircraft, 60 check-in counters and 36 gates. The airport is located 3 km west of Faro in sight of the Atlantic coast.
From which airports can I fly to Faro?
Faro FAO Airport is served by many airlines and cities. Here you will find a selection of German cities.
Car Hire suppliers at Faro Airport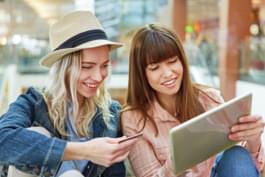 Choosing the right car hire
There is a wide range of car hire companies offering airport car hire. These car hire companies include among others:
CarDelMar
Car Europe
Centauro
InterRent
Air
Traffic connections to Faro Airport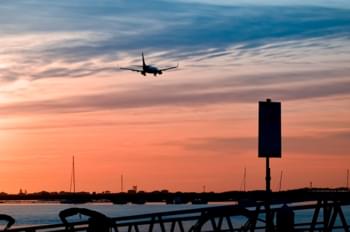 Airport Faro at sunset
The airport is located close to the A22 motorway, with connections along the Algarve and directly to Lisbon and Spain. Bus lines 14 and 16 run daily between Faro Airport and Faro Bus Station. From the bus stop there are connections to most other Portuguese cities and to many Spanish destinations. The airport bus line is currently operated by the company "Proximo". Public taxis are available around the clock at the airport. There are several taxi stands to hire a taxi, or you can use a free phone at the airport to order a taxi. The majority of taxis at the airport can only carry up to four passengers. If you need a larger taxi, it is best to order a larger vehicle with the telephone.
Eating and drinking at Faro Airport
You will find many shops at the airport for your shopping. There are gifts, fashion and accessories, sports and football articles, sunglasses, kiosk, travel supplies and a duty-free shop. The culinary experience is also a top priority at the airport. You can choose from several cafes, a restaurant area and many culinary offerings.
Using Faro Airport services
Faro Airport offers free and unlimited internet access via WLAN. You will also find airport information, tourist information and tour operators in the pre-security checkpoint area. Some airlines offer bicycle rides. Arrived at Faro Airport, there is an area to reassemble your bike and prepare it for transportation. One of these areas is located in the departure area, two more at arrivals. There is also a first aid room operated by the Portuguese Red Cross at Faro Airport. It is staffed by a nurse around the clock. Of course, there are also ATMs and exchange offices at FAO Airport.
Hire a car and explore the city of Faro
Faro is the southernmost city on the mainland of Portugal. In the summer, Faro is a popular destination for travellers from Northern Europe and the UK, mainly due to the presence of an international airport. It also enjoys a reputation for being friendlier than many other parts of the region. Outside the summer, beach guests are usually away, but Faro is still a good starting point to explore the more remote areas of the Algarve or for a stay in transit between Lisbon and Seville (or Spain in general).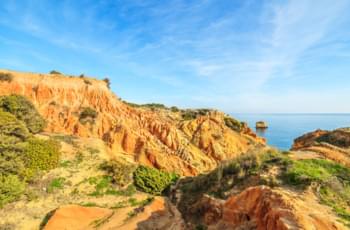 Parque Natural de Ria Formosa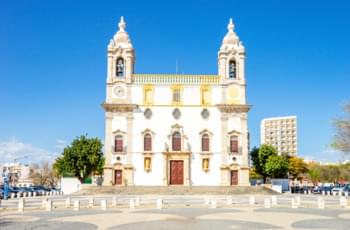 Carmo Church, Faro
When travelling by hired car you should not miss the following highlights in and around Faro:
Ria Formosa Natural Park
Cathedral of Faro
Barreta Island
Carmo Church