Exploring Albufeira by hired car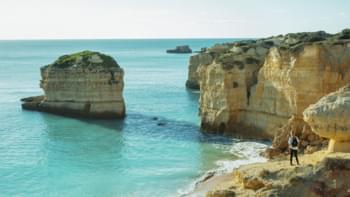 By hired car to the coast
As a coastal city it is worthwhile to experience Albufeira with the hired car independently and flexibly. You can compare the offers of the car hire companies in Albufeira in advance on our independent comparison portal and choose the cheapest offer. Albufeira is located on the Algarve in Portugal and can look back proudly on a 2000 year old history. A pulsating city with beaches where young and old alike can feel at home in this holiday paradise. But the vicinity of the city is also worthwhile. The surrounding villages can be explored by hired car. Since Albufeira is located directly on the Atlantic Ocean, there are also numerous beaches that you can reach by car.
Enjoy spring and autumn in Albufeira
Look forward to sunshine, sea and secluded beaches in spring and autumn in Albufeira. It's best to pick up a hired car in Albufeira right after your arrival and explore the area on your own. Discover the most beautiful beaches in the Algarve with the hired car and enjoy your spring or autumn holiday to the fullest. Whether you travel to Albufeira in the spring to escape the cold weather at home, or you want to soak up the sun in the autumn months - everyone gets their money's worth in Albufeira.
Parking situation with a hired car in Albufeira
The old town of Albufeira is car-free. This means that you must park your hired car before you set off on a walking tour. Near the Avenida do Ténis there is a free parking place and another, smaller one in Rua Dr Diogo Leote. There are also parking spaces near the old town, but these are subject to a charge.
What are the speed limits in Portugal?
Driving under the influence of alcohol - what needs to be considered?
If you have been drinking wine in the evening, you should make sure that the alcohol limit is 0.5. If it goes beyond that, you risk a fine, the withdrawal of your driving licence or, in the worst case, a prison sentence. Driving under the influence of alcohol is followed more closely than before. If you are involved in an accident in an alcoholic state, the insurance cover for your hired car will also expire.
Car rentals in Albufeira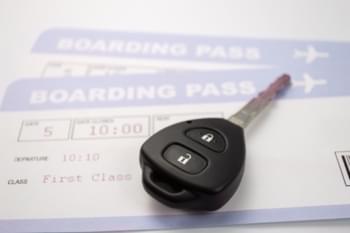 Get your hired car at the airport
Since Albufeira has no airport itself, most tourists arrive at Faro (FAO) airport, which is only 35 kilometres away. It is of course a good idea to hire a car here so that the trip to Albufeira is as stress-free as possible. Have a look at our special categories. Treat yourself to the pleasure of exploring the Algarve in a convertible and enjoying the sunshine of Portugal while driving. Save yourself the hassle of comparing by yourself and take a stress-free look at Driveboo for your hired car. Here you will find the cheapest tariffs perfectly tailored to you and your needs. This means that the holiday can start when you book your hired car!
More useful information for car hire in Albufeira
Telephoning while driving is only allowed with a hands-free car kit. If you are caught on the phone, you will be fined. All vehicle occupants must also wear seat belts. Overhauling another vehicle from the right costs between 250 and 1250 Euro. The driving style of the Portuguese is typically southern temperamental. Don't let yourself get upset and drive as defensively as possible.
Desposit
As in any country, car hire companies in Portugal want to secure themselves and get back the rented car safely. The amount of the deposit differs from car hire to car hire and can be up to 2000 Euro. Make sure that your credit card allows this debit limit. Of course, you will get your money back as soon as the hired car is returned undamaged to the landlord. As a rule, however, you will need a credit card for the deposit, on which you can block the corresponding amount.
Insurance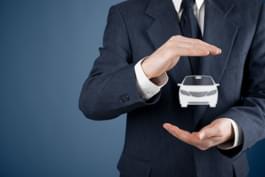 Insurance for the hired car
The country in which you hire a car has no influence on the price of the insurance. Rather, it depends on the category of the vehicle you select. For your own protection, you should always choose "comprehensive insurance without excess." In addition, you should pay attention to a high liability coverage. This should cover at least one million euros in damages, with an optimal figure of 7.5 million euros.
Special highlights in Albufeira
Albufeira is the largest, busiest and most vibrant resort town in the Algarve in the south of Portugal. There are breathtaking beaches, an excellent climate and restaurants that make gourmets shine, as well as an intense nightlife. Albufeira has something for everyone and you can't help it: you just have to love it! Experience the former fishing village at first hand, which today has become one of the most popular destinations in the Algarve. Don't miss out on the following highlights in Albufeira:
Castelo de Paderne
Zoomarine Algarve
The Old Town of Albufeira
Museu Municipal de Arqueologia (Museum of Archaeology)
Cave and coastal tour by boat
Dolphins in the nature
Excursions by hired car around Albufeira
Also explore the surroundings of Albufeira while you are here. You won't be disappointed. Don't miss the old town of Faro and the local market. The famous coastal town of Lagos is also not far away.
Faro

35 km 45 min

Lagos 60 km 60 min
Loule 30 km 30 min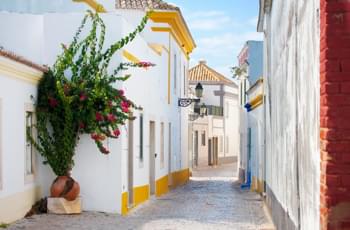 Straße in Faro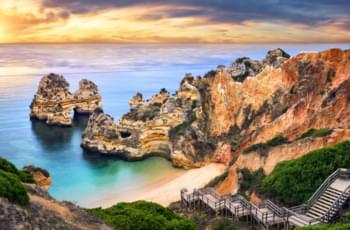 Wunderschönes Lagos
Albufeira and its surroundings are beautiful. It would be a shame if you had to miss this and couldn't explore it because you're not mobile. With a hired car you can get to all the beautiful beaches and are independent of public transport and tour operators. In this way, you can explore the famous Algarve with your hired car Albufeira and other cities and beaches and enjoy your dream holiday in complete flexibility.