Explore Lisbon and surroundings by hired car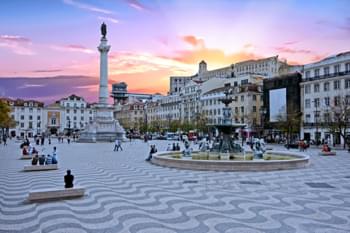 Portugal and especially Lisbon is a popular holiday destination all year round. Lisbon is ideal for a city trip with a hired car. The city is the perfect starting point for a round trip by hired car. With our car hire price comparison you can compare the different car hire companies in Lisbon and book cheap rental cars for your holiday. Depending on whether you are looking to hire a compact car, an SUV or a convertible in Lisbon, the different car hire companies offer attractive quotes. Furthermore, you can also hire scooters in Lisbon through Driveboo. Booking early will also reward you with the lowest prices on Lisbon car rentals. On our portal you can book simply, transparently and risk-free. For most people the adventure Portugal begins at Lisbon Airport (LIS). This is the largest airport in Portugal. So it is no wonder that at the airport you will already encounter many rental stations for the hired car in Portugal.
Autumn and winter - explore Portugal by hired car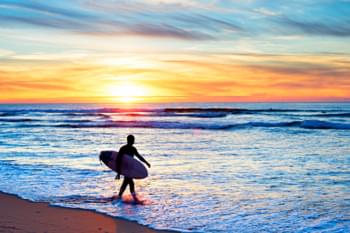 Surfing in Portugal
Lisbon and Portugal is also a good destination in autumn and winter due to its geographical location. The warm climate at the Atlantic Ocean makes this country a year-round holiday destination. Especially surfers will get their money's worth in autumn. In November, the famous town of Nazaré offers a natural wonder with the biggest waves in the world. Spectators can watch the monster waves from the famous lighthouse. For surfing novices, the towns of Ericeira and Peniche are suitable. Many surf schools are located here, which also open their doors in autumn and winter. Both cities can be easily reached by hired car from Lisbon.
Popular places close to Lisbon
Highlights and places of interest in the city of Lisbon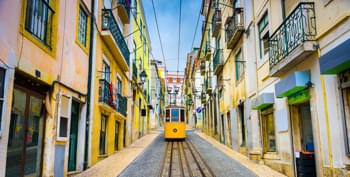 Streetcar in Lisbon
From the airport, you can start by heading to your hotel. Now it is time to see as many sights as possible. Plan your personal city tour at your Lisbon hotel.
Why actually always start on the streets, when you have the chance to have a look at this capital from airy heights:
The Cristo Rei statue
Torre de Belém
The Mosteiro dos Jerónimos monastery
Cemitèrio dos Prazeres
Cristo Rei Statue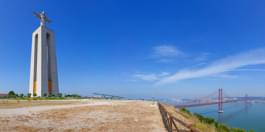 Modeled after the famous statue of Christ in Rio de Janeiro, this unique structure is also a breathtaking viewing platform. If you are ever in Lisboa, you should not miss this vantage point to take a look over this picturesque coastal city.
Torre de Belém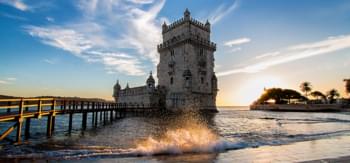 The Torre de Belém is the landmark of Lisbon and is located at the gates of the center. So you will leave the city of Lisbon for a short moment if you want to see this ancient and historical structure. With the hired car all this is no problem if you want to visit this lighthouse. Flyers are often available at the hotel to inform you in advance about interesting facts. Or you can look for it at the airport.
THE MOSTEIRO DOS JERÓNIMOS MONASTERY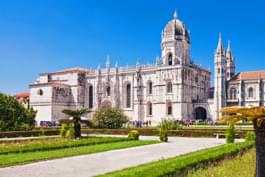 Hardly any other building has such a lasting impact on the cityscape as this monastery from the beginning of the 17th century. Embark on an exciting journey through time and take a look at the museums. The archaeological museum as well as the naval museum are located here. A piece of the history of Portugal becomes tangible here.
INSIDER TIPS LISBON: DISCOVER UNKNOWN SIDES
Not everything in Lisbon is offered in the travel guide. Some sites are hidden or simply not given as much attention. To give you the chance to experience at least a little of it, here are a few tips:
With a hired car, there are many great destinations to visit in the coastal region around Lisbon. The fairy-tale castle landscape of Sintra is about half an hour away from Lisbon by car. Here, magnificent castles, palaces, ruins and villas are picturesquely nestled in the wooded hills and can be visited on various tours. The Moorish Castelo dos Mouros and the romantic Palácio Nacional da Pena are the main attractions of this UNESCO World Heritage Site.
Cabo da Rocha, the westernmost point of continental Europe, is also easy to reach by hired car. It is located at an altitude of about 140 meters on a steep coast. Not far away is also the small town of Évora, which radiates a great flair with its noble palaces, churches and alleys.
From Lisbon to Porto - experience a fascinating journey in a hired car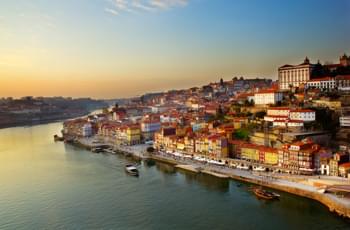 View on Porto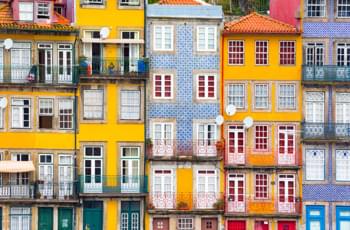 Colourful houses in Porto
Porto is located about 320km north of Lisbon. By car you can reach the city within 3 hours. Just take the A1 in the direction of Porto. Enjoy the scenery along the picturesque coast. If you are planning this longer trip by hired car, make sure that you hire an appropriate vehicle. Because especially in a convertible, the trip to Porto in glorious sunshine should be something very special.
It can also be worthwhile to book a hotel in Porto. The Porto Airport also offers you the possibility to return the hired car there. For such a long trip, it is worthwhile to book the one-way rental with the car hire company in advance. This would be especially useful if you do not want to end your holiday at Lisbon airport, but just at Porto airport.
Safely on the road with the right insurance
It is always best to dive with a comprehensive insurance without excess. Through this type of insurance you are protected in all cases and drive without hesitation throughout Portugal. Good news: On Driveboo.com the fully comprehensive insurance is already included in the base price of many offers. Use our popular filters as a guide. We are also happy to help you with our ready-made service packages. These offer the right package for every budget.
In addition to the conventional insurances, you can also book further optional insurances:
Glass and tire insurance
Underbody insurance
Roof insurance