Car Rental at Porto Airport (OPO)
Porto is the most important industrial and business location in Portugal. The city is located in the north of the country at the mouth of the Rio Douro. At the same time, Porto is not only the capital city of Lisbon but also an attractive and popular tourist destination, especially for people interested in culture. In 2001, Porto was even the European Capital of Culture and since then has attracted more visitors than ever before.
And one more thing makes the city so famous in Portugal, its port wine production. So you can taste the delicious wines in a small restaurant in the old town. And not only the hilly old town of Ribeira, which was declared a UNESCO World Cultural Heritage Site in 1996, but also the narrow lanes here are worth seeing. If you are looking for a cheap rental car in Porto, you can rent a car in a local car rental company, and you can also start your car in the immediate vicinity of Porto. You can also visit the miles of white sandy beaches and quiet coastal towns along the coastline. The Douro valley is also ideal for exploring it by rental car from Porto Airport.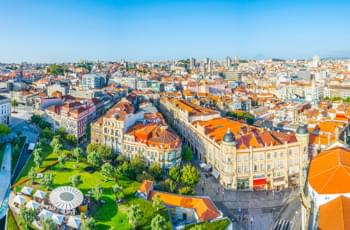 View on Porto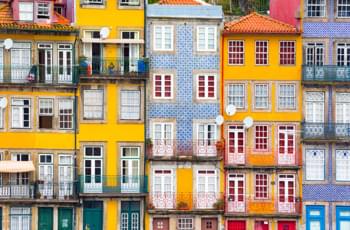 Old and colorful houses in Porto
Francisco Sá Carneiro Airport Porto - general information
Porto OPO International Airport is located near the city of Porto in northern Portugal. It is about 18 km away from the city centre, but is already located in the area of the nearby town of Maia.
After Lisbon Airport, Porto International Airport is the second largest airport in the country, which handles many international flights. Cheap airlines and the well-known major airlines fly to this airport in equal measure. It has two runways and a terminal. In this terminal, there is a wide range of shops on three levels linked by elevators, mainly for books and magazines, but also for souvenirs, clothing, flowers, electronic equipment and jewellery.
Francisco Sá Carneiro Porto OPO International Airport is generally recognized as a good service, even if you arrive late in the evening or depart early in the morning, you will be well served here and snacks and drinks are also provided at these times.
Pick-up station for rental car at Porto airport
Many large rental car companies as well as local providers operate their collection stations at Francisco Sá Carneiro OPO Airport. But so that you can be sure that you will get a rental car during the holiday season, you can rent it in advance via the online price comparison on the Internet and then only pick it up at the airport car hire collection point. Only the deposit you pay with your credit card will be due. The amount will be credited to your account upon return.
The car hire company pick-up station for your rental car is located on the first floor of the terminal, where you will also find arrival and luggage belts. All you have to do is step out of the locker from the baggage carousels and you are already running to the various counters of the car rental companies. Please note that many tourists have pre-booked car rentals and there may be a short waiting period at the counters until everyone has received their car. But then you can start your well-deserved holiday right away with your rental car, which you could rent cheaply via the Internet and pick up at the car rental collection point.
Transport connections around the International Airport Porto OPO
The road network throughout Portugal, for example from Porto to Lisbon, is now well developed. The traffic connections at the International Airport Porto OPO are also very good and you can reach Porto 18 km away in a few minutes.
Although the airport is already located in the city of Maia, it is not far from the city centre of Porto. Leave the airport via the national road N 107 and turn onto the highway IC 1 (A28) to the city centre of Porto. If you want to get to the city of Maia from the airport first, then drive directly to IC 24.
All access and exit roads around the airport are well signposted. There is also a metro line and various bus connections to the city centre. However, if you want to depart directly from the airport to a direction from Portugal, a rental car provided at the airport pick-up point is the better choice. With a car from a local car rental company, you are independent of public transport or local travel providers, and you can do your tour the way you want it to be, sometimes staying longer in some places if you wish, or not at all in other places. This possibility does not exist in a travel group.
Rental Car Porugal: attention to these traffic rules
Portugal is still a one-way street country, especially in the big cities, such as Lisbon. If you are travelling with the rental car of a local car rental company, which you could rent cheaply via the price comparison on the Internet, you have to pay attention.
Forward-looking driving is always important in the southern countries, and a certain amount of stubbornness, as can often be found on our roads, is not always welcome here in Portugal on the road. The other road user is also given priority. The Portuguese drive fast and usually announce their overtaking by honking a horn. Don't let yourself get upset and don't adapt to this style of driving.
Pay attention to the speed limits
| Street | Speed limit |
| --- | --- |
| Inner city | 50 km/h |
| Country roads | 90 km/h |
| Highways | 100 km/h |
| Freeway | 120 km/h |
It is better if you don't get in on the driver's side of your rental car when you have tasted the good port wine, because even if the alcohol limit is 0.5, you shouldn't drive after drinking alcohol as a foreigner in Portugal.
Telephoning without a hands-free system can also be expensive. When you pick up your car at the pick-up station of the car rental company at Porto airport, make sure that you are wearing a yellow safety vest in the car you have rented at a reasonable price on the Internet. This is because you have to cover them if you leave the car in the event of a breakdown or accident. There should also be a warning triangle and first-aid kit.
If children are travelling with you, you will need a child seat for them up to the age of 12 years or 135 cm in height. When you book your car on the Internet, make sure you are aware of this so that the local car rental company can provide you with a rental car with the necessary child seats.
Porto Airport: patrol stations nearby
fill up your rental car with the right fuel
| Portuguese fuel label | English fuel label |
| --- | --- |
| Gasolina sem chumbo 95 | Super |
| Gasolina sem chumbo 98 | Super plus |
| Gasóleo | Diesel |
The filling stations along the highways are usually manned around the clock. If you want to refuel on country roads or in town, opening hours are usually between 6 am and 11 pm. Otherwise Portugal as a whole, especially around the big cities is well equipped with petrol stations of many petrol suppliers and you will always have a full tank on the round trip with your rented car of a local car rental company thanks to the many petrol stations and you will be able to visit so many places of interest and natural beauties in the whole country.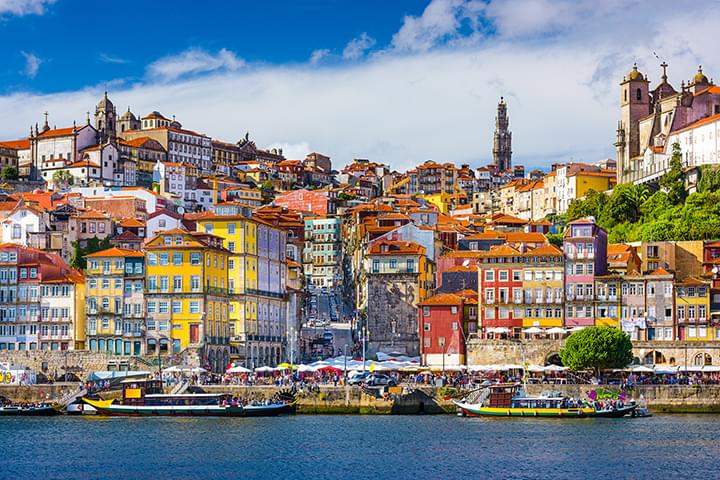 Rent a car and drive around Porto
Here you can refuel your rental car at Porto Airport

There is no petrol station directly at Francisco Sá Carneiro airport, but even if you get your rental car with an almost empty tank, the petrol stations around Porto are only a few minutes away and can be reached quickly.
There is a petrol station right next to the A28 motorway on your way to downtown Porto. Find out in advance at the pick-up point of the car rental company how to refuel your rental car.
A round trip with your rental car from the airport through Porto
Once you have arrived at Francisco Carneiro International Airport Porto OPO, you can pick up your rental car at the car hire company's pick-up point, which you can book in advance using the online price comparison service.
You will then quickly reach Porto via the highways in the direction of the city of Maia or Porto, where many sights are waiting for you. The old town of Ribeira, with its narrow lanes and colourful houses overlooking the Rio Duoro, is at the forefront. From here you have a wonderful view, which becomes a unique experience especially in the evening when dusk falls.
Of course, you can also cross the river over the Dom Luís I bridge, which also offers a fantastic view. The next day we will continue our round trip with the rental car of a car hire company at Francisco Sá Carneiro airport, which you could rent at a low price on the Internet. In addition to Lisbon, Porto also has many old, wonderfully renovated houses to offer. There is a paradise for all book lovers in Livraria Lello.
There are also many museums in this beautiful city, such as the Tram Museum, the Portwein Museum and the Museum of Photography. But Porto has more to offer, and with a car rental company that you could rent cheaply on the Internet, you'll quickly reach the nearby beach of the city to recharge your batteries for the next round trip with your local car rental company.
A trip to the surroundings of Porto from the airport (OPO)
With the car, which you could already rent cheaply in the internet before your holiday at a local car rental company at the airport of Porto/Maia, you are also fast in the closest surroundings of the city. From here you can also make a detour to Lisbon, about 300 km away. Here you are by car via the highway in about three hours.
But also the area around Porto has a lot to offer. This means that you can also start in the opposite direction from Porto to Maia with your car, which you received at the Francisco Sá Carneiro Porto OPO airport pick-up point. Because with a rental car, which you could rent in advance at low prices on the Internet, you are flexible and independent of public transport and local travel providers. Not forgetting the road trip through the Duoro Valley. If you have decided to rent a car for your trip to Porto and the surrounding area via the Internet, this could also be a manoeuvrable off-road vehicle, which you will definitely need in this beautiful area with its many terraces cultivated for the famous port wine.
Along the river there is one of the most beautiful routes in Portugal, which you can drive with your rental car from the pick-up point of a car rental company at Francisco Sá Carneiro airport and enjoy the breathtaking nature here. For days you can drive through this valley by car, but you didn't see everything at the end. Above all, it looks different depending on the season. In February/March the almond trees are in full bloom, in summer the vines are well stocked.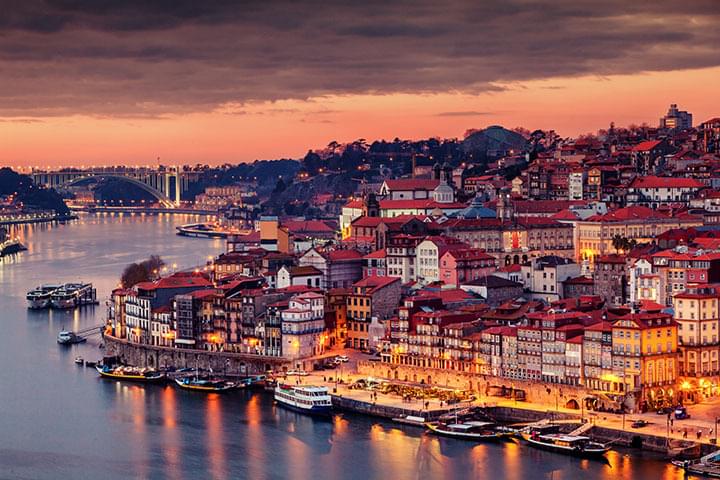 Porto at sunset