By hired car from Porto along the Atlantic coast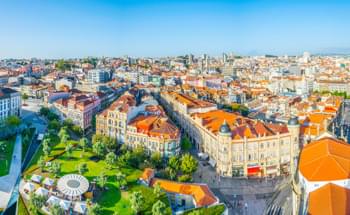 Explore Portugals "capital of the north": Porto
Portugal is also in 2021 one of the hottest destinations in Europe. Beside Lisbon, Porto is definitely the most exciting cities in Portugal. Porto is the second largest city in Portugal and likes to ring itself the "capital of the north". Porto is the ideal starting point for a road trip through northern or even whole Portugal. The city is one of the oldest cities in Europe with a wealth of art and culture. With Driveboo.com you can compare the prices of car hire companies based in Porto, and conveniently select the best deal for you from home and book it in no time at all.
Pick-up your hired car in the city or at the Porto Airport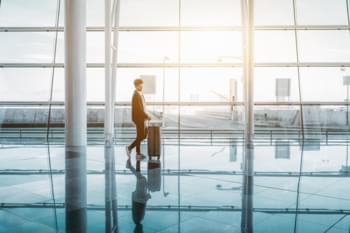 Pick-up your hired car at the Porto Airport upon arrival
How do I get to Porto? Those who have decided to go to Porto for a city trip will in most cases arrive by public transport or by plane. For those coming by plane, booking a hired car at the Airport Porto (OPO) makes most likely sense. Be immediately flexible upon arrival with a cheap hired car at the Airport Porto. Benefit from many advantages when picking-up your hired car at the Airport. Beside the airport, you will find many options in different locations in city centre Porto, as well as at the main train stations. Compare now the best deals for cheap rental cars conveniently located in and around Porto.
Opt for the right insurance for your hired car in Porto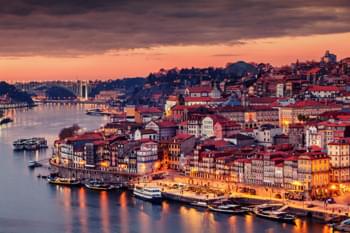 Right insurance to be secure during day and night
It is a good advice to choose the right insurance for your hired car from the very beginning. The best thing to do is to opt for the fully comprehensive insurance without excess. In addition, you should also take a look at the amount of the liability insurance or the sum insured, as this should be as high as possible. Whether you want to take out theft insurance with or without a deductible or a glass or underbody protection insurance. These additional insurances makes sense when it comes to long road trips through entire Portugal. In our service packages, there are already useful things in terms of insurance policies included. In Base, you have the most likely cheapest price and already the fully comprehensive insurance. While in Plus, in addition to that the insurance is without excess. In our all-round carefree package, you have in addition to that a glass- and tire insurance.
Unlimited options with unlimited mileage for your Portugal journey
Beside the Atlantic coast with unlimited mileage
It is quite comfortable to drive around in Portugal. Beside visiting magnificent cities, Portugal's streets enables breathtaking excursions along the Atlantic coast. However, a few kilometres on the speedometer quickly come together, which is why you should definitely opt for a hired car offer that includes unlimited mileage. Within this you are easily able to drive all the way down to the Algarve. Come across the capital of Portugal Lisbon and make your way to further popular places like Lagos and Albufeira.
Reach the most beautiful destinations in Portugal with your hired car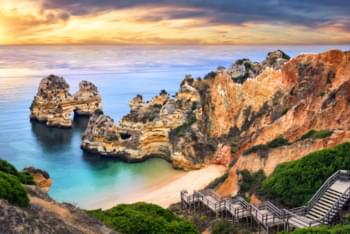 Drive down to the popular Camilo Beach in Lagos
Porto is worth a trip all year round, which you will certainly remember for a long time to come. Follow in the footsteps of Romanticism in the north of the country, wander through the vineyards, discover the baroque castles. You can also simply enjoy a shopping spree in the old town of Portos. An own hired car enables you to arrange your trip according to your own ideas.
Below we have created a list of destinations to visit in Portugal, starting in Portugal:
Destinations to visit in Portugal
For the ultimate travel inspiration: By the way, you can also check out our blog where we have presented you with a route from the north to the south of Portugal.
Travelling in and around Porto by hired car
How does it look like in Porto? Narrow lanes, baroque house facades and a bridge in the style of the Eiffel Tower spanning the Douro are just some of the highlights that await you in Porto. Go on an exciting voyage of discovery in the old town, which has been a UNESCO World Heritage Site since 1996, spoil your palate with fresh fish dishes and locally grown port wine, take a ride on the historic tram and visit the Miguel Bombarda artists' quarter and the surrounding area.
Explore all the Highlights of Porto
Main attractions of Porto:
Ponte Dom Luís I.
Zona Ribeirinha (promenade)
Clerigos Tower
Palacio da Bolsa
Porto Cathedral (Se Catedral)