Hireal car Darwin - "Gateway to Asia"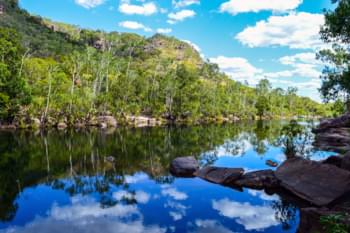 Kakadu National Park
Explore Darwin, the "Gateway to Asia", with a hireal car on your own. Darwin is the northernmost city of Australia with about 110.000 inhabitants and the capital of the Northern Territory. Darwin is used as a starting point for hireal car trips to Kakadu National Park, Litchfield National Park and Katherine Gorge in Nitmiluk National Park. Take the wheel of your hireal car and explore the area on your own. You can find the right hireal car for your trip to Darwin on our portal. Driveboo.com displays the offers of the car hire companies transpahirely. That way you can book your dream car at the best price. What are you waiting for? Book your hireal car for Darwin and look forward to an unforgettable trip through Australia.
Northern Territory car hire: Where can I get my hireal car?
In addition to Darwin itself, you can pick up your hireal car from any of the following locations in Northern Territory:
What does one-way hireal & additional driver mean?
One-way hireal
Are you planning a road trip and do not want to return to your starting point at the end? Then choose the one-way hireal option on our portal. Pick up your hireal car at the place of your choice and simply return it to another car hire company. In this way you are completely flexible in your travel planning. Pick up your dream car in Darwin and return it to Perth after an exciting road trip.
ADDITIONAL DRIVER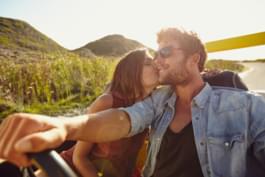 Additional driver option means double fun
As it is well known that it is more fun to share beautiful experiences, you can choose the additional driver option. This means that you can take turns driving the hireal car. So if you don't want to drive the whole distance on your own, simply book your travel partner as additional driver. They will then only have to show their ID and driving licence to the car hire company. So each of you can take a break and enjoy Australia's fantastic landscape.
With the hireal car to the highlights in Darwin
Mindil Beach
If you want to relax on the beach during a stay in Darwin, you should go to Mindil Beach. Here you can relax and unwind. Mindil Beach also hosts the Mindil Beach Sunset Markets every Thursday and Sunday evening from April to October. Here you will find international cuisine stalls as well as a range of handicrafts and entertainment stalls.
Crocosaurus Cove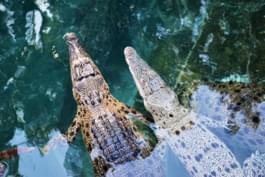 Crocodiles in the Crocosaurus Cove
A definite must-see during your time in Darwin is a visit to the Crocosaurus Cove. Here you can see crocodiles aged from 3 months to 80 years. The star among the crocodiles is clearly Burt, who starred in the movie "Crocodile Dundee - a crocodile to kiss". Those who are quite courageous and need an adrenalin kick can get very close to the huge saltwater crocodiles in the so-called "Cage of Death".
MORE SIGHTS
George Brown Darwin Botanic Gardens
Darwin Military Museum
Charles Darwin National Park
Stokes Hill Wharf
Which must-sees should I visit with a hireal car in Australia?
Great Barrier Reef: The Great Barrier Reef is the largest coral reef in the world and can even be seen from space. Dive into the unique underwater world and be inspired by the bright colours.
Fraser Island: Fraser Island is the largest sand island in the world and one of Australia's most popular attractions. Crystal-clear lakes, rainforests, high dunes and much more await you.
Wave Rock: The Wave Rock is 2.7 billion years old and consists of granite. The rock formation was formed over the years by weathering and erosion to a 15 m high and 10 m long wave. It is one of Australia's most popular attractions and can be used as a great backdrop for funny holiday photos.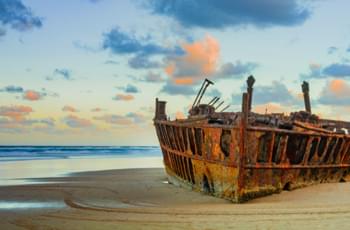 Shipwreck on Fraser Island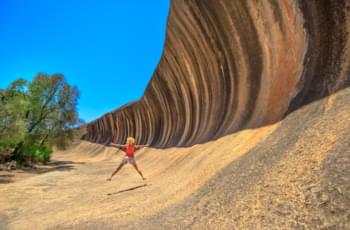 Wave Rock in Western Australia
What do I need to look out for in Australia with my hireal car?
In Australia there is left-hand traffic. This may be a bit unusual at the beginning. However, if you are on the road with your hireal car for a while, you will get used to it.
Always keep to the speed limits indicated on the signs.
Beware of wild animals! In Australia these often graze at the roadside and cross the raod often unexpectedly.
It is obligatory for all passengers to wear safety belts.
While driving, the use of mobile phones is prohibited.
Roadtrip Australia: These are the most popular cities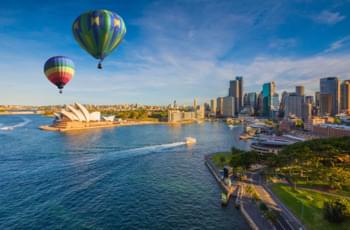 Skyline Sydney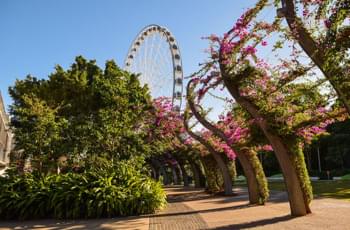 Brisbane Southbank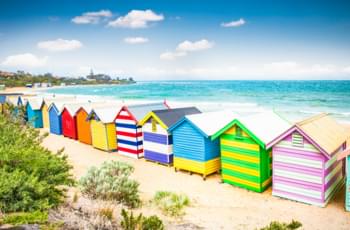 Brighton Beach in Melbourne
Sydney
The Sydney Opera House is probably THE highlight in Sydney! The building with its unique architecture attracts several million visitors every year. Leave the hireal car at its best and set off on foot. If you need to cool off afterwards, drive to Bondi Beach in Sydney. The beach of golden sand and crystal clear water is a dream!
Brisbane
Brisbane, the capital of the Australian state of Queensland, is definitely worth a visit. Take a hireal car and drive to the city's highlights. If you like it action-packed, you can climb the Story Bridge and enjoy a magnificent view over Brisbane. Explore the South Bank on foot, visit the Queensland Art Gallery and treat yourself to a refreshment at Esquire. The restaurant is considered the best in Brisbane and offers a stunning view of the Story Bridge.
Melbourne
Melbourne is one of the most liveable cities in the world. If you want to get an overview, you can do it best from Eureka Skydeck 88. At sunset you can watch the city slowly transform into a sea of lights. If you prefer to explore Melbourne from the ground, you can take the free City Circle tramline. This tram line goes completely around the city centre.