From Costa Teguise by hired car criss-crossing Lanzarote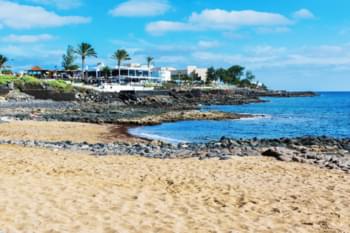 Just a stone's throw from the airport by hired car awaits the golden beach of Costa Teguise, an ideal holiday hotspot that is popular not only with water sports enthusiasts but also with families. How about driving through the Fire Mountains in the south of the island, hiking through the Valley of a Thousand Palms or taking a surfing lesson? With a hired car you are independent and can go on your very personal exploration tour whenever you want. Driveboo will help you compare offers from all car hire companies in Costa Teguise so you can book your rental vehicle online directly from home for your stay in Lanzarote and have a great stay from the beginning.
Exploring the island in winter & spring with Costa Teguise car hire
The popular resort on the west coast of Lanzarote scores primarily with its beautiful, golden-yellow beach sections, an extensive range of restaurants and various sports facilities. Just take off on one of the sunny days parasailing, take a surfing course or explore the small alleys of your holiday domicile. And if this is not enough, you can go shopping with your hired car in the nearby Arrecife.
Plunge into a breathtaking Lanzarote adventure with your hired car from Costa Teguise. Take a trip to Timanfaya National Park, set off on a cave hike in the Cueva de los Verdes, visit the cactus garden or enjoy the view from the Mirador del Rio.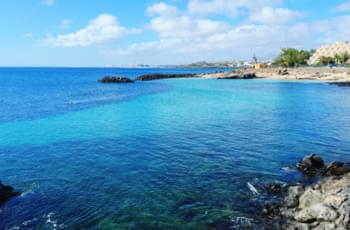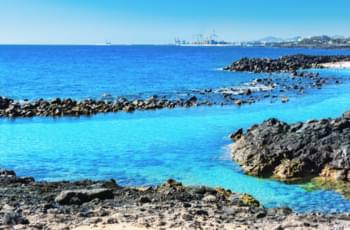 Highlights in Costa Teguise
Dreamy beach
Beachfront Costa Teguise
Colorful weekly market
Extensive range of diving and surfing schools
Where can I hire a car in Costa Teguise?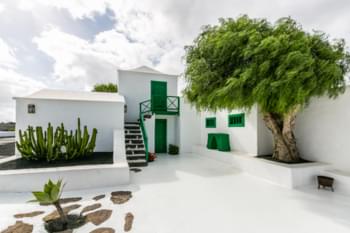 In Costa Teguise in particular, quite a few car hire companies have set up shop where you can probably hire a car without much trouble. However, depending on the type of accommodation you've chosen, it may make sense to hire a car directly from Arrecife (ACE) airport, which is only 15 minutes away, as you'll not only save on cab fees to get from A to B, but you may also benefit from a cheaper deal and multilingual staff.
What insurances should I take out for my hired car in Costa Teguise?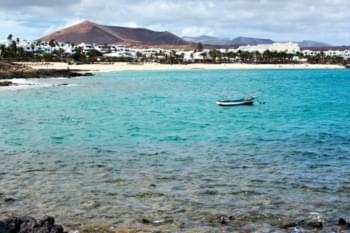 Quite clearly, first of all a "fully comprehensive insurance without deductible" as well as a liability insurance with the highest possible coverage, because only then you have a reasonable protection that lets you sleep peacefully on your well-deserved holiday. In addition, you should be aware that the roads on Lanzarote do not necessarily correspond to those in your home country, i.e. that every now and then stones can lie around on the road and so some are called "roads", but it is rather adventurous gravel roads If you want to explore the remote corners andhard to reach beach sections of the island you should definitely hire a jeep, because for most cars there is no underbody insurance and driving on such bumpy roads is expressly prohibited.
Register additional drivers when hiring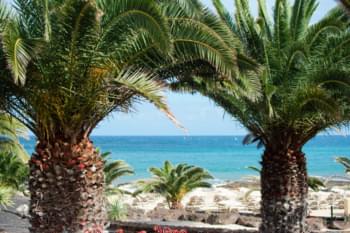 If you don't want to be the only one behind the wheel of your hired car, but would like to take turns with your companion, you can register the other person as an additional driver The registration is necessary so that the insurance coverage applies to all drivers. The additional driver must present his ID card and driver's license to the car hire company in the same way as the driver. After that you can drive off. Whether the respective rental company charges a fee for the additional driver or not, you can find out via our price comparison. In addition, you will find favorable offers for a suitable car with all desired services. You have further questions around your hired car in Costa Teguise? Then simply contact our competent service team!
Deficiencies when picking up the hired car on site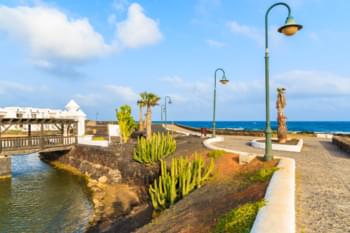 This should not happen, of course, but can happen just on an island like Lanzarote but once. Spare parts are sometimes hard to come by on the Canary Islands, the workshops are fully booked in the high season, and in general, minor scrapes are often not seen as closely abroad as in some other countries. Nevertheless, you should try to negotiate with your hired car company to get an undamaged car. If this is not possible, because all vehicles are rented, then you should at least capture together with the employee of the car hire, in writing and also in pictures, which defects the car has, so that these are not charged to you when returning the car.
Parking and Promille, here it becomes expensive!
Traffic offenses are not necessarily among the peccadilloes on the Canary Islands either, which is why we have compiled the most important regulations for you below: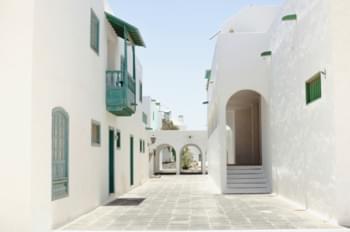 Wrong overtaking: from 200 EUR
Ignoring a red light: from 200 EUR
Talking on the phone without a hands-free system: from 91 EUR
Safety belt not fastened: up to 200 EUR
Warning vest obligation at the scene of an accident disregarded: up to 90 EUR
Promille limit of 0,5 exceeded, for novice drivers 0,3: from 300 EUR
What are the maximum speeds on Lanzarote?
Interurban: 40 or 50 km/h (Depending on signage)
Out of town: 90 km/h
Motorway: 110 km/h
You should pay attention to the speed limits on Lanzarote, because you may even face imprisonment and/or community service in addition to hefty fines if you violate the maximum speed of more than 60 km/h in town and more than 80 km/h outside town.
Surfing or sunbathing - when is a trip to Costa Teguise worthwhile?
Theoretically, you could holiday in Lanzarote all year round, as the temperatures are very pleasant at any time of the year. However, in the winter season many hotels and restaurants close their doors, which is why a holiday is more worthwhile in spring or autumn and of course in summer. Surfers prefer the somewhat stormier early or late season, while sun-seeking guests rather spend the summer at the crystal clear water. Below we have compiled a table with the average temperatures throughout the year: