Discover Costa Adeje in Tenerife with a hired car
Costa Adeje is located on the southwest coast of the Canary Island of Tenerife and can be ideally explored by hired car. The district belonging to the town of Adeje nestles against the Atlantic Ocean. Long sandy beaches, palm trees and lots of sun is typical for the Spanish region. Whether beach vacationer, water sportsman or wellness friend: in Costa Adeje travelers experience a dreamlike holiday near to the coast of Africa. With your own hired car you will always be flexible and independent. The sunny region on the Canary Islands is particularly well-tended and exclusive, which is why it attracts many holidaymakers who really want to be pampered. Families, singles and seniors feel equally at home here. In order to be able to use the extensive leisure offers optimally, visitors should book a rented car with the car hire in Spain favorably. The car makes an individual stay possible, with which travelers can move at any time independently and comfortably.
Book a hired car and enjoy the autumn in Costa Adeje
El Teide National Park
Autumn is one of the best moments to explore Costa Adeje and its surrounding. Many vacationers are attracted to the island of Tenerife during the classic warm months. During this time, Tenerife is very crowded and you can not enjoy many beaches or even sights in peace. Therefore, look for a suitable week in autumn and get to know the island once again differently. In autumn the weather is perfect for hiking in the National Park El Teide or if you are lucky even for a beach holiday. For a special experience, you can visit the beach at the mountain of Montaña Roja, which is completely made of coal-black sand.
Costa Adeje car hire: pick-up points at the airport
Tenerife offers a wide range of rental cars, which is why visitors can choose the one that suits them best. You can find a car hire service at Tenerife South Airport (TFS), about 20 kilometres east of Costa Adeje. Tourists can pick up their hired car right after landing and drive the short distance from the airport to their hotel. This option is especially recommended for travellers with more baggage and an individual schedule.
If you prefer to hire a car directly in Costa Adeje, you can reach the city by airport transfer and visit a car hire company there. There is also a large offer of SUVs, small cars or convertibles.
Those who want to use a hired car anyway during the whole holiday can save money and pick it up directly at the airport. A price comparison for both options should be made before the trip.
Beach holiday in Costa Adeje with a hired car
The beautiful and kilometre-long beaches are one of the visitor magnets of the region. They belong to the most beautiful beaches all over Tenerife. They are clean and well-kept and some of them are lined with palm trees. In the evening you can watch some breathtaking sunsets here. Pack a beach towel, parasol and swimsuit and drive to the nearest beach with your hired car.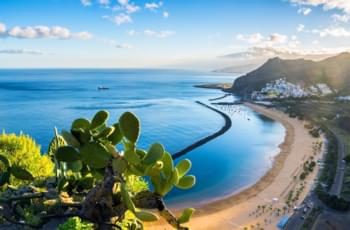 Beautiful Bay on Tenerife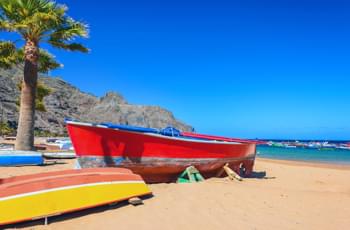 Beach day in Tenerife
Beaches with white sand
As many hotels in Costa Adeje were built right next to the water, the way to the beach usually is not far. Beaches like Playa del Duque, Playa Paraisodem or Playa de Fanabé attract their visitors with fine white sand and a quiet ambience. You can relax on beach chairs and under parasols made of bamboo, and read a good book. The warm water invites you to go swimming and snorkeling.
Beaches with dark sand
Darker sand, but also optimal conditions for sunbathing and bathing, are found in the quiet bay of Playa de Torviscas. The small natural beach Playa de la Enramada and Playa de la Pinta, near which there is a marina for sport boats, are also worth a visit. Travellers can park their hired car at the port and change to a boat. There are several tours every day, during which dolphins are often spotted. From time to time even whales can be watched. Water sports enthusiasts and active holidaymakers such as anglers, divers, jet skiers and surfers also get their money's worth on the Costa Adeje.
Hire a car and discover the sights of Costa Adeje
Between the town and the beach there is a beautiful promenade along which guests can stroll. There are numerous cafés, snack bars and restaurants, including fish restaurants offering fresh fish dishes. Wellness and shopping facilities complete the local offer and ensure that tourists experience a varied holiday.
Visitors to the Aqualand Costa Adeje will find fun and relaxation. The large water park accommodates many swimming pools and slides as well as a dolphinarium. Visitors reach the Aqualand easiest by hired car, because it is well connected to the traffic network and has a large free Car park.
However, if you drive to nearby Adeje in a hired car, you can visit the church of Santa Úrsula, for example, which dates back to the 16th century and has been extended over time in various architectural styles. The building complex Casa Fuerte and the monastery Antiguo Convento Franciscano de Nuestra Señora de Guadalupe y San Pablo are also worth a visit. Guests can take a trip to the Casa del Duque. The manor house, built of chic natural stone, is situated on a promontory that extends into the Atlantic Ocean.
More highlights:
Siam Park
Barranco del Infierno
El Balito
Costa Adeje car hire: explore the Canary Island by hired car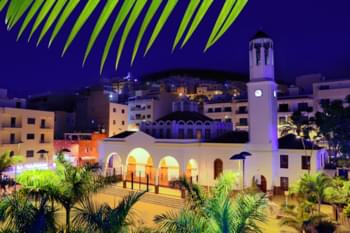 Los Cristianos at night
Travellers can also explore the fascinating nature of the Canary Islands in the Parque Nacional de las Cañadas del Teide, which is a UNESCO World Heritage Site. The 19,000 hectare area of the national park in the interior of the island is characterized by bizarre rock formations that have formed over centuries through volcanic activity. Visitors can visit the park on the hiking trails and access roads, which are also accessible for rental cars. Those who want to visit the city again after the excursion into nature will quickly find it near Costa Adeje. The tourist stronghold Playa de las Americas and the port Los Cristianos are right next door. There are many shopping possibilities, restaurants and a golf course. Playa de las Americas, as well as Costa Adeje, offers you a very active nightlife with bars, discos, pubs and much more.