Car hire Cape Town Airport: Explore the city
The best way to explore the city is by car hire from Cape Town Airport (CPT). With the offers from the price comparison on Driveboo, you can pick-up your hired car directly at Cape Town Airport. Hire a cheap car and explore the city on your own before departure. So you can enjoy your stay to the fullest. Cape Town is the second-largest city in South Africa and is located in the southwest of the country.
A hired car gives you maximum flexibility to explore the big region. The easiest way to reach places of interest is by car, such as the impressive harbour of Alfred & Victoria Waterfront or the Castle of Good Hope. To the beaches and the attractive suburbs like Camps Bay, you can also drive comfortably and cheaply with the hired car. Visit Table Mountain, the landmark of Cape Town. The sooner you compare the offers at Driveboo, the better conditions we can offer you. If you have any further questions, please contact our service team.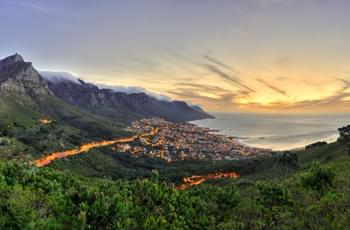 View over Cape Town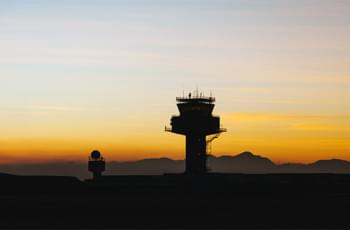 Information about the Cape Town Airport CPT
Cape Town International Airport is the second largest airport in South Africa and the third-largest airport on the continent. It was opened in 1954 and was last renovated and extended on the occasion of the 2010 Football World Cup. Cape Town Airport is identified by the IATA code "CPT". More than ten million passengers take off and land here every year. 24 airlines connect the airport to almost 100 destinations in Africa, Europe, America and Asia. However, some international flights are only offered during the high season between October and March. The CPT has two terminals: one for international and one for domestic flights. Both are connected by a central check-in area. The international terminal is located in the northern part of the airport building. At the airport, you will also find services such as restaurants, car hire and exchange offices.
The top activities for the autumn in Cape Town
When Cape Town is on the program for the next autumn trip, you can look forward to many exciting activities. Hiking is always possible in Cape Town, especially in autumn when everything is in bloom. Yes, you heard right. When autumn is here with us, Cape Town is in bloom. Climb Table Mountain and take an autumn hike through the cedar mountains. No shirt is guaranteed to stay dry here. There is something for everyone in Cape Town. If you want to be mobile and flexible at all times, then simply take a hired car at Cape Town Airport for your autumn holiday.
Car hire at Cape Town Airport: What you need to consider
Various hired car companies are currently based at Cape Town Airport, including internationally established and small regional companies:
Car Europe
Car Del Mar
Drive FTI
Hertz
Sunny Cars
Europcar
Alamo
TUI Cars
Budget
Here you can hire a car cheaply. The car hire counters are located in a separate car hire area across from the terminals. Leave the main building and walk for a few minutes through the underground passage for pedestrians. This will take you directly to Cape Town International Airport.
Refuelling your hired car at Cape Town Airport
If you have agreed to return your car with a full tank when you hire it, you can refuel your car at one of Cape Town's many filling stations. In the city area and along the highways you will find numerous possibilities. Many petrol stations only accept cash. That's why the offer of car hire sometimes includes a fuel card, which you can show at the petrol station. The total amount for refuelling will then be credited to you at the end of your stay. There is also a petrol station directly at the airport entrance. Please note, however, that there is no self-service at the gas station in South Africa. Instead, a tank attendant fills the car with the desired fuel. You must first name the amount for which you want to fill up or ask for a full tank.
What speed do limits apply in Cape Town?
There are numerous speed controls in South Africa. In addition, so-called bumpers are to ensure that the vehicle is not driven too fast. These are transverse installations on the road which can only be crossed slowly. A bumper can be found on the access road at the airport. In addition, adhere as closely as possible to other traffic regulations, such as compulsory seat belts, in order to avoid the strict penalties.
Observe traffic rules with your hired car in Cape Town
Alcohol limit is 0.5 per mille
The red mark indicates an absolute stop ban
Yellow mark indicates restricted stop ban
Mobile phones may only be used with a hands-free system
Sightseeing tour in Cape Town and surroundings with a hired car
In Cape Town, visitors experience a unique blend of the vibrant metropolis, impressive mountains and blue sea. Hire a car cheaply and enjoy the city and its surroundings in the typical sunny weather that characterizes South Africa. Table Mountain is the landmark of Cape Town and thanks to its concise form with the large plateau is known worldwide. It rises above the city and dominates the skyline of Cape Town. By hired car, you can reach Table Mountain quickly and cheaply. Park your hired car at the foot of the mountain and take the cable car uphill in a gondola. From above you enjoy an impressive view over Cape Town, the Atlantic Ocean and neighbouring towns like Camps Bay.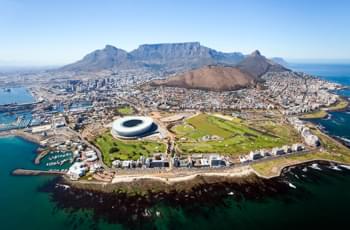 Cape Town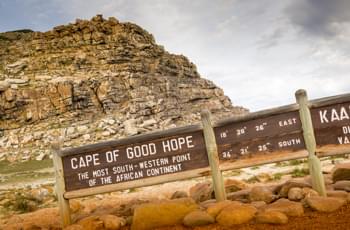 Cape of Good Hope
Hired car Cape Town: Visit Victoria & Alfred Waterfront
The Victoria & Alfred Waterfront in Cape Town is one of the most impressive and versatile excursion destinations in South Africa. The lively and modern entertainment district at the harbour is home to restaurants, shopping, bars, theatres, museums, cinemas, hotels, an aquarium and much other entertainment and tourist attractions. Park your hired car and take a tour of the harbour. The ferries to the former prison island Robben Island also start here.
Drive to the beach at Camps Bay
If you have explored Cape Town by hired car, you can make numerous excursions in the beautiful surroundings. For example, drive to Camps Bay, where some of the region's most popular beaches are located. In Camp Bay, you can enjoy long sandy beaches and swim, surf or dive in the Atlantic Ocean. The palm-clad promenades with their cafés and restaurants also attract many visitors. Hire a car to reach Cape Town, Camps Bay, Table Mountain and many other places worth visiting in a convenient and convenient way. Whether convertible, SUV or small car: via Car hire-Check. de you can hire your dream car for your holiday in South Africa.