Hireal car Utah: Discover the diverse rocky landscape on your own
The best way to explore the US state of Utah with the famous city Salt Lake City is by hireal car. Compare prices of car hire companies on Driveboo.com and book your dream car online in advance. Especially the national parks of Utah are worth a visit. Discover the gigantic rocks in the middle of the green landscape by hireal car and visit the capital Salt Lake City. With a hireal car you are optimally prepared for your journey through Utah. Book a hireal car on Driveboo.com and look forward to a round trip through Utah. With a hireal car you will always be flexible and independent and you can plan your trip according to your wishes.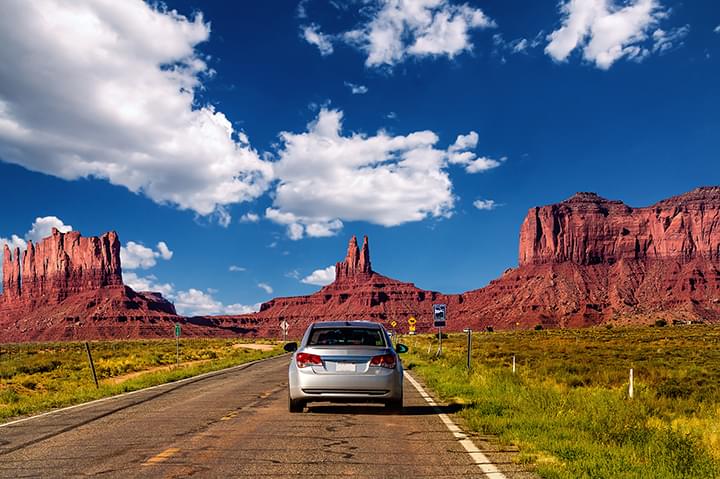 With your hireal car through Utah
Where can I get my hireal car in Utah?
Book the right hireal car in advance online on Driveboo.com. Car hireal companies for your hireal car can be found in the following locations:
Start your trip directly at the airport in Utah
If you want to be flexible from the very first minute, you can collect a hireal car directly at one of the following airports in Utah:
St. George Regional Airport (SGU)
Cedar City Regional Airport (CDC)
Discovering Utah with the right hireal car
For a pleasant driving experience in Utah, you need the right vehicle. On Driveboo.com you can compare car hire offers and choose between diffehire models. Here you will find the suitable hireal car for every taste:
On Driveboo.com you can select additional options such as air conditioning or all-wheel drive.
Highlights of Utah: Discover Utah by hireal car
Utah is famous for its unique scenery and the capital Salt Lake City. The best way to explore the many national parks is by hireal car. That way you will always be flexible and able to arrange your trip individually. Don't forget the following highlights on your list of must-see destinations:
Bryce Canyon National Park
Capitol Reef National Park
Landscape Arch
Park City Mountain
Temple Square
Bonneville Salt Flats
Emerald Pools Trail
Antelope Island