Experience Sardinia by hireal car
Sardinia, Italy's second largest island in the Mediterranean Sea, can best be explored with a hireal car. The island attracts countless holidaymakers from Central Europe every year with its fascinating beaches, enchantingly varied landscape, traditional culture and interesting cities. Take advantage of the price comparison and secure the best deals on car hire in Sardinia by making an online booking.
Hire a car at the airport and experience Sardinia
For example, you could land at Alghero AHO airport in the northwest or arrive at Olbia OLB airport in the east. In addition, the Cagliari CAG airport is located in the south. You can hire a suitable car before departure on Driveboo, the appropriate car hire at the selected airport awaits you to pick you up.
Hire a car and take over in Olbia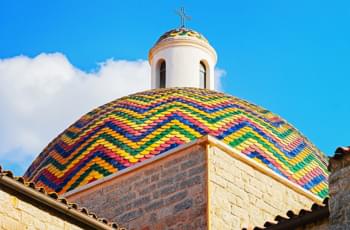 Church of San Paolo Apostolo in Olbia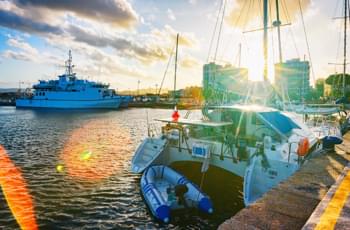 Sunset at harbor in Olbia
From the car hire at OLB airport it's only a few kilometres to the port city, as a car hire driver you will enjoy the well-developed roads. Olbia itself is a very modern city, offering a typical Italian center with narrow streets. Ideally, you should park your hireal car near Corso Umberto and enjoy the culinary delights in the pleasant pedestrian zone. Of course you want to see more of the island of Sardinia and enjoy the beach life on the north coast. In the region of Galura, which is dominated by granite cliffs, you will find the Costa Smeralda, the costly holiday paradise of Sardinia.
Explore Alghero and its surroundings by hireal car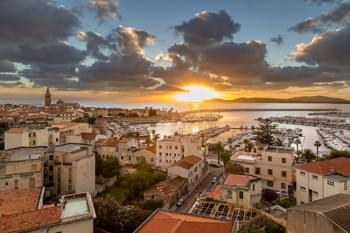 View over the city and harbour of Alghero
Sardinia presents itself very multifaceted and the diversity of nature can be admired particularly well in the Nurra region. All you have to do is hire a car, pick it up at AHO airport and drive to Alghero.
Although the city is located in Sardinia and belongs to Italy, the Catalan roots of its inhabitants cannot be overlooked. If you are a hired car driver with an enthusiasm for historical buildings, you should follow the signs "Centro Storico", but you should park your hireal car outside the city walls. The Via Principe Umberto is particularly worth seeing, from where numerous narrow alleys invite you to take a tour. In the old town there are many historical buildings to visit and in the evening the promenade with typical Sardinian restaurants invites you to stroll around.
The best sights in Sardinia by hireal car
Neptune's Grotto
La Maddalena Archipelago
Gola Gorropu Gorge
The Old Town of Cagliari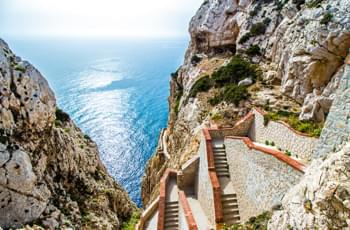 Stairs to Neptune's Grotto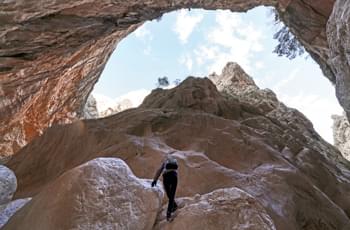 Cola Gorropu gorge
Of course, the island of Sardinia offers countless other attractions that are just waiting to be discovered. With the hireal car of a car hire you can reach them independently and flexibly.
Maximum speeds in Sardinia by hireal car

The one-way car hire in Sardinia
Of course you can also hire a car, pick it up at an airport, take it on a round trip and return it to another airport. The Sardinia Car Hireal Trip around the island can be booked on our portal by choosing the one-way car hire with all the advantages. Please note the offers of large car hire companies, as they often have more collection points and will therefore offer one-way hireals in Sardinia.
The optimal insurance for your hireal car
Of course, you can choose to hire a car at a reasonable price when you hire a car, but you should always choose the premium version for insurance coverage: Fully comprehensive insurance without excess. Why? Because even in the event of an accident caused by your own fault, you are not liable with your own money and the fully comprehensive insurance policy pays for every damage without any deductible. Therefore, you should always book your hireal car with the Premium insurance, so that your stay in Sardinia remains largely untroubled even in the case of undesirable incidents.
Important words for your car hire in Sardinia
Car hireal in Sardinia only with deposit by credit card
Every car hire company in Italy will only give you a hireal car on deposit and most car hire companies block it on your credit card. As a car driver you must therefore have a valid card, otherwise the car hire company will refuse to give you the car you want. Some providers also allow the deposit to be deposited with an EC card. If the vehicle is returned without complaint, the deposit will be released immediately.
Experience Sardinia's charms as a couple or group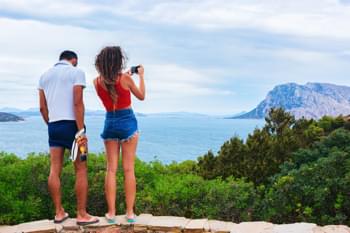 The picturesque beauty of the Mediterranean island encourages you to spend your holidays as a couple, family or in the circle of good friends. The island's size inspires you to hire a car, because there are 140 kilometres between Olbia and Alghero and 280 kilometres to Cagliari. If you do not want to drive the hireal car yourself, you must report one or more additional drivers to the hireal company at the airport of arrival. Most offers already include an additional handlebar. If this is not the case with the offer you prefer, you can also book it for a small surcharge.
Car hireal Sardinia recommendation
We recommend the following when hiring a car in Sardinia: If you pick up your hireal car at the airport, please check it for technical and visual defects. For the former, you are liable for a police check and ignoring existing dents and scratches will take revenge on return. The hired car driver is always responsible for undeclared damage after the takeover. And the resulting costs make the stay in Italy unnecessarily expensive. Any deficiencies should therefore be noted in writing and in case of problems affecting road safety, ask the car hire company for replacement.