Start with a hired car at Cagliari Airport (CAG)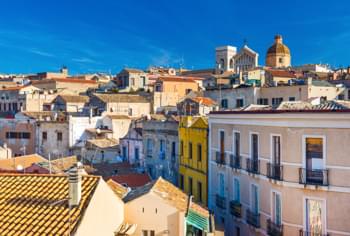 Discovering Cagliari's old town
Cagliari is the capital of the island of Sardinia, which belongs to Italy, and is best explored by hired car. The city, with a population of almost 160,000, is located in the southern area and is surrounded by the Golfo di Quartu, the Golfo degli Angeli and the Campidano plain. Cagliari and Rome, the capital of Italy, have two common characteristics: both metropolises were founded a long time ago and are each built on seven hills. In addition, you can hire a cheap hired car in both places and thus explore the city itself and the surrounding area. For almost 90 years, the Sardinian island capital Cagliari has had an airport just a few kilometers outside the center. It is called Aeroporto Internationale Elmas and has the IATA code CAG. If you hire a car directly at the airport, you can explore Sardinia on your own.
Enjoy culinary highlights in winter in Cagliari
Cagliari and also the rest of Sardinia are waiting for you during the winter months with some culinary highlights. When it slowly gets cooler outside in winter, there is nothing better than to sit down and feast in a cosy café or restaurant. This is of course also true for the Sardinian city of Cagliari. If you like to taste the cuisines of the world, then Cagliari is the place to be. Look forward to a wintery menu of antipasto di mare, Malloreddus with fresh salsiccia, tartar of tuna and as dessert tiramisu or seadas. And what tastes best with it than a nice Italian drop? So that all this gourmet food does not lead to considerable winter bacon, you can then look forward to a digestive walk along the port of Cagliari. Well, could we convince you of a winter trip to Cagliari in Sardinia?
Information about Elmas Cagliari Airport
Cagliari Airport (CAG) is located 7 km northwest of the Sardinian capital and takes its name from the Elmas region. Locals and tourists flying in from Italy also call it Aeroporto Mario Mameli.
Meanwhile the airport CAG is the biggest and most important airport of Sardinia.
The first propeller plane to Rome took off from here in 1928. International flights have been taking place since May 1937.
At present, about three million passengers use the airport, which was completely modernized 20 years ago, every year. The two runways handle more than 15,000 take-offs and landings per year.
The majority of the passengers come from Italy. Internationally, the airport is mainly used by Germans and Spaniards.
What you should check when you pick up your hired car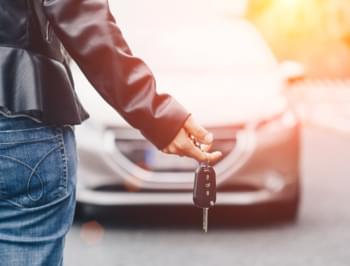 The right way to hire your hired car
The following points can be discussed in the airport office of the lessor of your hired car:
How are the car hire offers insured? You certainly want to enjoy your stay in Sardinia without any worries and should therefore insist on a fully comprehensive insurance without excess.
Cheap car offers should be questioned by you on prescribed equipment details. These include, for example, child seats, if you are on holiday with your children in Sardinia.
You should also find out which fuel regulation the car hire company prescribes for your favourite hired car. As a rule, you take over your car at the pick-up station with a full tank of fuel and must return it in the same condition. In this case, it is important how many kilometers the nearest gas station is from Cagliari Elmas CAG airport.
You are in Italy for the first time and want to explore the whole island of Sardinia with a hired car from Cagliari? Then you should hire a car with no mileage limit, because it will make your stay especially cheap.
If you are planning to visit the neighboring island of Corsica with your hired car, be sure to obtain insurance information. Not every car hire company hires out vehicles with international insurance policies.
How is the deposit for your hired car handled? Does it block the car hire on the credit card or do you have to transfer the amount directly?
What are the highlights of Cagliari and its surroundings that I must not miss?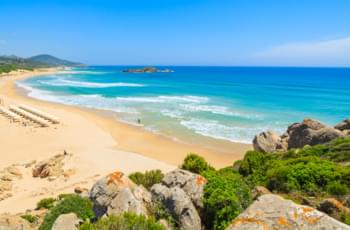 Su Giudeu Beachin Cagliari, Sardinien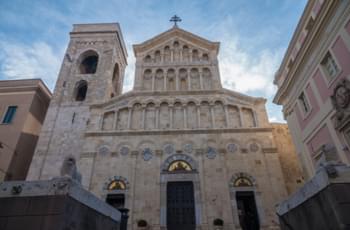 Cagliari Cathedral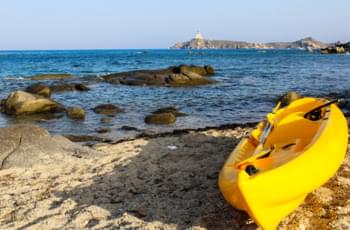 Take a kayak tour
Since you are always flexible and independent with a hired car, you can explore Cagliari and its surroundings on your own. Visit for example the Cagliari Cathedral or the Museo Archeologico Nazionale di Cagliari. The Torre dell' Elefante is also worth a trip with a hired car. If you prefer to relax on the beach, we recommend Su Giudeu or Cala Regina. Here you can relax wonderfully and enjoy the wonderful weather. But also for active vacationers Sardinia has a lot to offer. Go on a kayak tour, go hiking or take part in a dolphin sighting. As you can see, there is something for everyone in Sardinia, whether you are a culture lover, sun worshipper or sports enthusiast.
What traffic rules do I have to respect in Sardinia?
Speed limits
If you are travelling in Sardinia with a hired car, you should always keep to the speed limits. These are 50 km/h in the city, 90 km/h outside the city and 90 km/h on highways. There are no freeways in Sardinia.
Safety belts
In Italy, and thus also in Sardinia, seat belts are compulsory. This obligation applies to all passengers, including dogs.
Parking
If you leave the hired car and want to walk a bit, you should know the following markings regarding parking:
Alcohol limit
The blood alcohol limit in Sardinia is 0.5, but a strict ban on drinking and driving applies to novice drivers for the first three years.
FURTHER RULES
Operating a cell phone while driving is prohibited. In addition, the lights on the hired car must also be switched on during the day. For each passenger a warning vest must be carried in addition. This can be obtained at petrol stations at the border.