Car hire at Alghero Airport AHO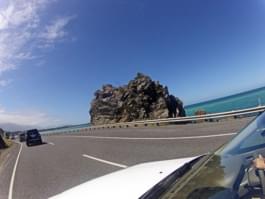 On the road in Alghero by hired car
Are you landing at Alghero Airport (AHO) and would like to explore Alghero and Sardinia by hired car? Then you should perhaps consider whether it is worthwhile for you to hire a car directly from one of the car hire companies at Alghero AHO Airport. Compare the hired car offers from the agile small car to the spacious station wagon of the car hire companies at the airport before you start your journey with Driveboo.com and book your hired car in less than 5 minutes by online booking in the price comparison. Not only a car but also a scooter in Alghero can be practical.
Enjoy the summer in Alghero with a hired car
Those who travel to Alghero in the summer months have done everything right. It is best to take a hired car as soon as you arrive at Alghero Airport and explore the island on your own during the summer. Would you like to feel the summer sun on your skin and the wind in your hair? Then take a convertible and turn on the radio with the best summer hits. Jet to the beach or sit down in one of the restaurants. Here you can eat delicious fish dishes in summer and enjoy an excellent wine to go with it.
Car hire counter at Alghero Airport AHO
Below are three of the most famous car hire companies at Alghero airport:
Since Alghero AHO Airport has only one terminal, you can reach your car hire counter in the public area of the airport in just a few steps after passing through customs. The Car park where you can pick up your hired car is also a short distance away. Although the opening hours of the car hire companies at Alghero airport are much more customer-friendly than those in a small Sardinian village, you should take into account that most of the counters are not open until late at night or there will be additional costs if you return your hired car late.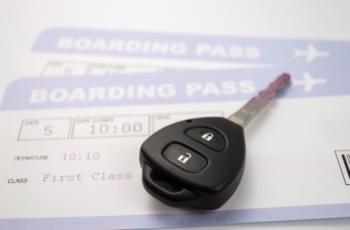 Car hire at Alghero airport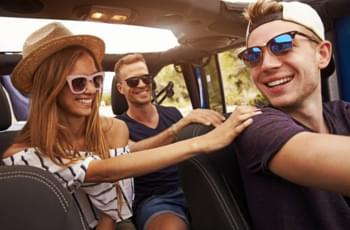 Full of anticipation from Alghero airport
Car hire Alghero Airport - Refuel with your hired car
Even if there is no gas station at Alghero airport, you won't have to drive far if you have to return your hired car with a full tank, so you can choose a hired car with a fair refuelling system with a clear conscience.
All you need to know about Alghero Airport - an overview
You don't have to do without anything at Alghero airport, both on arrival and departure. From banks to restaurants and vending machines, you have all the services you would expect from a modern airport at your disposal, so that you will not lack for anything.
Hire a car at Alghero Airport - The pearl in the Mediterranean
Did you bring a little time with you? Then why not take your hired car on the well-maintained roads of Sardinia on a round trip of the second largest island in the Mediterranean and make a diversion here and there to the most beautiful sights. How about a round trip from Alghero to Sassari, the second largest city in Sardinia? You can visit the Fontana del Rosello, from where you can drive your hired car comfortably along the coast to Olbia. Olbia lies south on one of the most famous stretches of coast in Sardinia, the Costa Smeralda. Afterwards, set off again to Alghero via the center of the island. But a trip to the south of the island also has its charms. Make a diversion to Bosa and visit the Castello or take a look at the Parco Paleontologico Dinosardo in Oristano, where especially small guests will have a great time, before you continue your journey towards Cagliari. Whether art, culture or nature - with more than 700 places of interest and more than 160 lovingly decorated museums, Sardinia has something to offer for every taste and every season and whoever has set foot on Sardinian soil once, will certainly come back again.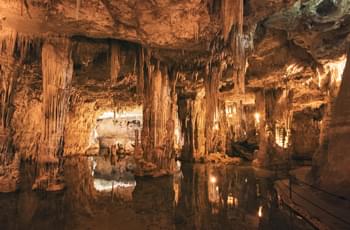 Grotte di Nettuno in Sassari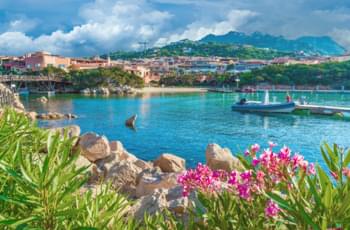 Port in Olbia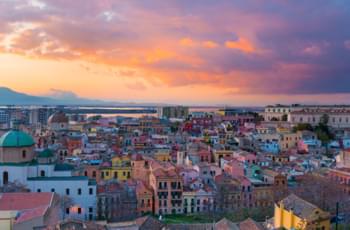 Cagliari at sunset
Hire a car at Alghero AHO Airport - Off to the city center
Below we have compiled some distance information that may help you plan your holiday:
Alghero, which is one of the most beautiful cities in Sardinia due to its picturesque old town and its tranquil port, can be reached in just under 20 minutes by hired car. But whoever has the choice is spoilt for choice! Would you like to start off in the direction of the wonderful beaches, such as the Spiaggia di Maria Pia or the Spiaggia delle Bombarde, or you can be enchanted by art and culture and visit the ruins of the Nuraghe di Palmavera, and then take a look at the most beautiful churches and cathedrals, such as the Chiesa di San Francesco, and enjoy the view over the city from the Torre di Porta Terra?