Compare car hires in Santiago de Cuba and save up to 60%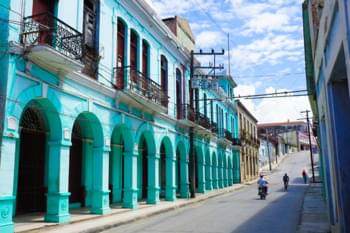 Hire a hireal car in the beautiful Cuban city of Santiago de Cuba and enjoy the Caribbean lifestyle. Drive to secluded beaches and discover the relaxation of Cuba. With a hireal car you are flexible in the whole of Cuba as well as in its second largest city: Santiago. Santiago de Cuba lies in the southeast of the island at the Caribbean Sea. Enjoy the mobility with your hireal car and immerse yourself in the culture of Cuba. With Driveboo you can book your hireal car in Santiago de Cuba comfortably from home. Thus you profit from a Swiss contracting partner with English speaking service centers. The earlier you book the vehicle of your choice, the sooner you will benefit from possible early booking discounts. Also, there will still be a larger vehicle fleet from which you can choose. The earlier you book, the more prepared you will feel for your holiday and the more you can actually enjoy your free time. Don't spend your precious holiday time on planning how to get around or where to book a hireal car from. Since there is only very strictly limited Internet available on Cuba, it's better to plan and book everything from home. Through our Driveboo portal you can compare diffehire car offers and providers with each other and book the best deal cheaply. Do you have questions about car hire in Santiago de Cuba? Then don't hesitate and contact our Service-Team. We are pleased about your inquiry via chat or telephone!
Where can I hire a car in Santiago de Cuba?

If you arrive by plane, it is easiest if you pick up your hireal car directly at the airport, for example at Havana Airport or at Varadero Airport. Depending on whether you also want to travel in the backcountry, the hire of an off-road vehicle offers itself. However, if you prefer a lower price, we recommend hiring a small car. For people who like to drive "topless", we also have convertibles in our offers. Simply select the vehicle category that best suits your needs. The two main advantages of hiring your car at the airport are:
At the airport you have a wider range of diffehire cars and a bigger fleet which you can chose from.
Thanks to your in advance online booking, your hireal car will be ready for pick up when you arrrive at the airport in Cuba. You Will neither need a taxi, nor a shuttle bus to take you to your next destination. Let your holiday begin.
Hire a car in Santiago de Cuba
Discover Santiago de Cuba flexibly and comfortably with your hireal car. With the Driveboo price comparison you can not only book your hireal car up to 60% cheaper, but also safely - with the TÜV test seal s@fer shopping.
Did you know that Santiago de Cuba was once the capital of Cuba before it was replaced by Havana?
Exploring Santiago de Cuba with your hireal car
In Santiago de Cuba there is a lot to see. The city is not only an old trade stronghold of Cuba but was also the Caribbean base of the Spanish Armada. In the city you will find numerous historical buildings. In many of the colonial buildings there are museums nowadays. Furthermore, visitors of the city can marvel at old palaces, churches and theaters and also visit them.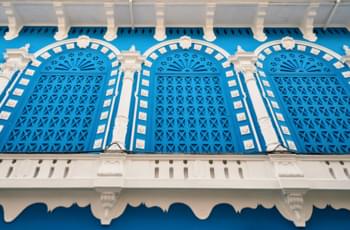 Architecture in Santiago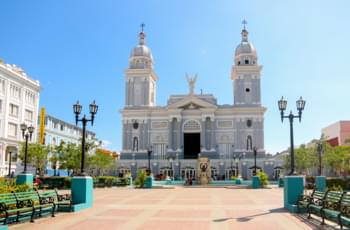 Cathedral in Santiago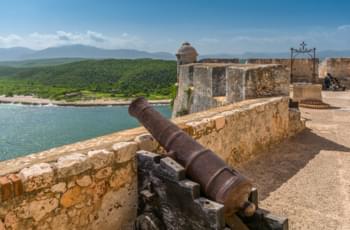 El Morro Castel
The following are highlights of the city that you shoudn't miss out on:
Parque Céspedes
El Tivoli (city district)
Plaza de la Revolución
Castillo de San Pedro de la Roca
Santa Ifigenia Cemetery
La Gran Piedra
Diego Valáquez Museum
Moncada Barracks
Emilio Bacardi Moreau Museum
Take a trip to the nature reserve Baconao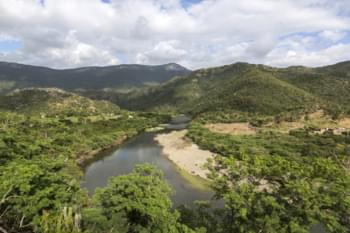 Baconao Park is a UNESCO World Heritage Site. It contains the historic coffee plantation Cafetal Isabélica such as many other sights. The park covers more than 85 thousand hectares and is located about 20 kilometres outside the city. There are many worthwhile hiking trails that lead to beautiful vantage points where you can admire the extraordinary flora and fauna of the park. Those who are interested in plants should also hike up to Gran Piedra, on the top of which there is a botanical garden.
The Isabélica coffee plantation at a glance
Unfortunately there are only ruins left of the historic coffee plantation. It was built by the French and was the first coffee plantation in Cuba. You can visit the old manor house with the dry terraces at about 1130 meters.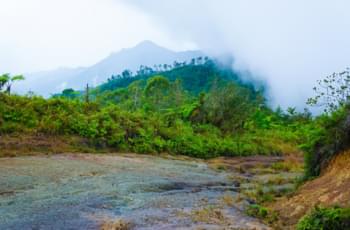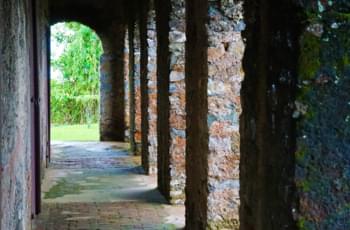 From Santiago de Cuba explore the surrounding area by hireal car
Santiago de Cuba is considered as a good starting point for a round trip through Cuba or also for day trips into the closer environment. Here is a list of the attractions near Santiago de Cuba and their distance by hireal car.