Car Hire at San Diego Airport - SAN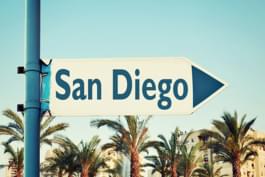 Holidays in San Diego
Take the liberty and enjoy the independence to explore the USA on your own with a hired car from San Diego SAN Airport. With our online price comparison you can easily and quickly compare every car hire offer and find the cheapest hired car - directly at the airport. Use this opportunity to find the best deal for your hired car. With a rental car you don't only drive cheap, but also free and independent.
Spend a wonderful summer in San Diego
You are in the mood for sun, beach, sea and big city life? Then start planning your summer in San Diego today! California's consistent weather invites you to go for walks, zoo visits and beach days. The best thing to do is hire a car for San Diego. This way you can reach your desired destinations independently. Look forward to an unforgettable summer with exciting daytime activities and beautiful summer evenings in San Diego. A summer in San Diego is always a good idea, especially with these activities:
Harbor Cruise
Whale and Dolphin Watching
Cave Kayaking
City Lights Night Tour
Culture fans: throughout San Diego you will find historical monuments, theaters and much more
Outdoor enthusiasts: mountain biking, hiking, tennis, golf and many other activities await you
Gourmets: Cali-Baja is the unique cuisine of San Diego that you should not miss
With a hired car through California
California, the Golden State, as it is affectionately called by the Americans, is one of the most popular states for many holidaymakers to travel to the USA. This is certainly due to metropolises such as Los Angeles or San Francisco. But San Diego is also becoming more and more important. The second largest city in California is just over half an hour's drive from the Mexican border. The picturesque coastline and endless sandy beaches inspire holidaymakers and locals alike. In recent years, San Diego itself has increasingly developed into a centre of science and culture. There are many good reasons to explore this city by hired car or motorbike.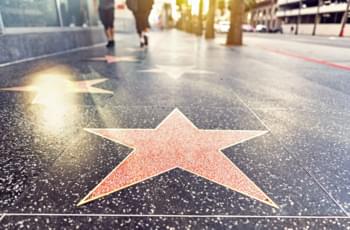 Walk of Fame, Los Angeles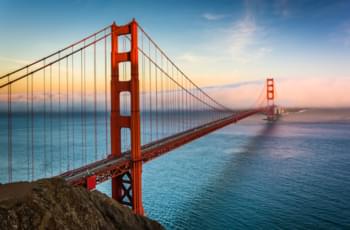 Golden Gate Bridge, San Francisco
Information on the International Airport of San Diego
No other airport in the USA is historically more exciting than San Diego's International Airport. In 1927, the famous Charles Lindbergh took off from here for his first flight to New York, followed by the first single transatlantic flight. Even today, the airport is still known as Lindbergh Field in honour of the famous pilot. In 1928, the airport was recognized as the first state airport to handle all classes of aircraft. You will find all the amenities that a modern airport should offer at SAN International Airport. Free WIFI, gastronomy and lots of boutiques and shops. If you spend a little more time at SAN International Airport, Terminal 2 offers a lot more than Terminal 1. In Terminal 2 you will even find a spa area, boutiques, duty free and even a branch of the oldest bookstore in San Diego: Warwick's of La Jolla. A stay at SAN Airport is guaranteed not to be boring.
What are the special features at San Diego Airport?
With only one runway, SAN International Airport is truly unique. From a global perspective, this airport handles the second highest number of passengers in the world. Approximately 20.7 million passengers check in and out here every year on average. This figure is only surpassed by London Gatwick Airport. Two terminals are available for passengers at the airport, Terminal 1 and Terminal 2, while Terminal 1 and Terminal 2 offer a comprehensive range of services. Another special feature is art. Art is exhibited regularly and everywhere on the grounds. It is primarily concerned with light and forms. It is supposed to inspire the passengers and, if you will pardon my saying so, it works very well.
Car Hire at San Diego International Airport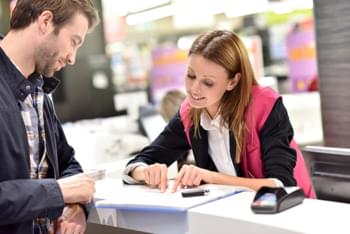 Collecting the hired car at the airport
It's easier to find the car hire company here than you thought! Just get on one of the shuttle buses and you will be taken directly to the San Diego car hire and pick-up point for your hired car in San Diego. Car hire at the airport is located for all providers in a separate building, the Hired Car Center. You can hire the car cheaply with Driveboo.com and the local car hire service will provide you with the desired car for hire.
The pick-up station is also directly connected to the center. Don't take too long to hire. Many holidaymakers have in mind to hire a car cheaply. The offer on our portal will of course help you to find the car hire service that suits your needs. Whether you want to drive with an SUV, a convertible or a mid-range car is up to you. When hiring a car in the USA, remember that you will be provided with a car according to American standards. It is in any case cheap to hire, because you can arrange the hiring directly before the journey and find by comparison the offer, which is not only favorable, but promising for you.
Pick-up station for the hired car at San Diego Airport
If you would like to hire a car with Driveboo.com, you will find the pick-up point directly at the car hire service. The pick-up station for the hired car is located directly at the Hired Car Center. This can be reached quickly and cheaply by shuttle. The buses run regularly to the car hire and there are no further waiting times.
Refuelling with a Hired Car at San Diego Airport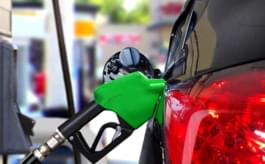 Refuelling the hired car
Around San Diego Airport you will find a variety of other filling stations. All of them are located in the immediate vicinity of the car hire collection point. Before hiring a car, you can find out where there are other petrol stations. If your holiday in California is coming to an end and you want to return your hired car to the pick-up point, you will often have to refuel your car. Make sure that you select this option when selecting the offer.
Traffic connections at San Diego California Airport
Since you decide to hire a car at a reasonable price, you don't have to rely on public transport. A shuttle will take you directly to the car hire. From there it's a stone's throw to the big Pacific Motorway. This is considered the artery and connects many other roads from which you can go on a sightseeing tour with your hired car.
Hire a car and see excursions around San Diego
There is really no better way to explore the country, its people and the most beautiful sights than by hiring a car. If you can hire your car at a reasonable price, you will save a lot of money and can better invest it elsewhere. After all, hiring a cheap car at a car hire company has never been more easy. Let's take a look at all the sights this beautiful city in California has to offer.
Drive to Balboa Park with your cheap hired Car
One of the most beautiful and largest parks in California is Balboa Park. Picturesque gardens with rose bushes, palms and buildings in the Spanish baroque style characterize the breathtaking atmosphere. On an area of over 5 km², Balboa Park is not only home to green spaces, but also numerous museums. San Diego has one of the largest number of museums in the United States. The real highlight is the integrated zoo, which with over 4,700 animals is one of the most beautiful and largest of all.
Explore San Diego: other places to visit by hired car
The botanical garden of San Diego
The Lighthouse Point Loma
La Jolla Cove
Tijuana in Mexico
The Aerospace Museum
USS Midway - museum ship at the Navy Pier
Immerse yourself in American history and visit the museum ship Midway. Exhibits include aircraft from the old days. In addition, there are always veterans available who report about their past with a lot of passion. Machines and technology from old times that simply fascinate away.
Old Town San Diego State Historic Park
Would you like to get a taste of Mexican flair, to nibble some tacos and stroll around? Then this tourist mile is a recommendation to you. A small park with typical buildings and many small bars. The proximity to Mexico cannot be denied here.
The beaches of San Diego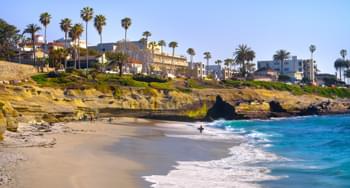 Beach in San Diego
You will experience pure relaxation and water sports on the many beaches at the gates of the city. Put the hired car down quietly once and let the soul dangle. The soft sandy beach invites you to long walks. The low season is recommended for relaxation and recreation. Those who really want to experience a lot of things are better off in the high season. Especially water sports enthusiasts will get their money's worth. Also fans of sea seals, because they like to be seen here again and again. The beaches are always worth a visit and if you only want to end a wonderful day there.