Car hireal Poland - landscape, cities and metropolises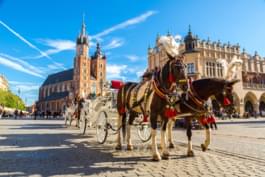 Horse carriage in Krakow
Discover Poland by hireal car! The landscape of Poland is characterized by historical castles, small towns and metropolises. Poznań, Wroclaw, Szczecin and Warsaw are ideal destinations for a trip by hireal car. In Krakow there are numerous museums to visit in addition to the royal residence. Wroclaw with its modern Century Hall or the Church of St. Elisabeth should be on your list as well. These destinations are easy to reach by hireal car.
Hireal car Poland: What should I know?
If you are travelling to Poland by plane, you can pick up your hireal car directly at Warsaw Chopin Airport. Two-lane motorways connect the cities of Poland. A maximum speed of 130 km/h must be maintained on these motorways. In the cities, the maximum speed is 50 km/h during the day and 60 km/h at night (23:00 - 5:00).
Discover Poland by hireal car
Not only the cities of Poland are interesting for tourists, but also the unique nature can be discovered by hireal car. Beaches, cliffs and forests are among the most beautiful destinations in Poland. If you drive into the mountains with your hireal car, you will find scattered small orthodox churches in Poland. You will often find Kashubian and Kujaw folklore on the way.
Make sure to visit these highlights in Poland with the hireal car: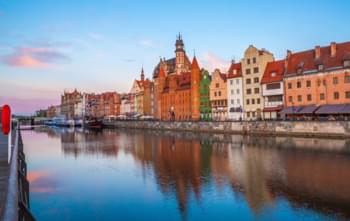 Discover Gdansk in Poland
Białowieża-Urwald
Łazienki Park
Dunajec
Meerauge
Tatra National Park
Old town of Gdansk
Wawel Castle
Kazimierz
Gubałówka
Discover the seaside resorts of Poland
Poland was already known in Soviet times for its seaside resorts on the Baltic Sea. Places like Swinemünde, Kohlberg or Gdansk invite you to a wonderful summer holiday in Poland. Especially since Poland is part of the European Union, the country has received many aid funds. The holiday resorts on the Baltic Sea have also benefited from this. These captivate by white sand beaches, beautifully prepared promenades and sand dunes. With a hireal car you can explore the Baltic Sea coast of Poland and visit diffehire beaches.
For a round trip by hireal car you should know that in Poland motorways, motorways and also country roads are subject to tolls. You will find the amount of the costs and detailed information in our toll alphabet.