Discover Playa del Carmen by hired car
Playa del Carmen is a coastal town in Mexico, located on the Yucatan Peninsula on the Caribbean coast of the Riviera Maya and perfect for hiring a hired car. In Summer and Autumn 2020, Mexico and especially Playa del Carmen is again one of the dream destinations. While you can expect temperatures of up to 33 degrees Celsius in June, July, August and September, in October and November you can enjoy an extended summer in Playa del Carmen with temperatures between 29 and 31 degrees. It is known for its palm fringed beaches and coral reefs. The Quinta Avenida promenade runs parallel to the beach, with shops, restaurants and nightlife ranging from relaxed bars to dance clubs. Why not hire a car and explore the unique surroundings on your own with a hired car? In Playa del Carmen you will find many places of well known car hire companies which you can easily compare from home through Driveboo and make your customized booking.
Picking up your hired car in Playa del Carmen
The best offers of rental cars are found in the center of Playa del Carmen, which is easy to reach by public transportation or taxi. Another great option is hiring your car upon arrival on the Airport Cancún, where you are most likely to arrive when you decided to choose a holiday in Playa del Carmen.
Consider our flexible pick-up and drop-off option, which enables you to choose alternative places for your car hire.
What does Playa del Carmen has to offer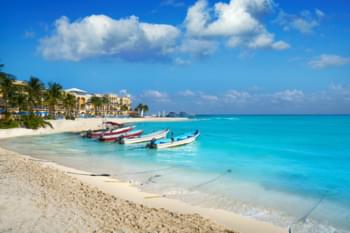 Playa del Carmen: more than just beaches
The city is ideally located near Cancún's international airport and has an easy access to Cozumel, Tulum, Cobá and other interesting destinations. Most tourists who spend their holidays here are looking for beautiful beaches. But the state has much more to offer! Besides the swimming possibilities there are countless first-class diving and snorkeling areas. Not only for culture enthusiasts and hobby researchers the Mayan culture and its numerous ruins offer unique experiences. Playa del Carmen is one of the top diving destinations in the world, thanks to its lively underwater world and overwhelming caves. On shore, Playa, as Playa del Carmen is called by the locals, is a hip and modern version of the fishing village it once was. Spend time on the golf course or visit the cute spider monkeys at The Jungle Place Zoo. Explore the ancient ruins of the Coba Mayan village or stroll down Quinta Avenida shopping street. The reefs here are excellent and diving and snorkeling are nearby. Spot rays, moray eels, sea turtles and a huge variety of corals. The fans of soft corals make for very picturesque views.
Explore Playa del Carmens surroundings
What are the best places to visit close to Playa del Carmens?
Cozumel
Puerto Morelos
Coba
Chichen Itza
Tulum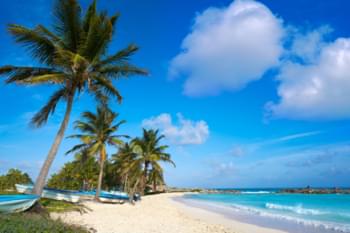 Dream island Cozumel
Cozumel is an island in Quintana Roo, Mexico. Mexico's largest island is especially popular among divers due to its numerous first-class diving and snorkeling areas. The island is over 16 km wide and over 45 km long. The centre is the island capital San Miguel de Cozumel where almost all the islanders live. Only a short and cheap 45-minutes ferry are separating Playa del Carmen from this untapped dream island.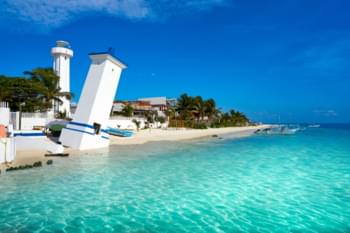 Puerto Morelos: Faro Inclinado
Puerto Morelos is especially popular with snorkelers and divers. Just 600 meters from the shore you will find the reef with its rich coral and fish world. A special highlight is the wreck of a Spanish galleon. Also snorkelers can see a shark or ray here with a little luck. Further sights are Jardin Botánico, this botanical garden is located in the south of the city and is 60 ha large as well as the Faro Inclinado, a lighthouse which was brought into an inclined position by a hurricane in 1957. It is still standing and is now the unofficial landmark of the city.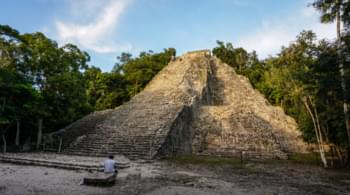 Maya ruins of Coba
Coba is a famous Mayan city of ruins. More than 20 assemblies have been identified so far. These are worthwhile to visit, because not all pyramids are closed like in Chichén Itzá, Uxmal or Tulum and therefore offer a more closer experience.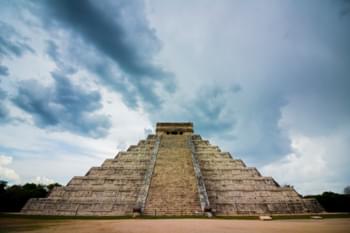 Chichen Itza: most famous sight of Mexico
Chichén-Itzá is probably the best preserved ruin site of the Maya culture on Yucatán, it is certainly the most visited. With over 8,000 visitors daily, this sight is now the second most visited archaeological site in Mexico after Teotihuacán. There is a very special highlight every evening: the northern part of the site (including El Castillo and the large ball playground) is wrapped in colored light.